The secrets behind Florence Nightingale's name
2-3 minute read
By The Findmypast team
8 April 2020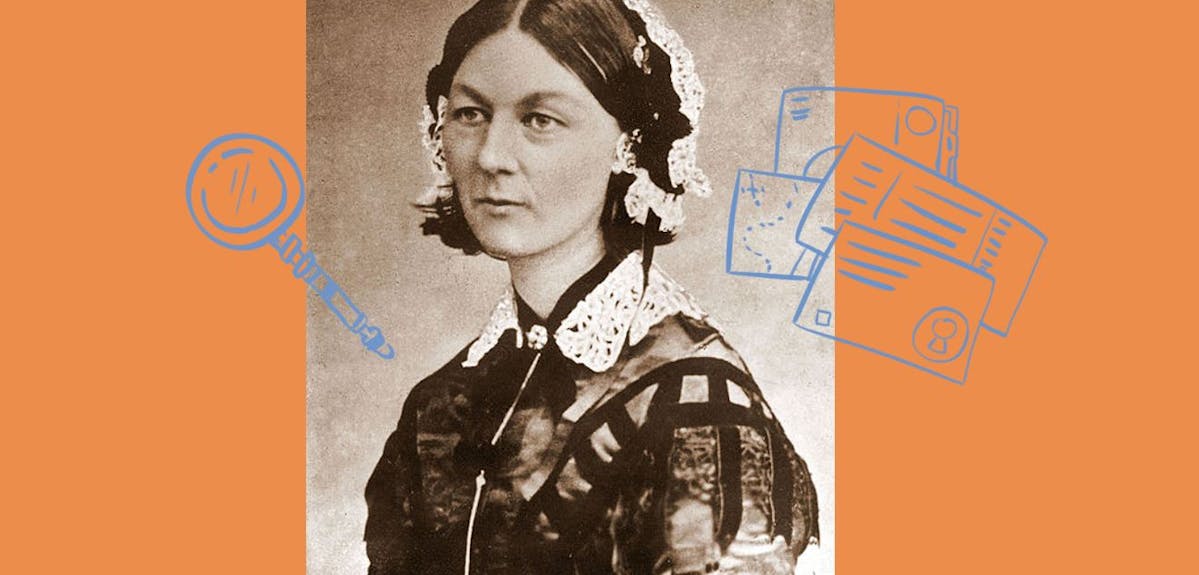 Everyone knows who Florence Nightingale was but you may not know the story behind her name.
If you're interested in your family's past, you're probably interested in names and their origins. The two go hand-in-hand. Exploring the history of famous names can reveal all kinds of fascinating facts. Take Florence Nightingale for example.
The 'Lady with the Lamp' is widely regarded as the founder of modern nursing, owing to her unwavering care for the sick during the Crimean War (1853-56). Her influence on the nursing profession has stood the test of time. A fact proven by COVID-19 pandemic field hospitals being named after her.
But there may be parts of Florence Nightingale's story you don't know about. Her name, for instance, reveals family secrets and some interesting information that might surprise you. We delved into our records to help us discover more.
Her father didn't always share her surname
Florence Nightingale's father was not born a Nightingale. He was originally named William Edward Shore. Florence Shore doesn't have quite the same ring to it, does it? Her father only became a Nightingale when he inherited from the estate of his great uncle Peter Nightingale in 1815, taking the surname and the coat of arms at the same time.
She was named after the place she was born
Secondly, it seems the Nightingales were way ahead of today's baby-naming trends as Florence was named after her place of birth. She was born in 1820 in the Tuscan city of Florence. Imagine if she had been born in Leghorn or Naples!
You can view two versions of Florence Nightingale's birth record on Findmypast, a certificate issued by the Dr. Williams's Library Registry...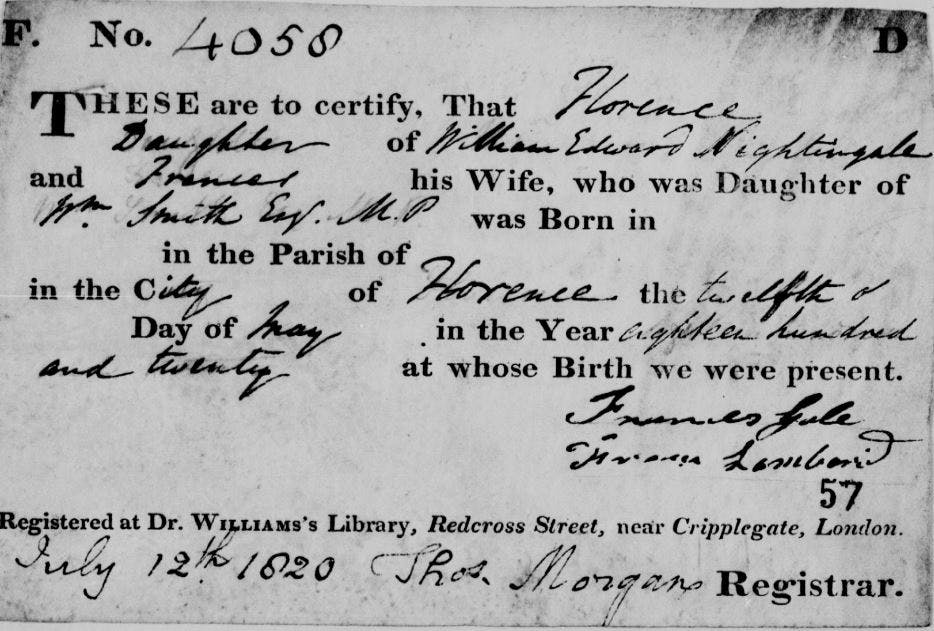 ...and a register maintained by them that includes her parents' and maternal grandfather's names.

Florence Nightingale's family were Unitarians, which is why her birth can be found in the Dr Williams's Library Registry collection. The Library was created to maintain a semi-official record of Protestant Non-conformist life events before civil registration began in England & Wales in 1837. Millions of Non-conformist births and baptisms, marriages and burials are fully searchable online on Findmypast.
Her legacy influenced 19th-century baby names
Among Florence Nightingale's unwitting accomplishments was the popularisation of her name. Many started naming their baby girls Florence once Nightingale's selfless heroism became known and some even chose Nightingale as a middle name. You can track the spike in popularity of the name Florence if you search the General Register Office's birth index for England & Wales.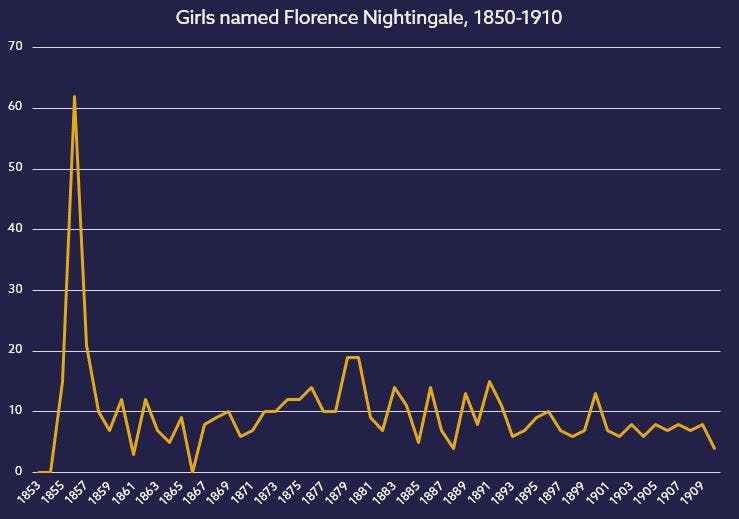 The graph above shows the frequency of the forename and middle name combination Florence Nightingale only; many more girls were, of course, just called Florence in tribute to her. You can see that baby girls were named after her throughout her life (she died in 1910), with occasional peaks that are likely to be related to moments when her profile was back in the minds of the public.
Once a name with positive associations appears in a society, it tends to repeat within families down the generations and as time went on, we gradually lost sight of the original well-known bearer of the name Florence. For many nowadays, it's just another girl's name and the clear associations with the famous nurse are not as prevalent.
The Crimean War affected other names too
A second girl's name popularised as a result of the Crimean War was Alma. It's no longer fashionable but once was. The name dates to the Battle of the Alma in September 1854, which, despite heavy losses of around 2,000 men, was regarded as a major victory for allied forces. Again, if you search our online birth indexes, you will see the spike in infants registered with the name Alma from 1854.
It isn't only people who were named after the Alma, though. New streets were often named Alma Road or similar. And it became a very popular pub name across the UK.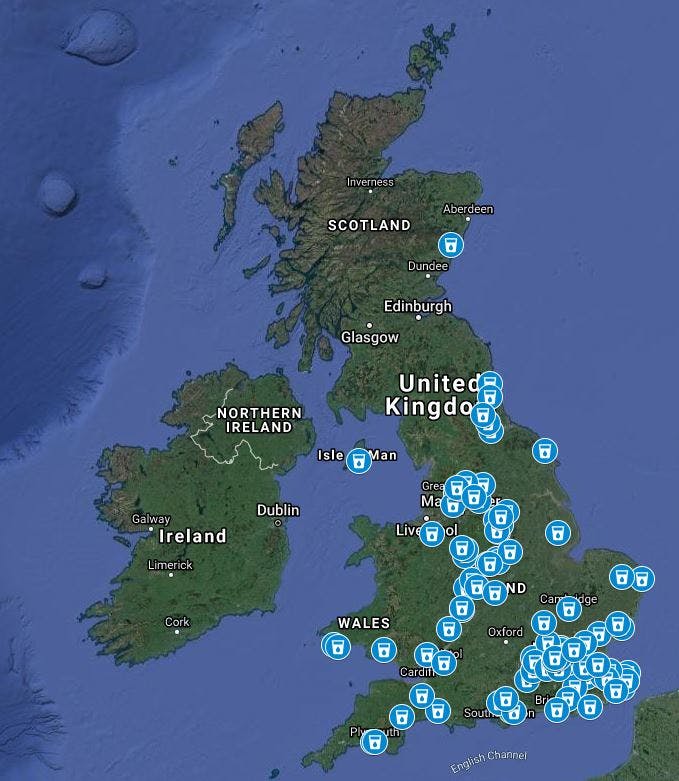 More on this topic:
Share this article
About the author