Musician traces long-lost family to Ghana after discovering his father's secret life
5-6 minute read
By The Findmypast team
28 April 2023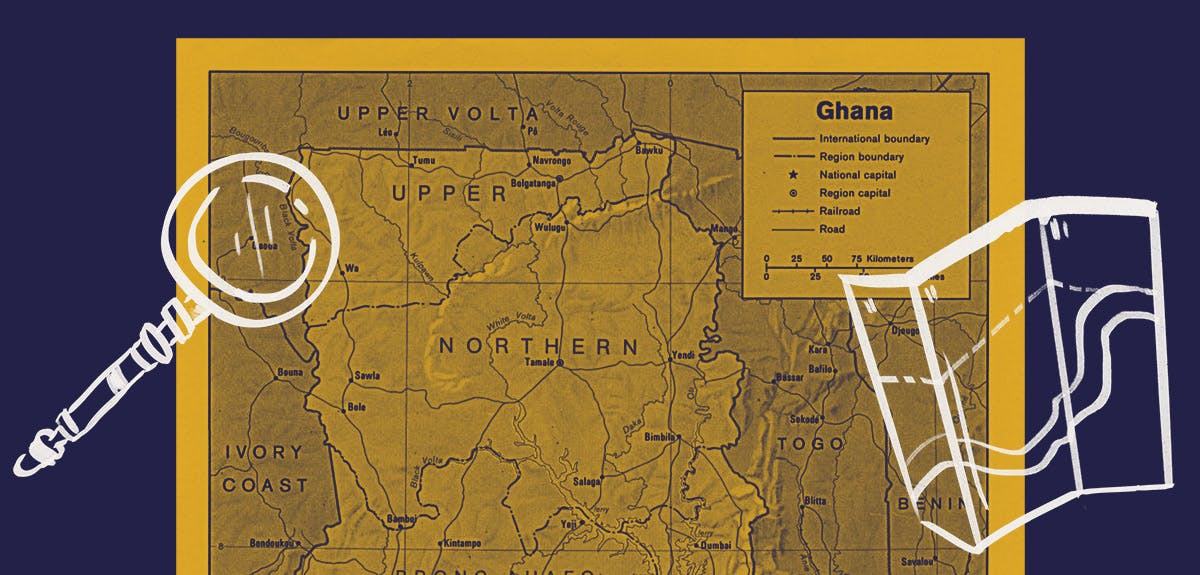 When Joe Jaquest Oteng's father died in 2011, clearing out his Wolverhampton home set him on a 10-year-long journey to discovering a family he knew nothing about.
In 2011, Joe Jaquest Oteng embarked on a family history voyage that would change the course of his life forever.
His father had sadly passed away, and soon after, Joe began the painstaking process of clearing out the house. It was during this that he found a box of documents beneath his father's bed.
This box kickstarted a drive to discover who his father really was, and ultimately track down a family that he knew nothing about over the next 10 years.
It contained a 1974 marriage certificate to an unknown woman called Irene, a passport with a different birth date for his father, and a photo album packed with faces that Joe did not recognise.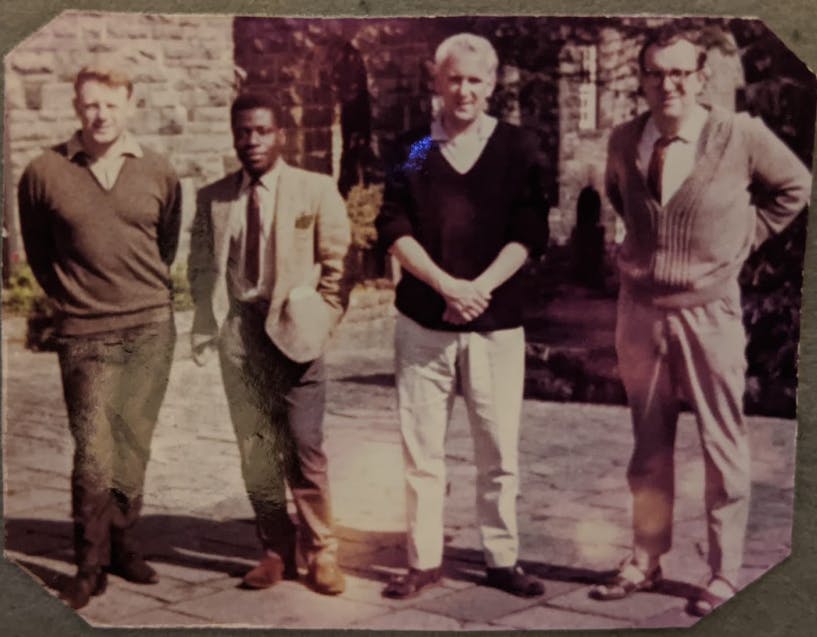 "
Growing up, my dad had always been secretive. He was a first-generation immigrant from Ghana, and he hardly ever spoke about his past or where he came from. So, I wasn't exactly surprised to discover a box full of secrets, but I was shocked by the extent of what he'd been hiding.
"
Joe initially put the documents to the back of his mind as he focused on organising the funeral, clearing the house, and starting his music career. However, when the pandemic hit years later, he was forced to put his career on hold. 
"
I suddenly had a lot of time on my hands, so I decided it was time to get some answers about my dad. I also had an idea that I would film the journey, just so that I had a project to work on during the pandemic. I never expected to get to where I am today.
"
Armed with the scant details he already knew about his father, he used our records here at Findmypast to begin his detective work.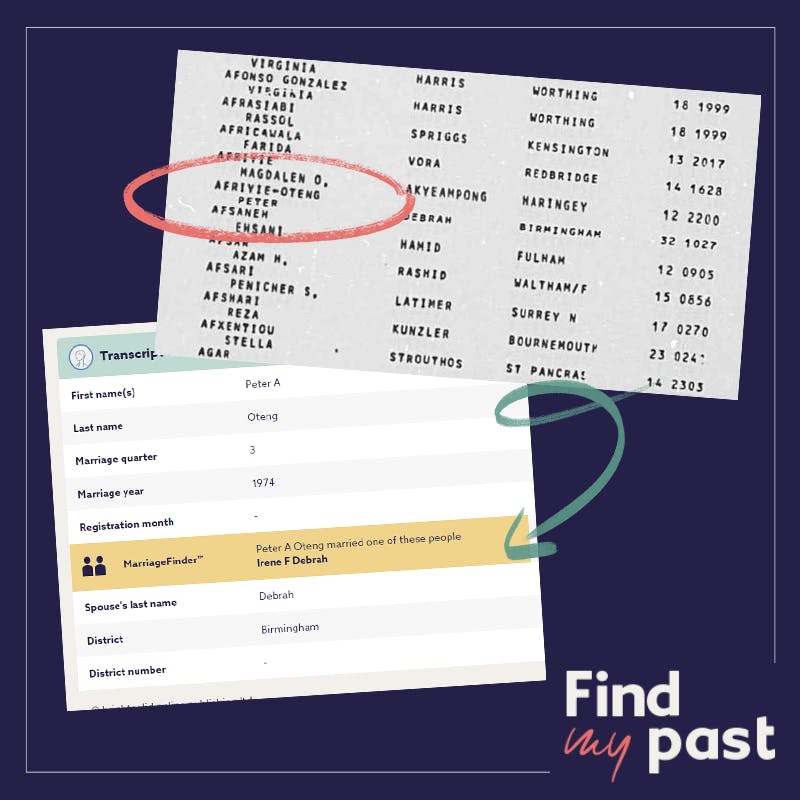 He found that his dad, Peter Afriyie Oteng, had arrived in the UK from Ghana in 1964 at the age of 28, and attended Harlech College in Wales. He later worked at the Commission for Racial Equality (CRE), and in 1987 met Joe's mum, Su, at a conference.
The family lived together in Wolverhampton in the 90s, before his parents separated in 1998 and Joe divided his time between them.
"
When I started to dig deeper into the story, I found these small details that gave me a better understanding of the experiences that shaped him. It must have been a life-changing moment when he was selected to receive the Cassell Grant Scholarship, which funded a single Ghanaian scholar at Harlech.
"
"
I even found a piece in a local paper at the time reporting on his arrival and the fact that he had never seen snow before - it was an especially snowy winter that year in the UK. I uncovered alumni from his school, including an old friend of his.
"
"
It was very emotional to talk about his memories of him as a young man.
"
As Joe's voyage into his heritage continued, he uncovered the reason his father had lied about his age and made himself a decade younger: so that he could bypass the Civil Service's strict retirement policy and continue to work.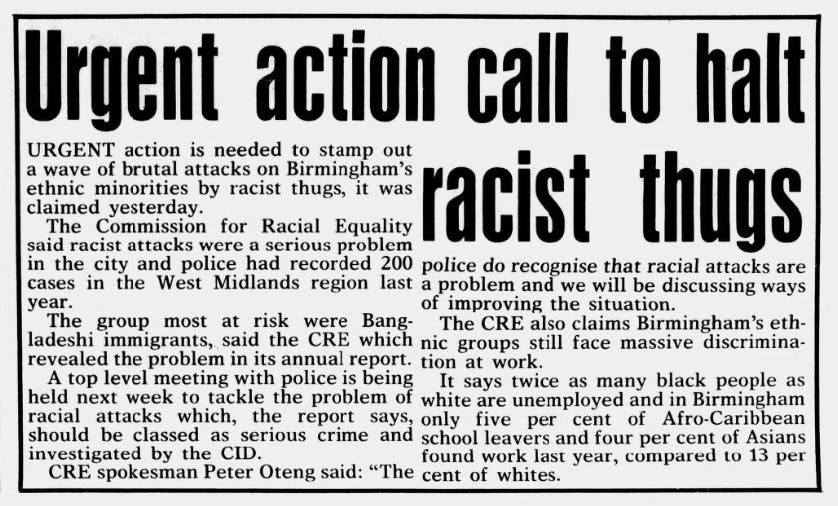 But it was when Joe discovered a scrap of paper in the box with a return address to a J.W. Oteng in Kpong, Ghana, that he felt he was edging closer to uncovering his father's family and mysterious wife.
After extensive Googling, he found a lead in the form of Professor Alfred Apau Oteng-Yeboah, who had written an article online about his dad's hometown, and sent him an email.
"
It was a long-shot, so it was amazing and completely unexpected when he replied saying he had known a J.W. Oteng and had the contact details of his younger brother, Edward.
"
"
I discovered that both J.W. (John) and Edward were my cousins, and Edward lives just 20 minutes down the road from me in South London. It was incredible to go and meet him and his family, and mad to think that he had been just around the corner from me all this time.
"
With Edward's help, Joe was able to put names to many of the people in his father's photo album. He found out that he had hundreds of cousins, most of whom were in Ghana.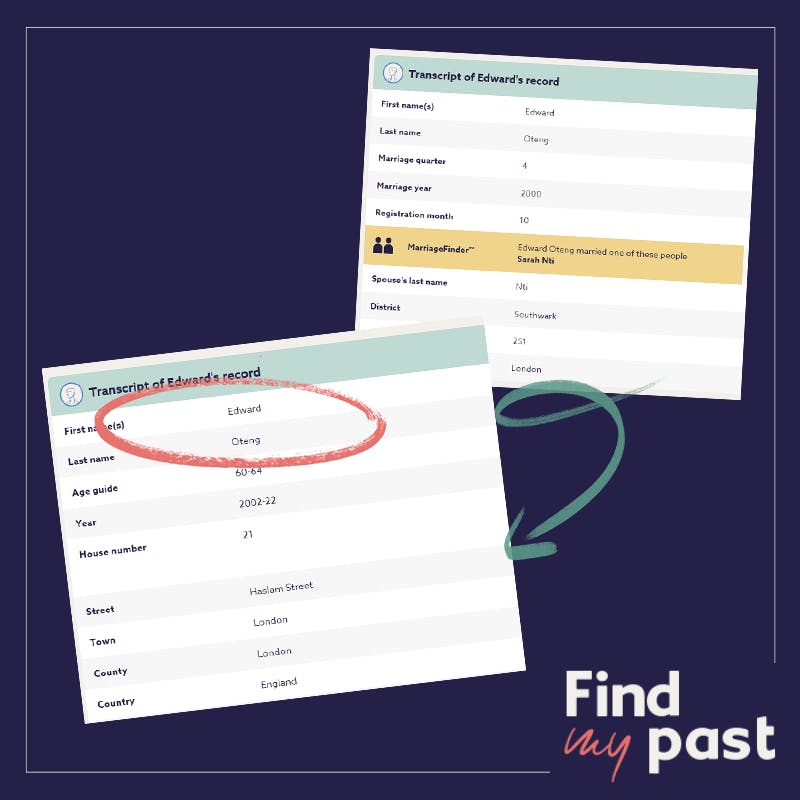 The decision was made: Joe needed to travel to Ghana to reconnect with this hidden heritage. He booked the flight and just a few months later, in January, he jetted off to finally meet his father's long-lost family.
Once he arrived, te whole picture began to click into place for Joe. Upon meeting the village residents, he uncovered that his dad had actually been the son of the village chief, and was one of 69 children in total. Joe met many of his relations, and they even held a ceremony for him:
"
During my stay, the village elders held a ceremony and made me an honorary sub-chief as they said my dad would have been a "chief" today if he was still alive. It was an amazing and overwhelming experience that brought back a lot of emotions.
"
The trip also allowed Joe to piece together the final element of the puzzle: his dad's mystery wife, Irene. The family put him in touch with Irene, and he organised to meet her on the last day of the trip.
As it turned out, Joe's father and Irene had met and married in Birmingham, but Irene had later returned home to Ghana. She had expected Peter to follow her - but he never did.
"
It was such a privilege to meet her and a real bonding moment over my dad's approach as a husband and father.
"
Joe has documented his family history journey in his series Hidden Roots on YouTube. He concludes:
"
This has been a journey of discovery and I feel like I've uncovered a whole new side of my heritage and identity. I'm so glad that I decided to document it, and I'm hoping to encourage more people to explore their own family's past.
"
It's an incredible story of love and loss, and one which has brought Joe ever-closer to understanding his heritage.
Do you have a remarkable family history journey to share? We'd love to hear from you. Get in touch with us directly, using this form.
More on this topic:
Share this article
About the author