The incredible true stories behind the First World War's Christmas truce
4-5 minute read
By Daisy Goddard
14 November 2022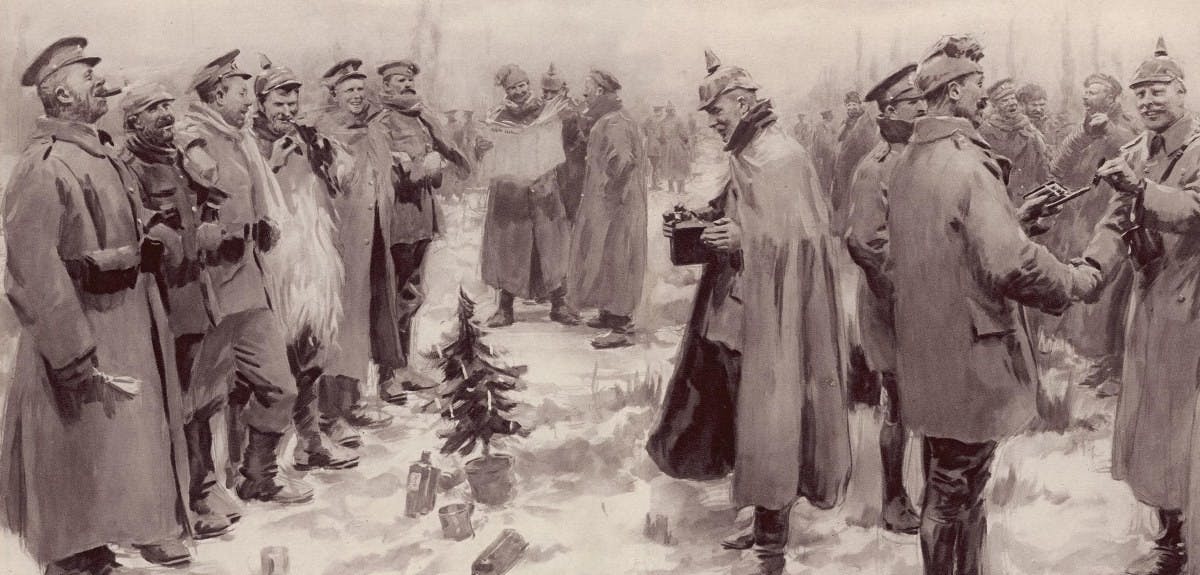 What exactly happened during the Christmas truce? These real-life accounts recall how the First World War saw a temporary, festive reprieve from the fighting.
In the midst of the First World War in 1914, Christmas time was upon the Western Front. This Christmas would not be the same as previous years. To try and keep spirits up, soldiers sang carols and lit candles on Christmas trees that lined the trenches.
Then, something remarkable happened. The brutal history of the Great War was brightened by the Christmas truce, when both sides of the bitter conflict put aside their differences on 25 December 1914. Here is the real story of the Christmas truce, as told by the soldiers who were there.
There's no better time than the festive season to reconnect with your heritage through family history. Give the gift of the past to someone special this Christmas, with a Findmypast gift subscription.
Our team are dedicated to capturing historical stories, and preserving them for future generations. The clip below is a snippet of an interview conducted by Findmypast expert Paul Nixon back in the 1980s, with World War 1 veteran Stan Brown.
This wonderful interview provides valuable insight into the Christmas Truce in 1914, as experienced by the soldiers involved.
Rifleman Mallard (machine gun section in the Rifle Brigade):
"About 4.30 on Christmas Eve we heard music, and gathered that the Germans had a band in their trenches, but our artillery spoilt the effect by dropping a couple shells right in the centre of them, and you can guess what became of the band, for we heard it no more. We were wondering if the Germans would agree to a couple days' truce, and soon as it was dark we were surprised to see Christmas trees stuck the top of their trenches lighted up with candles, and men sitting on the trench. We got out our trench and exchanged a few cigarettes with the Germans, and invited them to come over and have a drink and smoke, but we did not like to trust each other first. After a while, however, three of our officers started to go over and meet German officers who were approaching them, their way being directed by a searchlight in the German lines. It made a fine picture to see those six officers meet between the two lines, shake hands, and smoke each other's cigarettes. The glow of the searchlight, and all the boys gave a tremendous cheer and became quite excited over it. After a while our officers returned, bringing with them souvenirs of the Germans."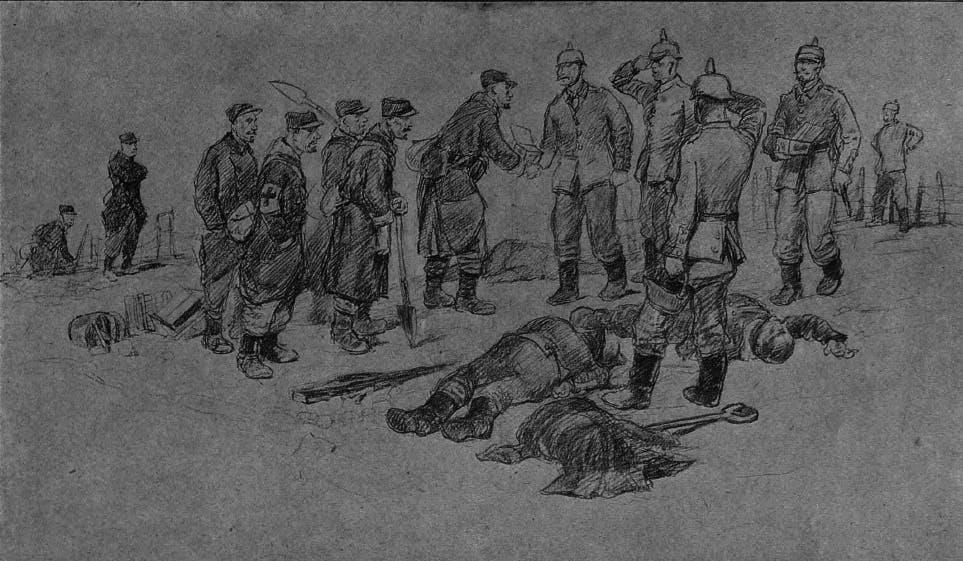 A private in the Queen's Westminster Rifles:
"About 5pm on Thursday, when in the trenches, our thoughts turned to home and Christmas Eve, and we started singing a few carols. This seemed to cheer the Germans, they, too, began to sing, shouting to us, "A merry Christmas." Not a shot was fired at them or us all night, and it seemed the war had almost finished. Next day, Christmas Day, we had a short service in the trenches and after that we started going halfway to the Germans. In less than half hour were busily talking to them, and found that they were quite longing for the war cease. They asked us not fire all day, and said they would not do so. In the meantime we exchanged cigarettes and tobacco, and I also managed to get several buttons and cap badges. Two of them with whom I happened to get in conversation were quite decent fellows and a cut above the others. They were brothers the 107th Saxons, and being reservists were called up. One had a ticket for London with him, and told us that he was just going to London for a holiday when he was called up. Both said they were personally very sorry to have to fight against us. The rest of the regiment were rather lower class, and looked as if a good feed would benefit them. Taking them all round, they were medium age and rather well built. One fellow had an iron cross, which he kept in his purse. One thing that made us envious was their jackboots, which are just the things we want."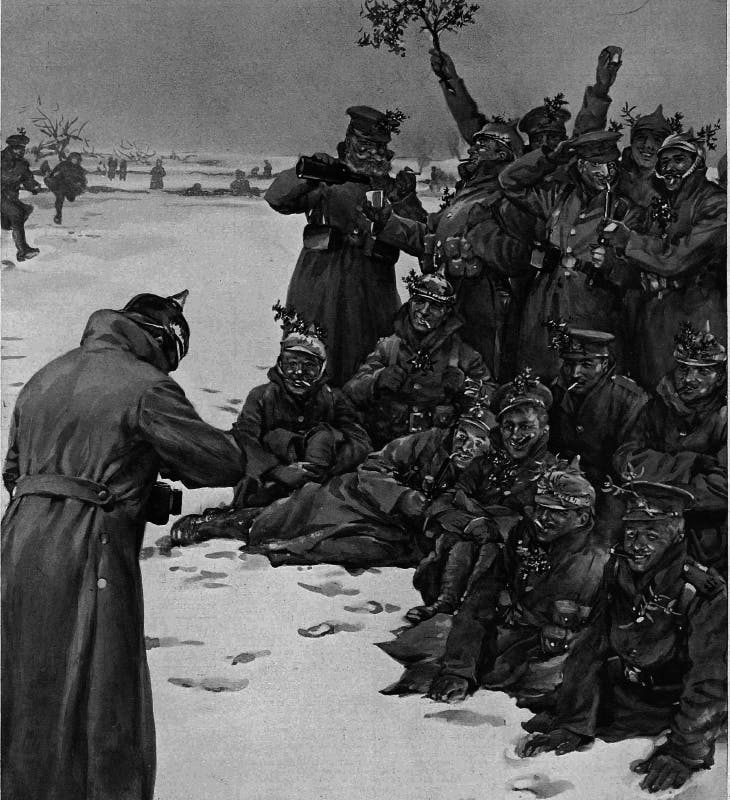 Along with the sharing of cigarettes, some regiments exchanged gifts and friendly games of football. The newspapers said that after the truce was agreed upon, both sides spent a bit of time burying the bodies that had been killed earlier that week and then they held a small ceremony to commemorate them.

Letter from a subaltern at the front:
"When I got out I found a large crowd of officers and men, English and German, grouped around the bodies, which had already been gathered together and laid out in rows. I went along those dreadful ranks and scanned the faces, fearing at every step to recognise one I knew. It was a ghastly sight. They lay stiffly in contorted attitudes, dirty with frozen mud, and powdered with rime. The digging parties were already busy on the two big, common graves; but the ground was hard, and the work slow and laborious."
Many letters were written home describing the peaceful experience how they troops spoke to each other.
Acting Corporal F. Edwards (Birkenhead Police Force) with the 3rd Rifle Brigade:
"I know this sounds like a fairy tale, but I assure you it is perfectly true. If I had not participated in it I should feel rather inclined to disbelieve it myself, as I have witnessed some very treacherous acts on the part of the Germans, but I think this will to prove that there are honourable Germans."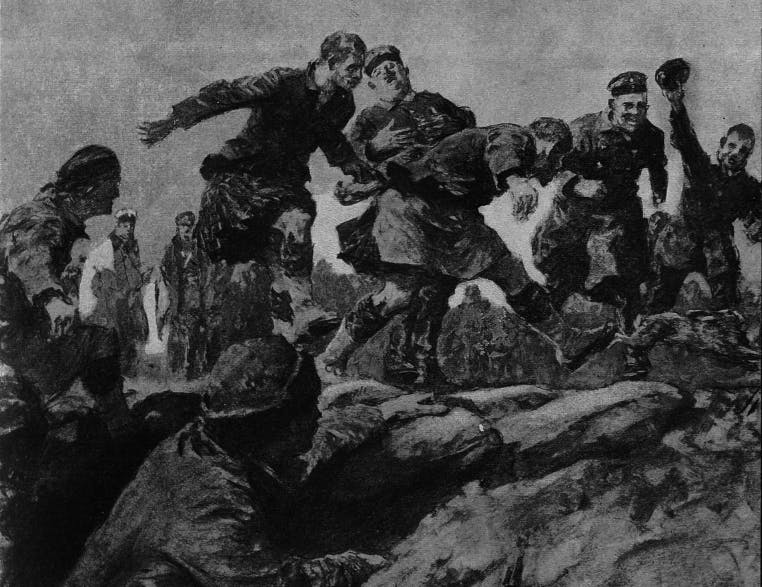 These quotes are excerpts from real letters written by soldiers who witnessed this unbelievable event. All of the letters were published in articles from our British Newspaper Collection.
For more historical insights from our in-house team of experts, head to the Findmypast History Hub.
More on this topic:
Share this article
About the author