Wanted: the criminals of 1921 named in this week's release
6-7 minute read
By Jessie O'Hara
21 January 2022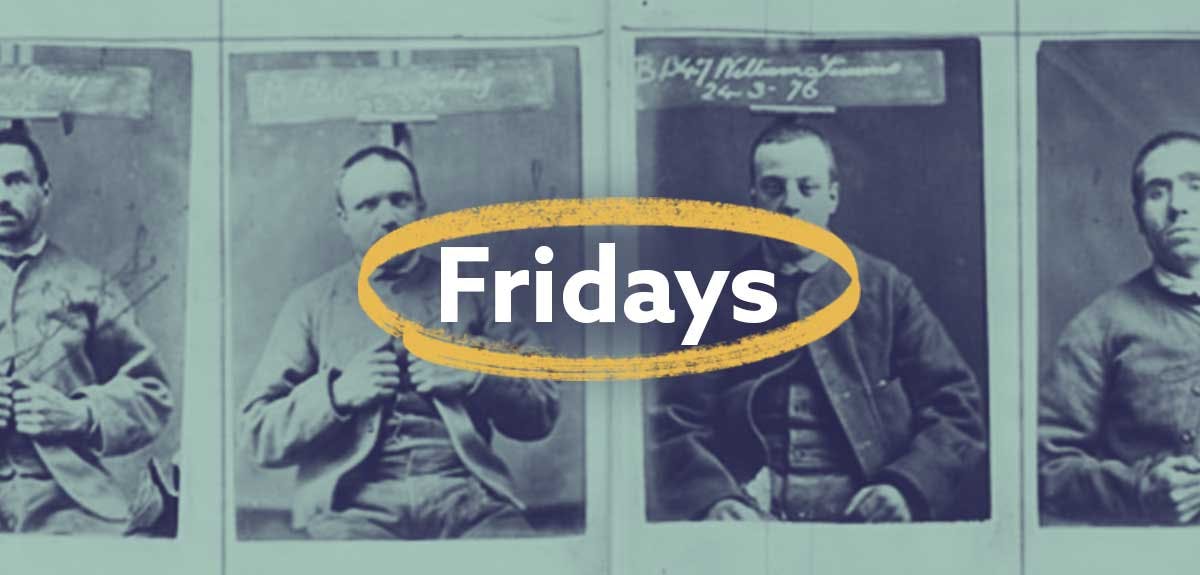 Can you spot any of these crooks in the 1921 Census of England and Wales?
This collection detailed wanted criminals, reported crimes, and apprehensions to police forces across the UK.
Spanning the entire year of 1921, the 1921 Police Gazette comprises 152 issues, with 12 or 13 issues being published each calendar month.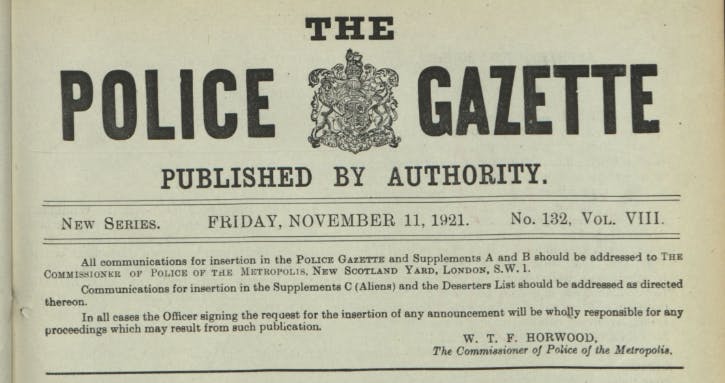 Part of our extensive collection of criminal and prison registers, the Police Gazette has a long history, dating as far back as 1772 and taking various aliases. Most famously named Hue and Cry, its purpose was relatively self-explanatory: advertise for wanted criminals across the UK police forces to enable them to catch, convict, and bring to justice the crooks of 1921.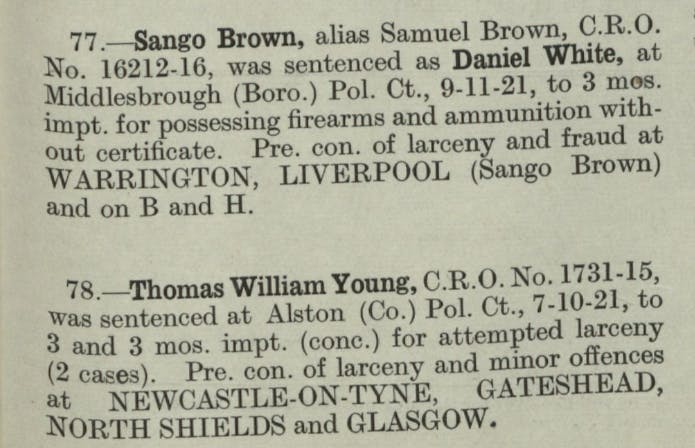 With the 1921 Census being delayed until June of that year, the Police Gazette records wanted criminals on either side of the census date, meaning perhaps that some of its wanted criminals can be found within the returns of the census. Crooks being crooks, however, they often went by multiple aliases, or were on the run from the law, making them more difficult to spot.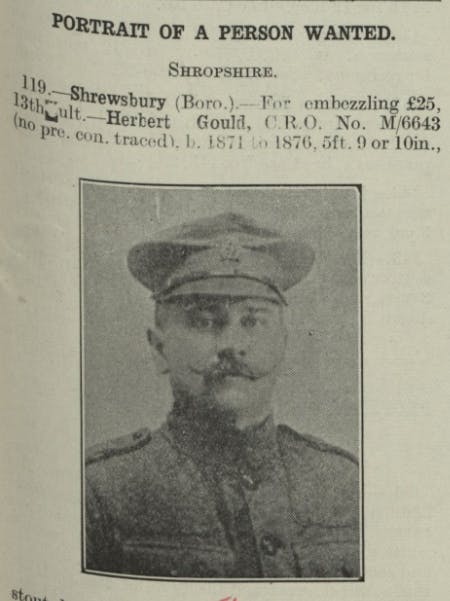 This publication has a unique collection of portraits for certain criminals, such as the one above, as well as detailed physical descriptions. It also includes notes, scribbled in red pen, by the police in 1921.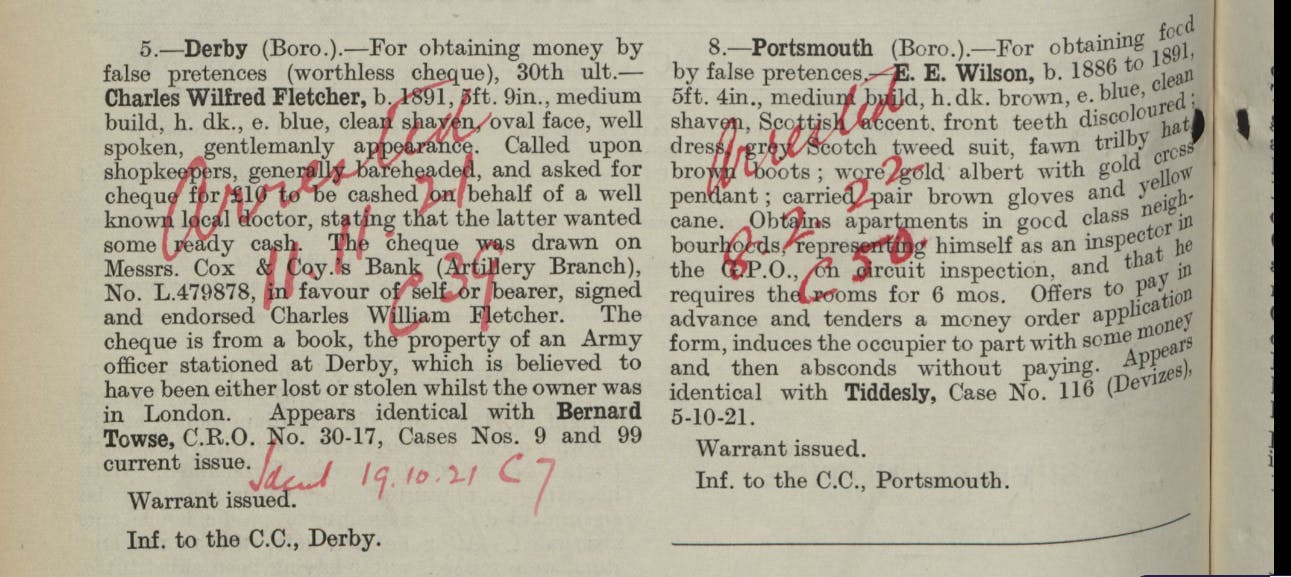 Don't immediately panic if you find your ancestor within these pages, however: it is not simply hardened criminals that the 1921 Police Gazette records. This publication also included notes about apprehensions of crooks across the UK, and publicised crimes that were reported by citizens, such as thefts and break ins.
So you've found your ancestors in the 1921 Census...
But have you looked into your house history? If the home you're living in predates 1921, you may be able to find it on the census, and discover the extraordinary lives that occupied the space you do now. This helps to not only paint a picture of the history in your local area, but also can build a connection between you and the four walls you sleep, eat, and socialise within.
You can search the 1921 Census by address and street name, which may help you narrow down your search. However, some houses may not have been recorded in the Census, for numerous reasons. We've listed our top three tips and tricks for discovering your house in the 1921 Census below, even with a disheartening first glance.
1. A rose by any other name...
Your house may have been built in the Victorian era, but street names and house numbers change over time. We always recommend working backwards - for example, try finding your house in the 1939 Register, or in electoral registers, before delving into the 1921 Census. This may help you build a clearer picture of what your local area looked like a century ago.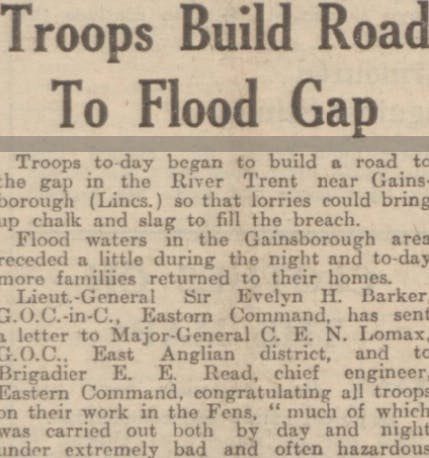 You can also search our newspaper database for articles that announced changes to infrastructure or additional building plans in your local area, like the above article from the Dundee Evening Telegraph.
Enumerator behaviour seemed to vary while taking the 1921 Census. Some didn't record a census return if the house was vacant, even temporarily; some didn't record house numbers, only street addresses; the odd lazy enumerator didn't note down an address at all (though luckily, this is more rare). If this is the case, don't worry just yet - there are numerous other sources that could point you in the right direction.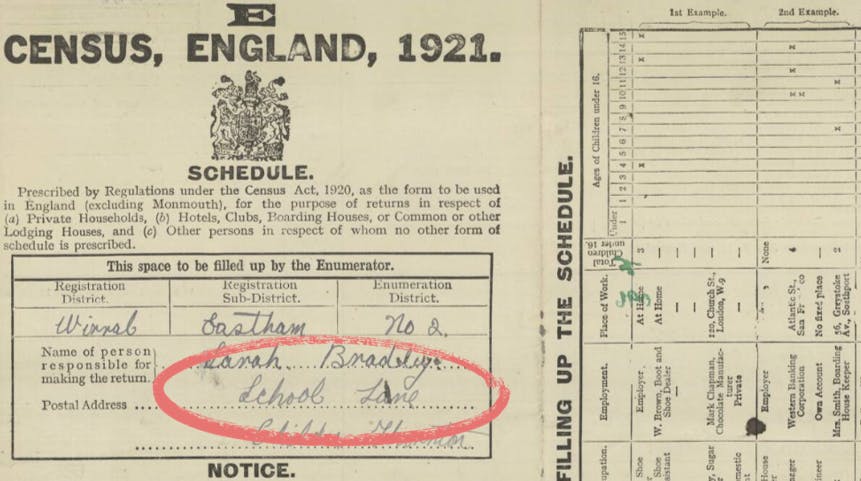 Once you've searched the 1939 Register, electoral rolls, and other relevant collections, try comparing the names you find with those living on the street, or even in the wider parish. This may help you narrow down the right record for your search.
Maps are a key resource in not only finding the correct street and property, but in understanding how the local area has changed over the decades. After you've purchased a 1921 Census record, the 'Extra (Address)' tab at the bottom of the screen will bring up the thumbnails of the other pages of the return and the enumerator maps of the area. Try comparing these maps to more recent ones - this can help you pin down the correct property by comparing building and residence changes over the years.
Most of all, don't be disheartened. Like any resource, the 1921 Census is an incredible source of information, but we are unfortunately in the hands of our ancestors with the details it provides. Working backwards through time and comparing multiple sources from different collections can help you pin down the families that lived in your house previously, and discover the incredible lives that occupied your home a century ago.
Still struggling to break down that brick wall? Extra questions about the 1921 Census and its supporting materials? Make sure you join us on Facebook for Findmypast From Home, our weekly series of live videos and Q&As, hosted by our in-house experts.
Not only can they help answer your queries and further your family history journey, but our community always love to offer a new perspective on any challenges you're facing. Set your reminder for 4pm (UK time) on Fridays, and get involved.
They're are five brand new titles this week - three from England, and two from Ireland - and an incredible 72 updated newspapers from all four corners of the UK. Here's the full list.
New titles:
Updated titles:
With now over 47 million pages filled with news articles, event notices, and vintage illustrations, our newspapers are an incredible resource for researching both your own family history and the wider local history. Explore how Britain has changed over the decades, in the words of our own ancestors.
Make sure to email discoveries@findmypast.com with your research breakthroughs, from the 1921 Census and beyond.
More on this topic:
Share this article
About the author