Invaluable insights into your military ancestors throughout the wars
3-4 minute read
By Jessie O'Hara
12 November 2021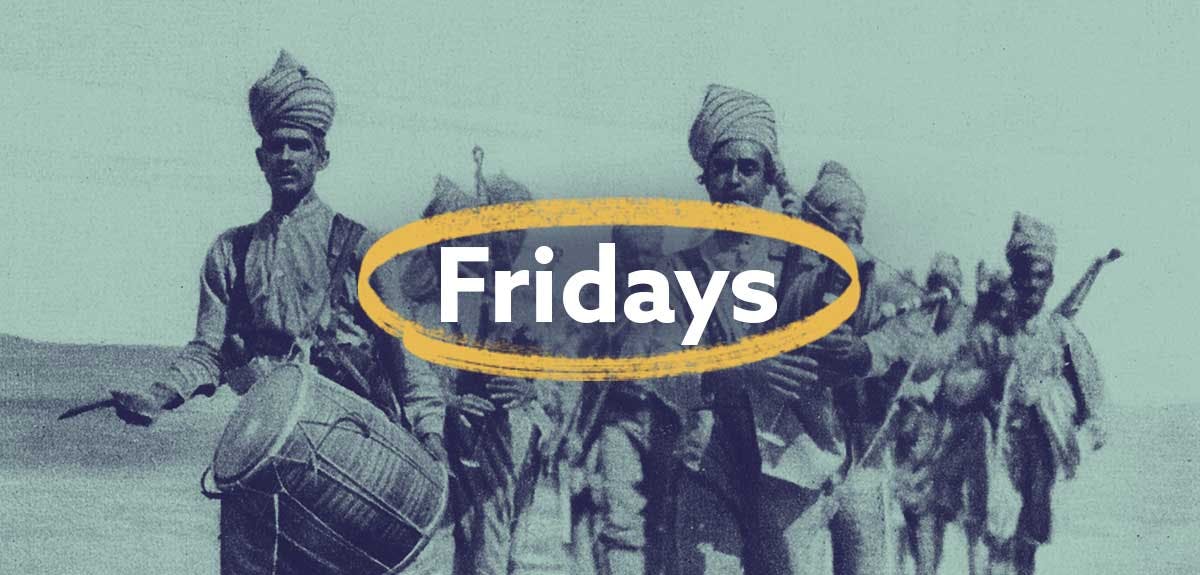 Between our almost five-decade long Indian Army Service Records and the release of our more focused Greater Burnley Roll of Honour, who's to say what stories your military ancestors will tell?
The best way we can salute our military ancestors is by honouring their memory through research. With more service records and poignant Roll of Honour records now published, the scope for discovering the stories of our family that fought only ever increases. Make sure to check out what's new with Findmypast every Friday to keep up to date with our weekly releases.
These newly-released Indian Army records of service store detailed information for more than 12,000 military officers throughout the wars. From captains to conductors, colonels to cooks, these documents provide invaluable insights into the lives of those that served.
Dotted throughout the Indian Army Service Records are the few female privates that served in the Women's Auxiliary Corps, India. Formed in 1942, these women relieved service personnel in the Army, Navy, and Air Forces, providing invaluable support throughout the war. Take a look at Kathleen Mary Upson's service record, for example - this incredible woman was a commander in the Indian Army from 1945-1946.
This focused collection details those from the Greater Burnley area of Lancashire that lost their lives during the First World War.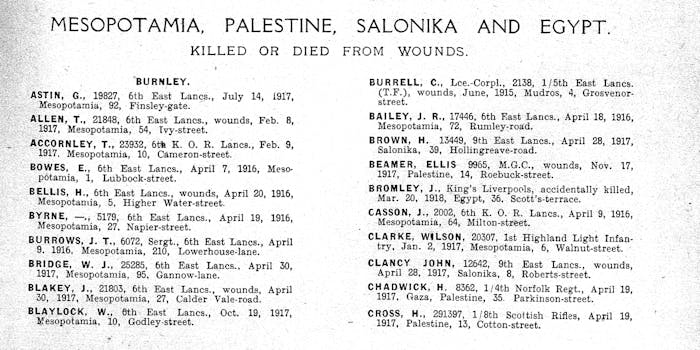 Though most of these records specify everything from regiment to home address, some entries go as far as to note the nature of a soldier's death, or even pay homage to his honours and awards.
Uncovering history with regiment numbers
Many British Service records were destroyed over the course of the wars, which means picking apart the existing ones becomes all the more important. In this video, expert Paul Nixon explains how you can uncover your military history through understanding the system of regiment numbers and their issue dates.
British Army Regimental Numbers

With so many British Army service records destroyed by over-zealous Whitehall clerks on the one hand, and German bomber crews on the other, making the most of what does survive, takes on added importance. In this webinar, Paul will explain how the regimental numbering system was operated between 1881 and 1920 and how you can unpick your British Army ancestor's past by working out when regimental numbers were issued.

Posted by Findmypast on Wednesday, March 24, 2021
Researching military ancestors: tips and tricks
Make sure to browse our record collections before you search for specific names. This will help narrow down your search by pinpointing which record sets are most relevant to you. This particularly useful if you have a John Smith in the family...
Use the functions provided, such as name variants, and be flexible with the year you're searching. Even if you think you know all there is about your ancestor, their name could have been recorded incorrectly, or recorded under a nickname.

Don't forget your own attic. Check your family home for old photographs, journals, letters, even engraved jewellery - sometimes, the most valuable information we have is in our own hands.
We have added 11 titles to our extensive newspaper archives, from Liverpool to Lincolnshire, and updated 30 of our existing titles.
New titles:
East Wind, 1875-1876
London Life, 1879
London Scotsman, 1867-1871
The Man About Town, 1869-1870
The Morning Mail, 1864-1866
Passing Events, 1873
The Sunday Gazette, 1867
Sussex & Surrey Chronicle, 1823-1824
Weekly Advertiser, 1865-1866
Weekly Echo, 1873-1874
The Weekly Independent (London), 1875-1876
Updated titles:
Anti-Gallican Monitor, 1812
Birmingham Mail, 1875-1876, 1885-1886, 1888-1889, 1899, 1902-1903, 1907-1911, 1913
Cotton Factory Times, 1901
Crieff Journal, 1891
East Kent Times and Mail, 1872, 1874, 1892, 1933-1934, 1936, 1941, 1944-1945, 1949, 1953-1955
Fenland Citizen, 1976-1985, 1994-1999
Grantham Journal, 1968-1970, 1976-1980, 1984-1985, 1997
Kentish Weekly Post or Canterbury Journal, 1731, 1760-1761
Leicester Evening Mail, 1961
Liverpool Daily Post, 1886, 1896, 1902-1903
London Evening Standard, 1912
Lynn Advertiser, 1993
Motor Owner, 1920
Nation, 1824
Newark Advertiser, 1920-1930, 1993
Reynold's Newspaper, 1924
Scottish Press, 1860
Spalding Guardian, 1895-1902, 1931, 1935-1943, 1947, 1953-1956, 1965-1975, 1977, 1979-1981, 1983-1984, 1995
Sports Argus, 1912-1913, 1919-1921
Stamford Mercury, 1969, 1975, 1977, 1983
Sunday Sun (Newcastle), 1925-1926
Surrey Advertiser, 1871-1872, 1876-1877, 1895
Wolverton Express, 1922
At Findmypast, we believe connecting with your ancestors from the past has potential to change the future. For this reason, all of our military records are free to view from 10:00 on Thursday 11 November to 10:00 on Monday 15 November. Make sure to tag us on social @findmypast with your discoveries.
More on this topic:
Share this article
About the author