Unlock Irish stories with newspapers and more
4-5 minute read
By Daisy Goddard
20 October 2023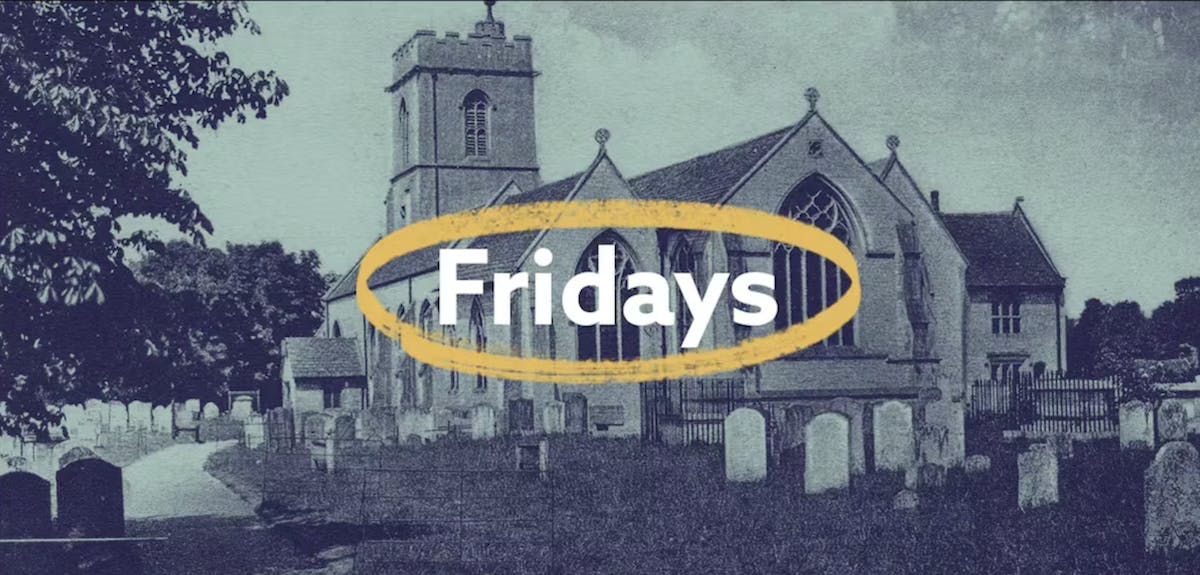 With three new sets and over 100,000 new pages added, explore the history of the Emerald Isle in more detail than ever.
With an update to our newspaper viewer and an extra-special Friday Live, we're talking all-things newspapers this week. There are over 100,000 new pages to explore this Findmypast Friday, with a trio of updated Northern Irish titles and a brand new London publication.
But that's not all - we've also added three new record sets from across the Irish Sea. From baptisms to burials, read on for the full rundown of all that's been added.
Our newspaper collection grew by 106,898 pages this week, as we've added a brand new title, the Commercial Daily List (London).
Despite its unassuming name, this title is notable, as it was one of England's earliest daily trade publications. In contrast to consumer-facing newspapers, trade publications are circulated within a particular industry or community. This means that their contents may look a little different, and will typically offer a detailed insight into a the goings-on of a particular business area.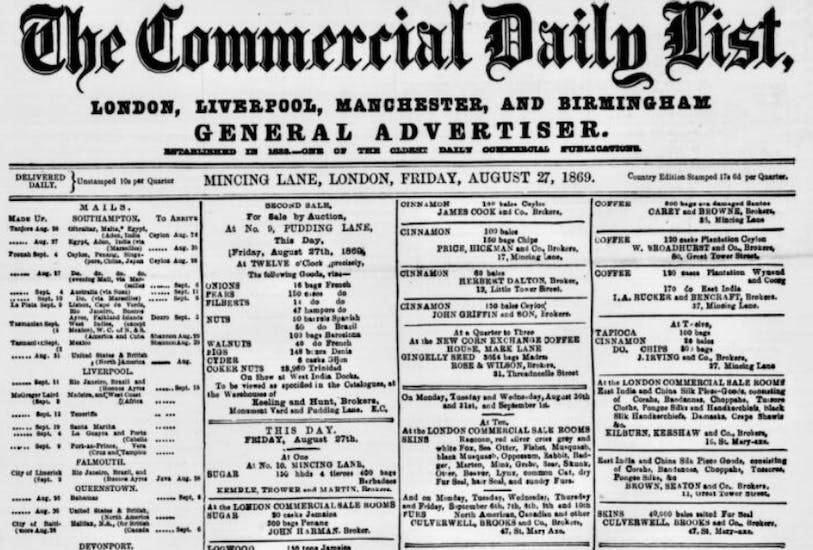 Established in 1832, the Commercial Daily List contains adverts, reports and news from the world of commerce. Although it was headquartered on Mincing Lane in London, the paper was circulated up and down the country, all the way up to 'Liverpool, Manchester and Birmingham'.
Each issue contained a 'Commercial Daily List', that is, a list of prices and figures from the Royal Exchange and the Liverpool Cotton Market.
Though not as accessible as the catchy headlines we may be used to browsing, these pages contain interesting information about the prices of consumer products in the 19th century, with prices of feathers, indigo, arrowroot and much more. You may want to compare items to today or delve further into these tables to conduct historical research.
Search for stories in our newspapers and publications
Explore millions of digitised pages of newspapers and other publications from our British and Irish collections, dating as far back as the 1700s.
In addition to this new title, we've updated three of our existing newspapers from Northern Ireland. 62,000 pages have been added to one of our County Armagh titles, the Lurgan Mail. We also added to two of Northern Ireland's oldest newspapers - the Belfast News-Letter and the Derry Journal - with new pages added from the 1970s, the 1980s and the 1990s.
Here's the full list of this week's newspaper updates.
Be sure to join Ellie for Fridays Live on 20 October at 4 pm (UK time), where she'll be chatting with Chris and Martin from Findmypast's product team. Together, they'll be exploring hot-off-the-press newspaper updates and taking a deeper look at what our collection can help you to unlock for your family tree.
On the record front this week, we have a fascinating trio of new sets from Dublin. The first of these collections is the Dublin Church of Ireland Baptisms, which contains 23,914 images and transcriptions spanning from 1619 to 1865.
If you've got ancestors from Dublin stretching back as far as the 17th century, you may just recognise a familiar name or two among this set.
As you'd expect from baptisms, you can learn a name, a baptism date, a parish, a place, a county, a gender, parents' names and the father's address from the records within this collection.
This week's second addition is a brand new set of marriages, also from various Church of Ireland parishes in Dublin. There are 23,101 images and transcriptions within this collection.
Rich detail is included within these records - you can expect to learn both spouses' names and occupations, their marriage date, the groom's residence, the parish in which they were married and more.
You can discover almost 200 years of Irish history, as this set covers from 1619 to 1800.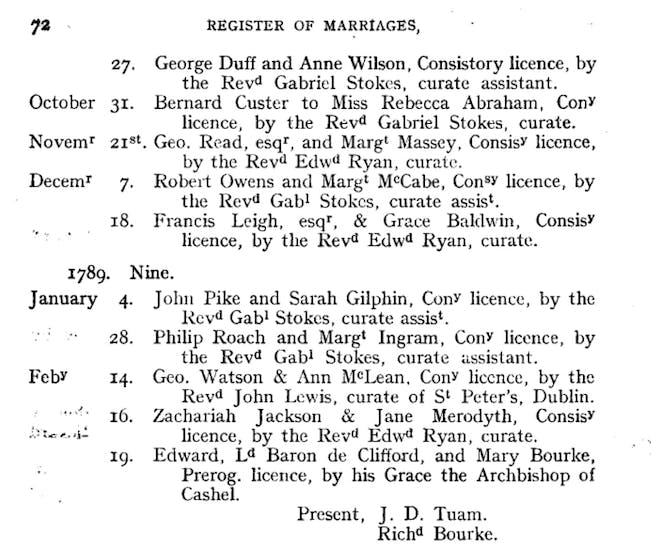 As the above record indicates, extra information can be found when you scour the original image. Take the marriage of Baron Edward de Clifford and Mary Bourke, for example.
The transcription of their record tells us that they were married on 19 February 1799 in the St Anne parish, the register image gives us more detail. We learn that they were married by prerogative licence by the Archbishop of Cashel and that 'J. D. Tuan' and 'Richard Bourke' were in attendance.
Last but not least, we have this week's biggest new set - burials from Dublin's Church of Ireland parishes. There are 44,175 records, spanning from 1618 to 1800, to explore. As with our other Church of Ireland collections, both transcriptions and original images are available.
Interestingly, although the Church of Ireland is Protestant, it was historically responsible for all of Dublin's official graveyards. This means that these registers record those of all denominations who were buried in the city in the 17th, 18th and 19th centuries.
From these records, you'll learn key information like a full name, a burial date and a residence, as well as the parish, place and county.
A little digging revealed some fascinating finds within this new collection. There's the burial of Frederick, the Duke of Schomberg, who was killed fighting for William III (the Prince of Orange) at the Battle of the Boyne. He was buried on 1 November 1690 in Dublin's St. Patrick parish.
But the discoveries don't stop there. We also found the record of Irish satirist and writer Jonathan Swift, who is known for writing Gulliver's Travels as well as for being an Anglican cleric in Dublin.

From Swift's record, we learn that he was buried in St. Patrick's Cathedral on 22 October 1745, after having been 'installed Dean of this Cathedral the 13th day of June 1713'.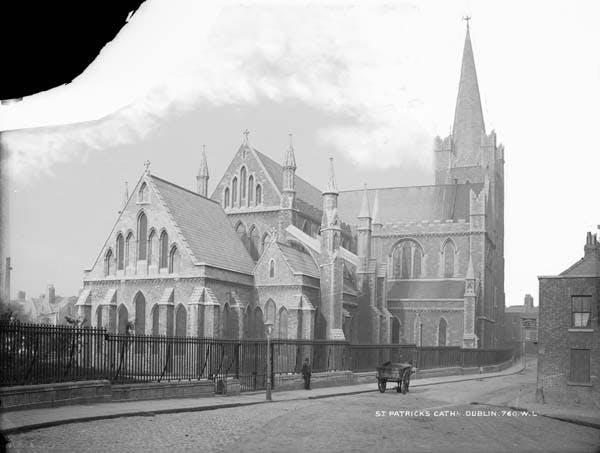 In addition to Swift's own record, we also found the burial of Esther Johnson, Jonathan Swift's longstanding muse and suspected partner. Shortly before his death in 1745, Swift requested to be buried next to Esther.
Have you made a surprising family history discovery? Whatever you've uncovered about your past, we'd love to hear about it. You can now get in touch and tell us directly, using this handy form.
More on this topic:
Share this article
About the author