Illuminating Irish stories with the 1911 Census, marriages and more
5-6 minute read
By Daisy Goddard
23 June 2023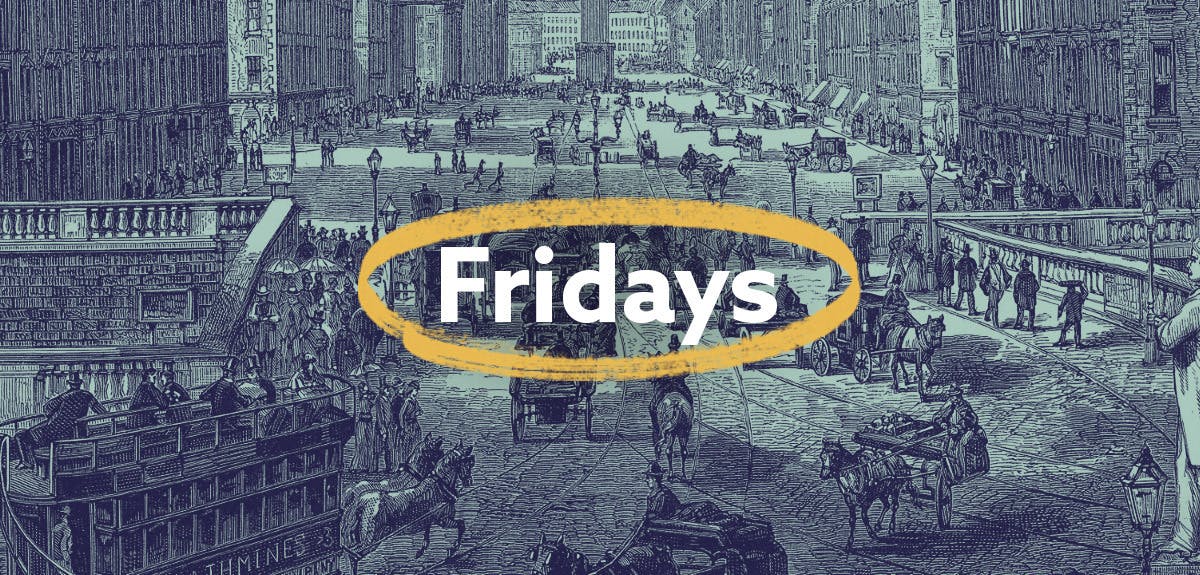 From marriages and wills to census records and newspapers, there is so much to explore within this week's exciting release.
As you might have already guessed, we're in Ireland this week. With the addition of marriages, wills, 1911 Census records, and even three brand-new newspaper titles, it's never been easier to uncover the stories of your ancestors from the Republic of Ireland and Northern Ireland. From Cork to Dublin, this week's new additions cover almost 500 years of important history.
Read on for a full rundown of all that we've added.
First up, we have a 9,010-strong new collection of marriage records. Covering between 1732 and 1800, this set contains marriage licenses from the Dublin diocese as well as marriage notices that appeared in Exshaw's Magazine and Hibernian Magazine between 1771 and 1800.
These were compiled by Irish genealogist Denis O'Callaghan Fisher (1809-1869), and transcribed for the first time by the team here at Findmypast. Given that both marriage announcements and licenses (compared to banns) were costly in the 18th century, these records recount the unions of Ireland's affluent upper classes.
Because both licenses and marriage notices are included in this collection, the information contained within each record varies. You can expect to find key details that will help you to build the Irish branches of your family tree: spouses' names and addresses, occupations, marriage dates, and the location of their wedding. In some instances, extra details like parents' names are also included.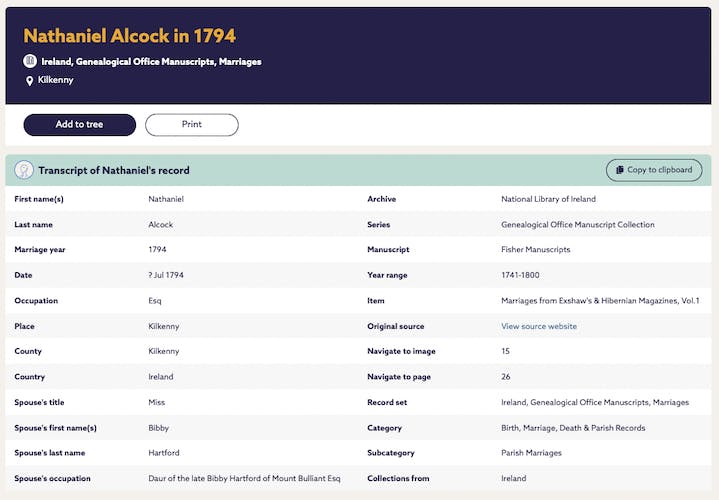 In this record, for example, we can see that spouse Bibby Hartford is described as the 'daur [daughter] of the late Bibby Hartford of Mount Bulliant Esq.'. It's personal insights like this one that make this collection so valuable for genealogical research.
This set is transcription-only, but it is possible to view an image of the original record by selecting the 'Original source' subheading within each transcription. We'd recommend doing this if the information in the transcription is unclear and you'd like to check it against the original.
This week's second brand-new collection is this set of Irish Wills, which contains transcriptions of 10,501 rare records that were compiled by Sir William Betham and Denis O'Callaghan Fisher in the 18th and 19th centuries. These records cover almost 300 years of history, from 1596 to 1866.
Over the course of his life, William Betham transcribed thousands of Prerogative Wills into notebooks. Held in the National Archives of Ireland, they are also available on Findmypast. From these notes, he compiled pedigrees - which is what this fascinating new collection is made up of.
O'Callaghan Fisher built on Betham's work, transcribing Diocesan wills (mostly from Dublin, Cork, and Cloyne), which were also compiled into pedigrees. We have brought these two men's contributions together into one handy collection, allowing you to explore Irish wills in richer detail than ever before.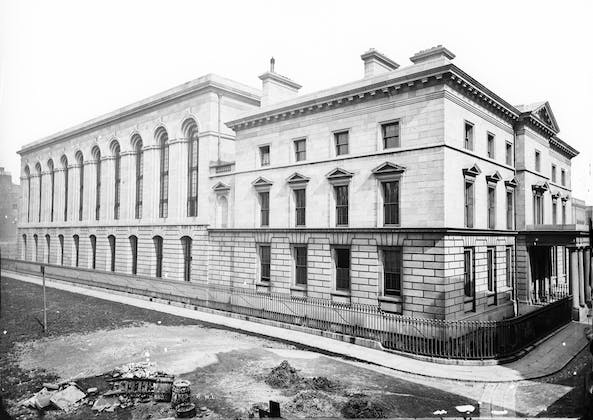 Tragically, many Irish wills were destroyed when the Public Record Office in Dublin suffered a fire in 1922. Despite the frustrating gaps in Irish records due to the fire, important collections like these provide a way of preserving Irish stories and connecting with an often elusive past.
From these records, you can expect to learn a name, will and probate date, address, and occupation. In some cases, the names of family members are also included. Like the above marriage set, you can view images of the original records by following the link within each transcription. For the first time, with Findmypast, you can search these wills by name, year, county, country, and keyword.
But that's not all for this week's Irish additions. We've also bolstered the 1911 Irish Census, adding 5,483 new records that were missed during the original transcription process. If you've hit a brick wall trying to trace your ancestor in this census, we may have added their record this Findmypast Friday.
As well as adding new records, we've improved the searchability of the entire set. It's now easier to browse and search the 4.3 million records within this key census, which is the most complete census available for the country. They are transcription-only, but don't let that hold you back from exploring the originals - images of each record are available on the National Archives of Ireland's site, via the link attached to each transcription.
Every household was required to fill out a census return, meaning that this collection provides a detailed snapshot of the Irish population in 1911. The exact information recorded on each return varies slightly, but each record is a rich and valuable source for family historians.
In addition to a person's name and date of birth, you can learn their relationship to the head of the household, their marital status, their occupation or school information, where they were born, and of course, the same information for their family members. Unique to this Irish census were questions on religion, literacy, and whether or not a person could speak Irish.
Some notable names can be found within this collection. Just one example is the writer Samuel Beckett, best known for his short stories and plays like Waiting for Godot. Samuel was aged four when the 1911 Census was taken. He's described as a 'scholar', but cannot yet read.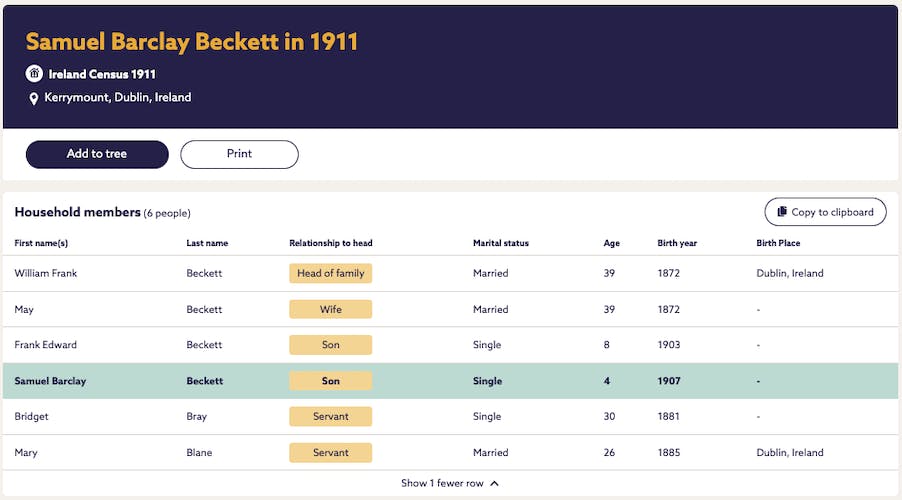 Residing in Kerrymount, Dublin with his parents William Frank and May Beckett, Samuel had an older brother, Frank Edward, who was born in 1903. His family employed two servants - Bridget Bray and Mary Blane - and were of Anglican faith.
From famous figures to your very own ancestors, who can you discover within the 1911 Irish census?
We're continuing the Irish theme with this week's newspaper release. To help you to fill in those mysterious gaps in your family's history, there are now three brand new titles to explore from the Republic of Ireland - the Dublin Leader, the Kerry News and the Limerick Echo.
The first of these new additions, the Dublin Leader, was founded by writer and political figure D. P. Moran, who was known for his advocacy of Gaelic and Catholic nationalism. It first appeared in 1900 and was published every Saturday at the cost of one penny.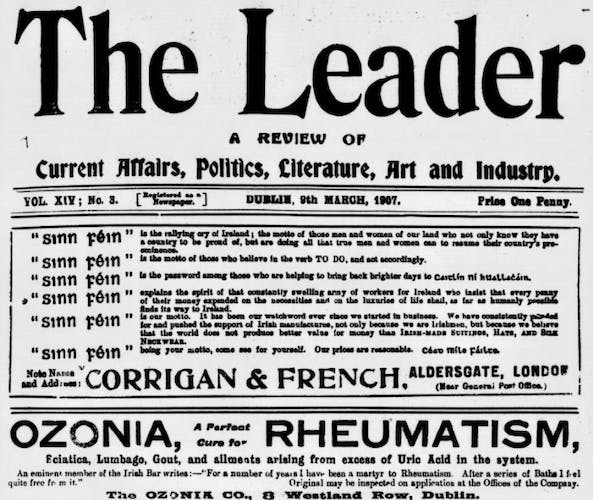 Not surprisingly given Moran's ardent support of the Irish language, the paper's articles appeared in both English and Irish. A mouthpiece of Moran's views, its 16 pages contained reviews of current Irish affairs, politics, literature, and industry.
From Belfast to Wicklow, we also updated five of our existing Irish titles this week, taking the total number of new pages added to 122,848.
Here's a full rundown of everything that's been added.
Dublin Leader, 1901-1963
Kerry News, 1894-1920
Limerick Echo, 1899-1902, 1904-1916, 1918-1922, 1930
Belfast Commercial Chronicle, 1823-1824
Dublin Shipping and Mercantile Gazette, 1872
Limerick Chronicle, 1826-1829
Roscommon Herald, 1871
Wicklow News-Letter and County Advertiser, 1886
Have you made an interesting family history discovery, Irish or otherwise? Whatever you've uncovered, we'd love to hear about it. You can now get in touch and tell us directly, using this handy form.
More on this topic:
Share this article
About the author