Explore 250,000 new records from England and Scotland this week
4-5 minute read
By Daisy Goddard
21 July 2023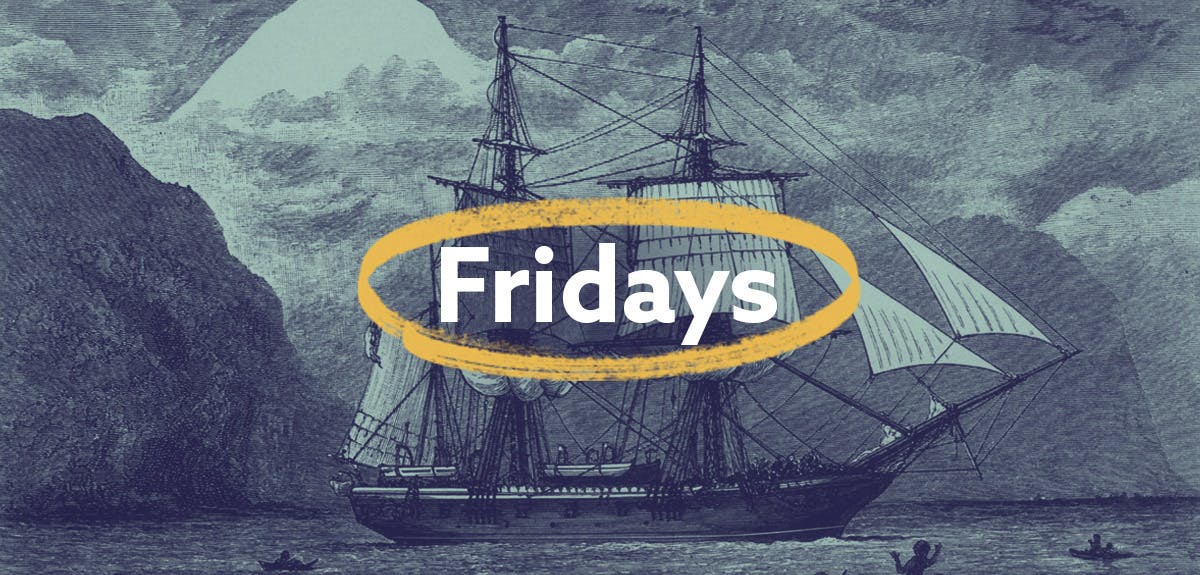 With two new sets and four newspaper titles added, there is so much to discover.
Our collection has grown this Findmypast Friday - you can now delve into settlement examinations from London, Greater London burials and the records of Glaswegian Anglo-Boer War volunteers.
Whether you've got ancestors from England or Scotland, these new and updated record sets may just contain the key to unlocking your next discovery.
First up, we have a brand new set which contains 10,782 transcriptions spanning almost 50 years.
These records relate to the Poor Law, which administered and provided relief to destitute members of a local parish. When a person arrived in a new parish, they were quizzed by officials before they could receive settlement (permission to settle within a parish, with the parish accepting responsibility for them if they needed relief).
The records kept from this process vary across parishes, but the urban parish of Shoreditch (which was outside of the City of London at this time) has a series of well-preserved records. These are useful as they provide insight into people's lives far before the first English census that included names, which came in 1841.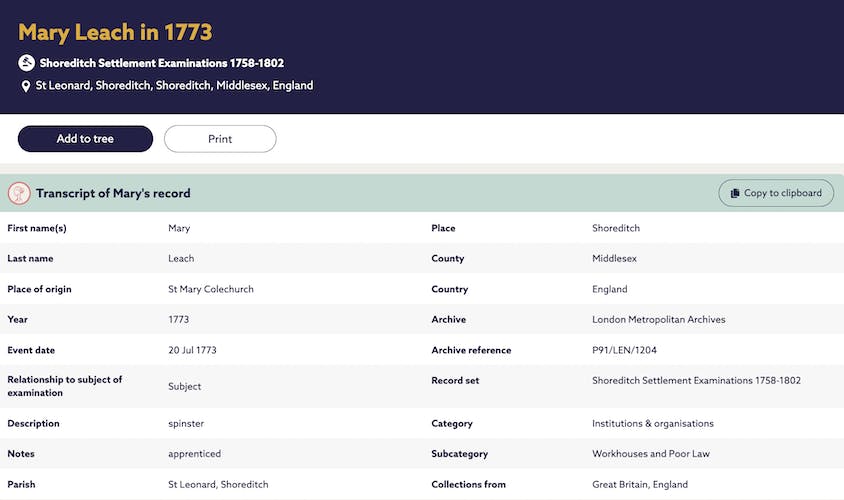 The information within this set varies, as there are records for both the individual examined and their close family members. You can expect to learn details like a name, place of origin, date of examination, occupation, residence, and relationship to the subject of examination.
Knowing an address is particularly valuable to family historians, as it unlocks a whole host of house history opportunities. Looking at the place of origin is useful too, as it enables us to trace migration into Shoreditch in the latter half of the 18th century.
All manner of interesting and harrowing stories are charted within these records. Take this one of Ann Barlow for example. Coming to Shoreditch from Birmingham in 1795, Ann's examination found how she was 'married at St Martin Birmingham 1 July 1791', but her husband had 'deserted her a year ago'.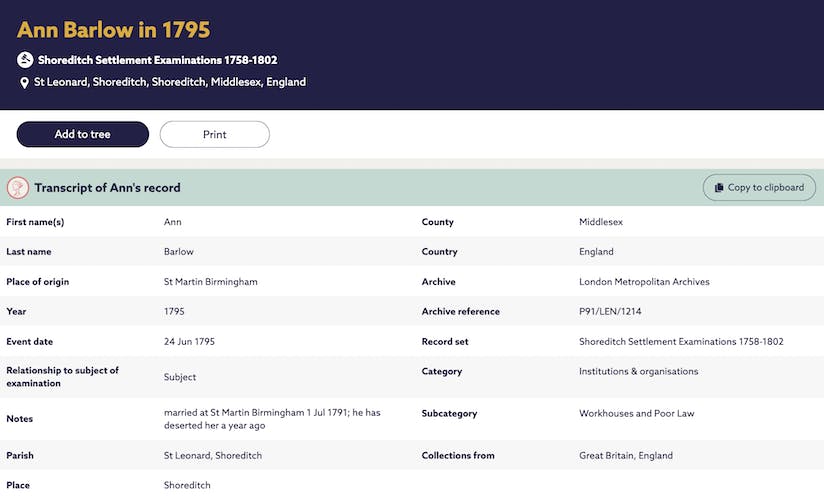 If you've got working class ancestors from in and around London, perhaps you'll be able to find them within these fascinating records...
This week's second new addition is this collection of Anglo-Boer War records, which offers insight into the lives of volunteers from Glasgow before they were shipped off to South Africa.
Before men went away to fight in the Anglo-Boer War, local cities and burghs (a type of Scottish town) held public ceremonies with a dinner, patriotic speeches, prayers and songs.
As part of these celebrations, departing soldiers were often presented with burgess tickets - granting them full rights to trade within the burgh, but above all, bestowing the highest form of civic honour upon them.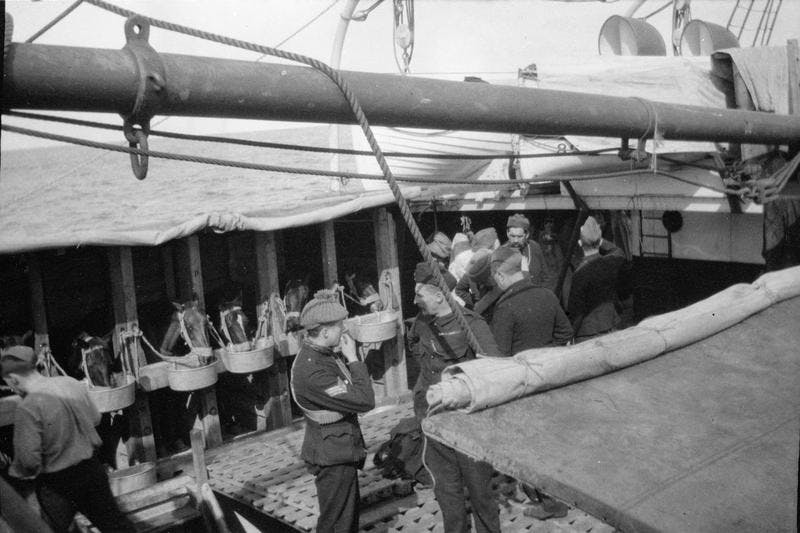 This set records the burgess tickets granted to Glasgow's volunteer soldiers between 1899 and 1902.
From the 1,019 transcriptions within this set, you can expect to learn a name, an occupation, an address, company and regiment information, and the date appointed burgess of the City of Glasgow.
Lastly, we've also added 236,204 new records to our Greater London Burial Index this week. Spanning over six centuries of history, from 1394 to 1905, these transcriptions are from the following parishes:
Battersea
Bermondsey
Camberwell
Edmonton
Enfield
Lambeth
Streatham
Southwark
Tooting
City of London
This week's update also contains records from Bermondsey Workhouse, which can help you to learn more about the lives (and deaths) of over 2,000 unfortunate Londoners in the 18th and 19th centuries.
These parish records contain key information like a name (and maiden name, for married women), age at death, burial date, occupation, religious denomination, address and parish. Additional notes are also included in some cases. When viewing these records, remember that the 'parish' field refers to a particular burial ground.
Our newspaper collection grew by 39,811 pages this week, as we added four brand new titles and updated a further eight.
If you've got roots in the south-west of England, you're in luck, as we've added an exciting duo of Devon newspapers.
You now can explore over 10 years of the Sidmouth Observer, which was first published in the resort town in 1887.
Having welcomed Edward, Duke of Kent and his baby daughter Victoria (the future English Queen) in 1819, Sidmouth has royal connections. This claim to fame was celebrated in the Sidmouth Observer's very first issue, which describes Sidmouth as 'the watering place in which our gracious Queen resided when a child'.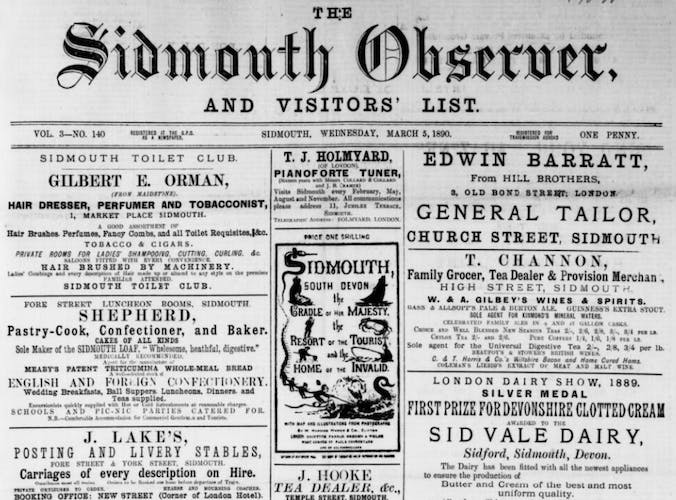 You may also uncover exciting stories within the pages of the North Devon Advertiser, which was a four-page weekly title containing everything from military news to 'telegraphic dispatches'.
In addition to our Devonian duo, two more titles were added this week: the Brighton-based Southern Weekly News and the Yarmouth Gazette and North Norfolk Constitutionalist, for which we've added intermittent years between 1892 and 1901.
Here's a full rundown of all that's been added this Findmypast Friday:
North Devon Advertiser, 1856, 1871, 1873-1883, 1885-1886, 1888-1889
Sidmouth Observer, 1887-1899
Southern Weekly News, 1877-1878, 1883, 1888, 1890, 1893-1894, 1899
Yarmouth Gazette and North Norfolk Constitutionalist, 1892-1895, 1898-1901
Croydon Express, 1897
Farnham Mail, 1990
Haverhill Echo, 1947-1961, 1963, 1965-1966, 1968-1970
Huddersfield and Holmfirth Examiner, 1961, 1980, 1982
Salford City Reporter, 1911
South London Observer, 1870-1880
Stalybridge Reporter, 1902
Weekly Examiner (Belfast), 1880
Have you made an interesting family history discovery? Whatever you've uncovered, we'd love to hear about it. You can now get in touch and tell us directly, using this handy form.
More on this topic:
Share this article
About the author