Why did so many of our ancestors migrate to America via Canada?
5-6 minute read
By The Findmypast team
29 June 2021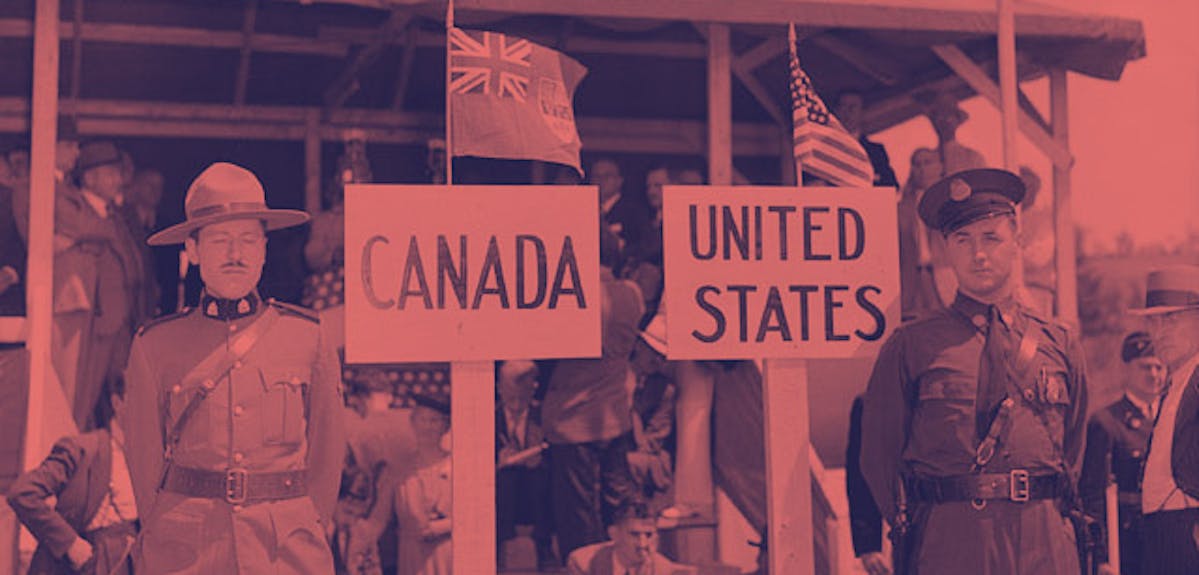 The first stop for many American immigrants was north of the border in Canada. Stephen Rigden explains why they chose that route and how their journey would have unfolded.
The number and frequency of sailings from the British Isles to the USA at the end of the 19th century and in the years running up to World War 1 show how lucrative the transatlantic passenger trade must have been in the era before air travel.
This period of history was during a time of relatively easy immigration into the United States, with the exception of the Chinese Exclusion Act of 1882, there were no quotas or restrictions imposed.
Some bound for America were responding more to the 'pull' of the New World rather than 'push' factors from the Old, but motivation varied widely and was often complex. Our ancestors might have felt they had no prospects in their native land and at the same time excited by potential opportunities a new life in the US offered. For some individuals and families, it was not so much a case of poverty or opportunity as a pressing need to escape a repressive regime, although during the period in question this would have been more of a motivation for trans-migrants.
They were people from other parts of Europe who were processed and re-embarked through British and Irish ports, having sailed from an original departure port in, say, the Baltic. Among these were, of course, a great many Ashkenazi Jews from the Austrian and Russian Empires, for whom life was particularly oppressive in Russia's Pale of Settlement (encompassing large parts of what are now Poland, Ukraine, Belarus and Lithuania).
Various routes to North America were served by competing shipping lines. There were regular sailings to America from major ports such as Southampton, Glasgow and Queenstown (Cobh of Cork), as well as others. But not all travellers to America went via ports like New York and Philadelphia. The alternative option, especially if your destination was a northern state, was to travel to the US via Canada.
Reaching America through Canada
This might seem surprising at first. Why would you go to Canada if you were travelling to America? If we think about how some budget airlines today fly to smaller and less well-known airports, often an inconvenient connecting journey away from where you actually wanted to go and perhaps thought you were going, then the surprise disappears.
Shipping lines would take passengers to Canadian ports rather than US ports if it was cheaper for them and for the passengers. And they made it more attractive to passengers by offering tickets inclusive of the connecting journey through towards a final destination. Many emigrants were travelling on limited means. Examining passenger occupations on ships' manifests, you get a sense that the Canadian routes drew the less affluent migrants. Anything that brought down the ticket price, even if it involved a longer sea crossing, or an extra day or two to the overall journey time, became attractive. For some, it was a necessity.
For example, in passenger lists to Canada from the 1890s and 1900s, you'll often notice the "port at which passengers have contracted to land" field featuring landlocked locations, like Chicago or Detroit. These were destinations that a ship could never have sailed to.
The most likely reason the shipping line recorded that information was because the passengers had bought an inclusive through ticket, covering both their transatlantic voyage and their subsequent overland journey by rail, or possibly road, to their final destination.

Passenger Lists Leaving UK 1890-1960 is one of the best sources you can explore when tracking outbound journeys from the British Isles to North America. The records start in 1890, the same year that the Board of Trade began to require shipping companies to systematically collect details of all passengers on outward-bound long haul sailings.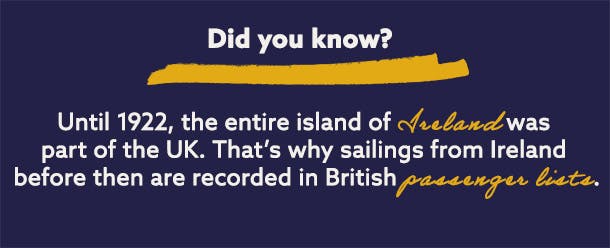 The mandatory compilation of passenger lists and their copying to the government was designed to enforce greater responsibility upon the shipping companies and assist insurance companies. They also helped the state to monitor volumes and trends and investigate disasters at sea.
Shipping routes from Britain to Canada
Two popular and successful shipping companies of this era were the Allan Line and the Dominion Line. Both served North American ports from their bases in Liverpool. Their more northerly transatlantic routes were seasonal. Sailings to the Port of Quebec and Montreal took place in summer when the St Lawrence River was navigable.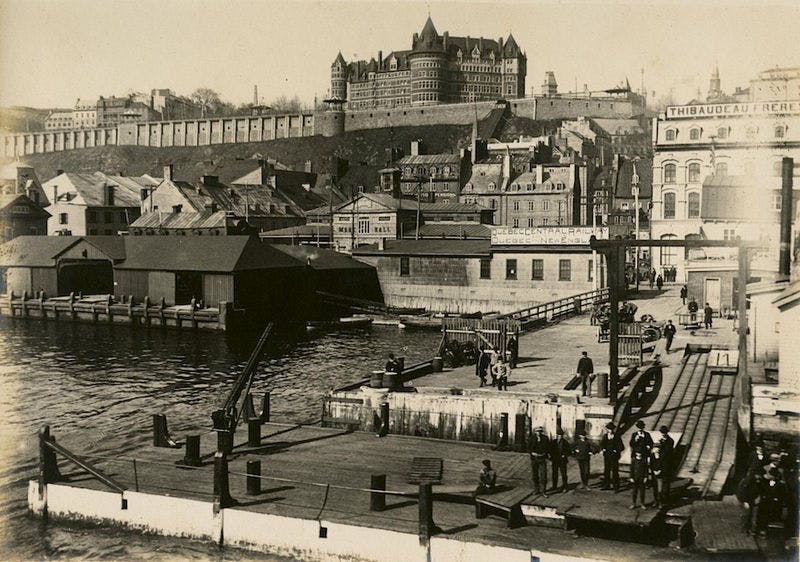 Both shipping lines switched their routes to Halifax, Nova Scotia and Portland, Maine during the winter months when the St Lawrence would freeze. The seasonal pattern to sailings means that if you know that one of your ancestors landed at, for example, Portland, they are far more likely to have arrived in the States between October and April.
Many of the people travelling to Quebec and Montreal were proceeding on to destinations not within Canada but the USA, particularly in the Midwest. It is always wise therefore to consider passenger lists for Canadian ports when looking for evidence of the arrival of American immigrants.
The Port of Quebec was one of the largest and busiest seaports in the world at the turn of the 20th century and a gateway to North America.
Portland was not of the same size and importance, and may not have had the glamour of Boston or New York, but by the 1890s it was a rapidly expanding town and busy entry point to America. This was not just as a result of it being an immigration hub but also because of its handling of exports of goods (such as grain) from the Midwest. Like Montreal and Halifax, Portland was on the Grand Trunk Railway, connecting it across the international border to Toronto and further westwards to Detroit and Chicago.
Canada Shipping Company specialised in the Liverpool to Quebec and Montreal route. The snippet below is from an August 1890 passenger list for the company's vessel SS Lake Winnipeg.

The pursers or other shipping line officials who completed the passenger lists were busy men and often skimped on detail. You can see in the above extract that the purser didn't write in the full name of the ship. His pre-printed form has the header 'SS Lake'. Canada Shipping Company vessels were all named after lakes but he didn't bother to add 'Winnipeg' to the manifest.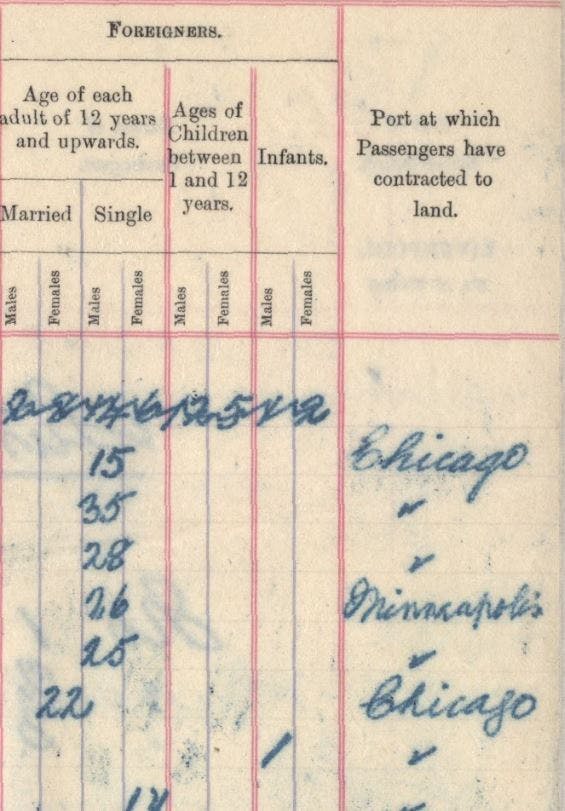 The voyage was Montreal-bound. You can see from the right-hand columns that many of the passengers were branded "Foreigners" from a British perspective. They were mostly Jewish or Scandinavian and were going to "ports" as diverse as Minneapolis and Chicago. Others were headed for destinations and as far-flung as Spokane, Washington and San Francisco, California. Sometimes, you'll see the form of onward travel specified, e.g. by "CPR" (Canadian Pacific Railway), which would take immigrants out to Alberta or Manitoba.
Did your family travel through Canada to America?
Delve into our extensive collection of travel and migration records to track your relatives' journeys and their final destinations. United States, Canadian Border Crossings is a particularly useful resource to explore. It charts travellers' movements between Canada and the United States at St Albans, Vermont between 1895 and 1954. Over 6 million records are included.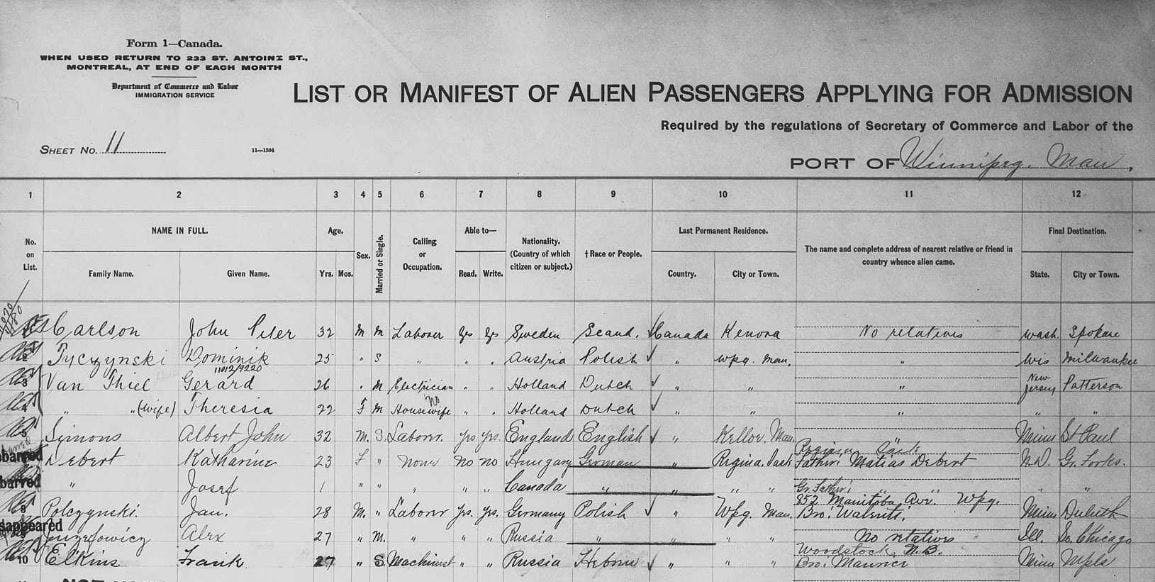 We love hearing your family's migration stories. Use #FindmypastFeatured on social media to connect with us and share your discoveries.
More on this topic:
Share this article
About the author