This Remembrance weekend, discover the wartime stories of your ancestors
5-6 minute read
By Daisy Goddard
10 November 2023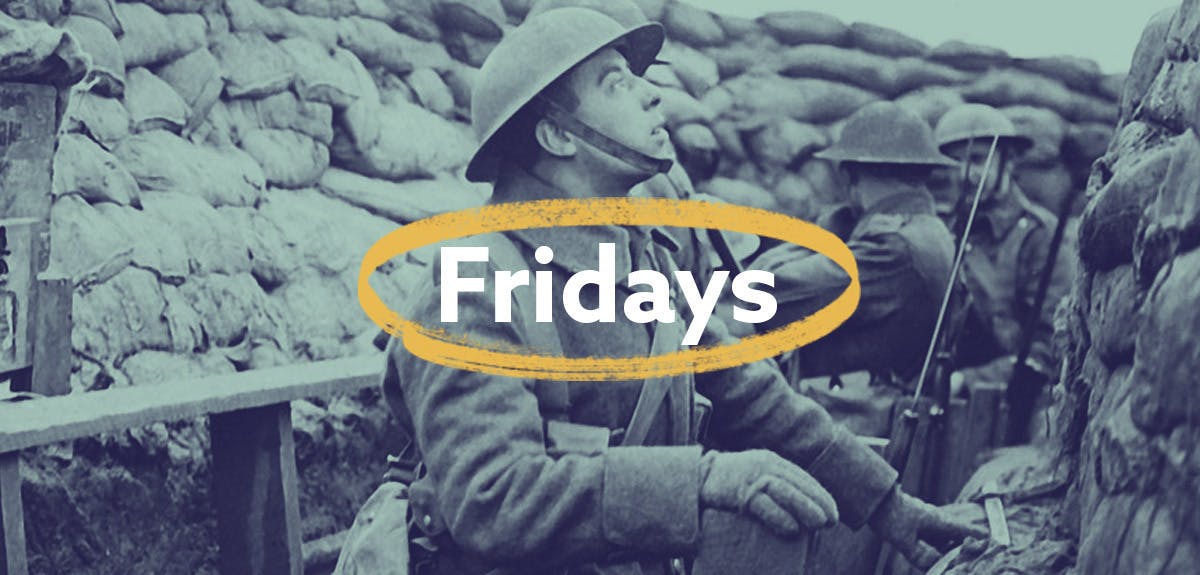 We've added over 6 million military records to our collection.
As we commemorate 105 years since the end of World War 1, there is no better time to discover more about the fighting lives of our ancestors, with fascinating new military records from across the globe.
To help you to #RememberThemAll, we've added two brand new World War 1 sets this week. We've also updated our Crimean War collection and bolstered our newspaper collection with a new Northern Irish title. Read on to learn more about everything we've added.
This week's biggest addition comes in the form of a brand-new collection of British First World War Campaign Medals, containing a grand total of 6,527,684 detail-rich records.
This set of transcriptions contains the names of millions of men and women who were awarded campaign medals for overseas service in World War 1. From RAF personnel to medical volunteers and labourers, all manner of heroic stories are contained within this fascinating set.
With women's names also included, this collection enables us to fully understand the sacrifices made by all members of society - even those who didn't serve as soldiers on the front.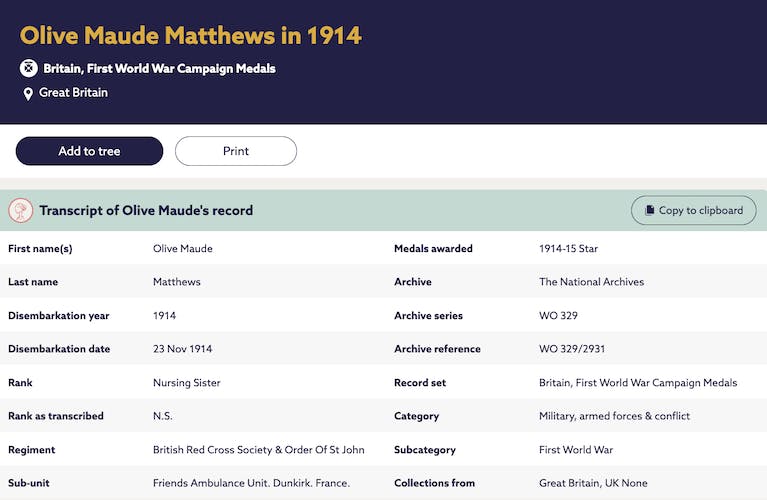 The information recorded is similar to that contained within our existing Medal Roll Index, however, you can expect to find additional detail that will further enrich your understanding of your ancestor's military service.
As well as a name, rank and service number, you can expect to learn a disembarkation date (when they arrived in a theatre of war), a regiment or unit, and the theatre of war that they fought in. This information is provided in the form of a code, for example, 1 is Western Europe, 1A is France and Belgium, and 1B is Italy. For the full list of theatre of war codes, be sure to consult the extra information on the search page.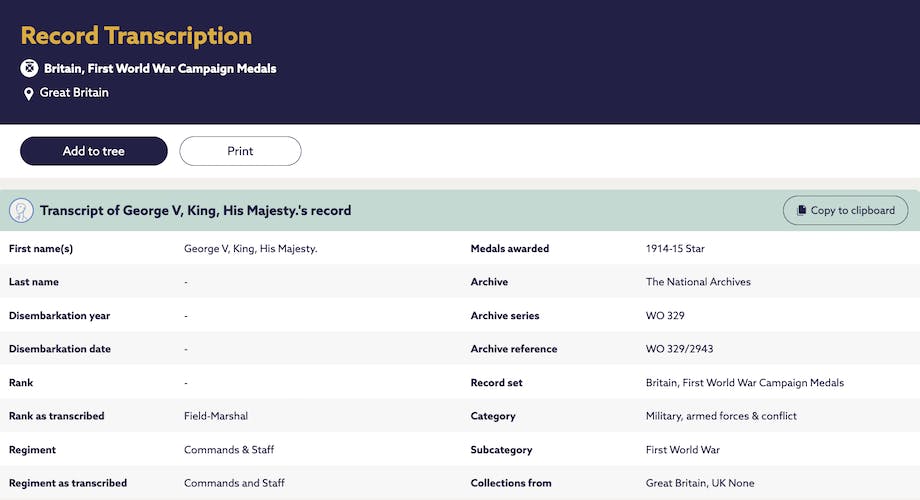 Many of these records also contain extra information such as battalion, previous service details, and whether they were demobilised or killed in action. As personnel aer listed under the unit that they were serving with when they received the medal, you may find multiple records for the same person.
But that's not it for this week's World War 1 additions - we've also added another new collection, of hospital records from Macclesfield in Cheshire. If your ancestor recovered at Macclesfield Infirmary between 1914 and 1918, then their name may just appear within this set's 1,880 transcriptions.
Each record is a transcription of an original hospital record, held at the Cheshire Archives. Although an initial is often used in place of a first name, knowing an ancestors' service record will allow you to pinpoint them within this collection with ease.
From these records, you'll learn a name, a birth year, an age, an event date and a place, as well as details like rank, service number, regiment and unit or corps.
You'll usually be given an admission date, as well as the date and year that a person was discharged from the hospital. In some cases, the name and address of a relative or friend is also listed - this rich information may help you to build your family tree.
Using this new set and our newspaper collection, we were able to discover the story of Sergeant J Hogan, who was awarded the Victoria Cross for recapturing a trench from German forces in October 1914. Hogan learnt of his medal while recovering from shrapnel wounds at Macclesfield Infirmary.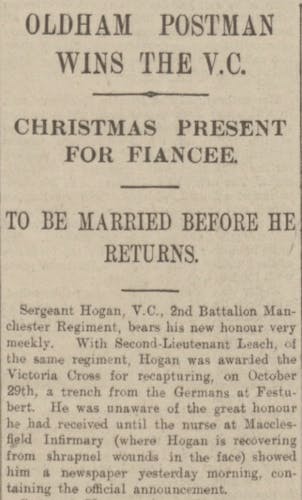 In addition to the key information that we can learn from his hospital record, an article in the Manchester Courier from December 1914 features an interview with Hogan himself - thereby really bringing his heroic story to life.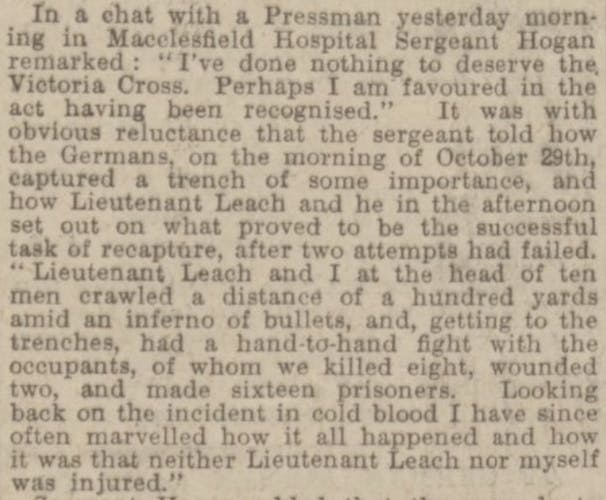 The news article describes Hogan's modesty at being awarded the medal - he's quoted as saying 'I've done nothing to deserve the Victoria Cross'. He describes how he and Lieutenant Leach reclaimed the trench, and commented that 'I have since often marvelled at how... neither Lieutenant Leach nor myself was injured'.
It is incredible stories like this one that can be found within this new set from Macclesfield.
To round of this week's trio of additions, we've also updated our existing collection of Crimean War casualty records. We've added 5,893 new transcriptions, which cover the span of the war (1853 to 1856).
From October 1853 to February 1856, the Crimean War was fought between Russia and an alliance of the Ottoman Empire, Britain, France and the Kingdom of Sardinia. Fighting broke out within a context of geopolitical tension, at a time when the Ottoman Empire was in decline and the Russian Empire was seeking to expand its influence.
Our Crimean War records are an index of casualties from the conflict. Although the information included may vary slightly, you can expect to learn a full name, a date, soldier number, rank and regiment, as well as a description of the casualty and details of the action it was caused by.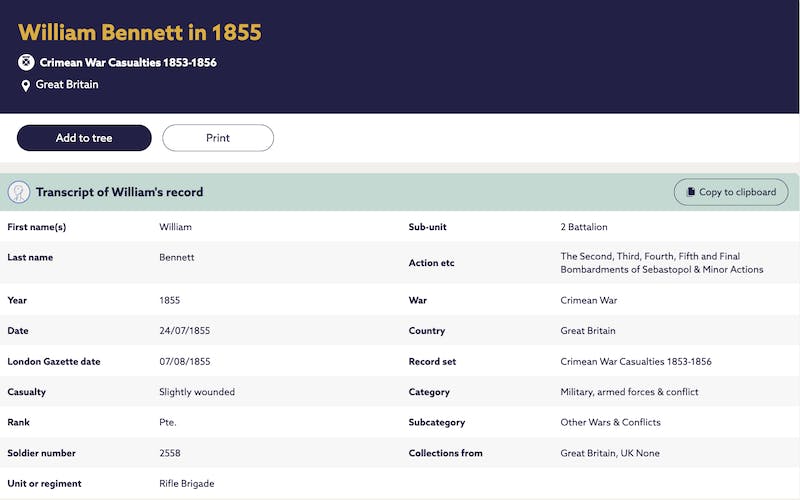 From the record above, for example, we can learn that Private William Bennett fought with 2nd Battalion of the Rifle Brigade. He was 'slightly wounded' on 24 July 1855, during the 'second, third, fourth, fifth and final bombardments of Sebastopol', and was also involved in other 'minor actions'.
We've also updated our newspaper collection this week, with a total of 138,191 new pages added.
A brand new title - the Ulster Star - joined our archive. With pages from intermittent years between 1957 and 1999, there are almost 50 years of Irish and Northern Irish history to explore. Founded in the city of Lisburn in 1957, the Ulster Star's initial 20 pages contained local news and were sold for the price of a fourpence.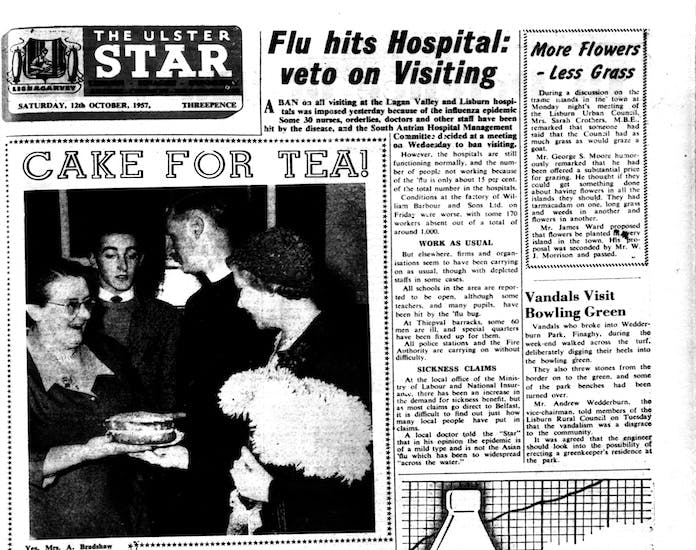 By the early 1970s, the title had almost doubled in size, becoming a staple of Lisburn's local news landscape. Its pages provide a fascinating insight into the daily life of the city, which lies on the River Lagan and the boundary between County Antrim and County Down.
In addition to this new addition, we've also updated two of our existing Irish titles - the Belfast News-Letter and the Mid-Ulster Mail, which grew by over 20,000 pages. 25 years on from the pivotal Good Friday Agreement, it's never been easier to explore the Emerald Isle's tumultuous history.
Here's a full rundown of all we've added.
Ulster Star, 1957-1987, 1989-1999
Belfast News-Letter, 1994
Mid-Ulster Mail, 1922, 1926, 1938, 1941, 1943, 1949, 1952-1957, 1978, 1985-1986, 1990, 1996-1998
Western Evening Herald, 1988
South Wales Daily Post, 1995
From all across the British Empire and beyond, we have over 51 million military and conflict records available for you to explore. Whether you've got roots in Britain, the United States, Australia, New Zealand or further afield, tracing the lives of the military heroes within your family has never been easier.
More on this topic:
Share this article
About the author