Nurture your family tree with over 2.6 million newspaper notices this week
3-4 minute read
By Jessie O'Hara
10 June 2022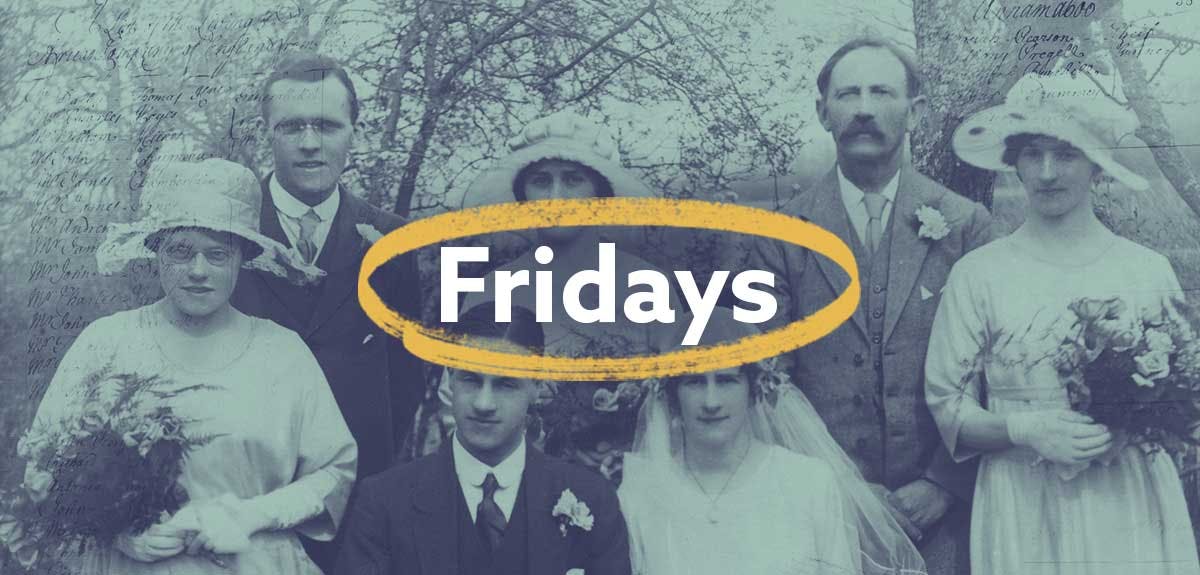 Whether it's births, marriages, or deaths that you're looking for, there's mountains of history to dive into.
Used most commonly for social and local history purposes, our newspaper archive is often overlooked when it comes to crucial family history information. After all, trying to locate one ancestor amid nearly 55 million pages can be a daunting task. In these collections, however, you can use our thorough search features to peruse millions of notices across England, making your exploration into the world of newspapers quicker and easier. Take a look at what's new.
Of course, it makes the most sense to start with the birth notices. There are just over 200,000 records in this collection.

These records span all across England, but have a particular focus on Lincolnshire and the surrounding areas. In these pages are over 200 years of recorded births.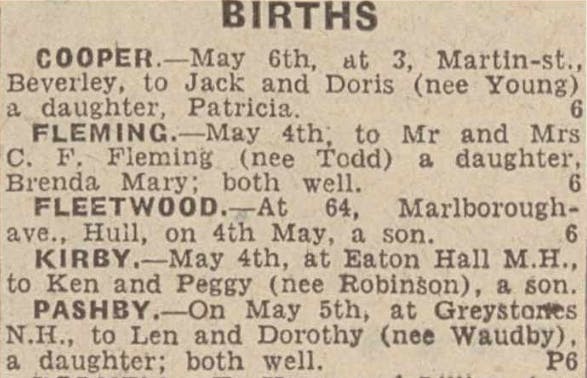 As with the snippet above, many of these notices will also include extra detail such as the parents' names, grandparents' names, or addresses. This can be hugely valuable for researching across generations. You may even catch the odd extra comment - see Brenda Mary Fleming's birth notice above, which remarks 'both well' at the end, presumably in reference to the mother and child.
Will you be able to trace your ancestor from birth to marriage? If you can, there's even more rich detail waiting for you.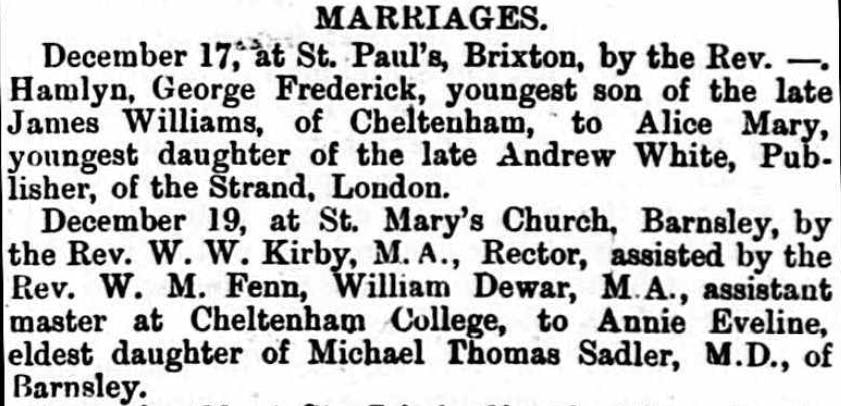 Not only are these likely to give you the father's name - which also helps you establish the wife's maiden name - but they may also pinpoint the exact church of marriage, the officiator of the marriage, or even the father's occupation. Above, we can see that the late Andrew White was a publisher, and lived in the Strand, London. These small pieces of information can help you piece together the jigsaw of your ancestor's life.
With nearly 700,000 records in this collection, there really is so much to discover.
By far the largest set of the three, there are over 1.8 million records in this collection.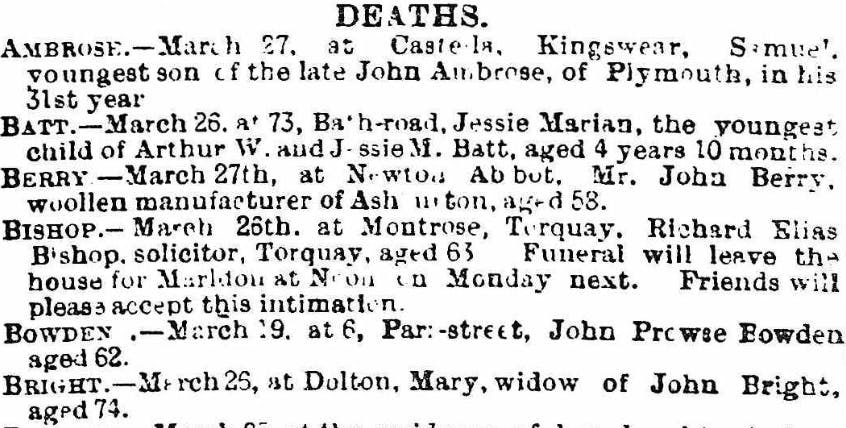 Though these can be sad to read, particularly when the person passed away young, they hold valuable information about your ancestor. Some will include the deceased's occupation, their residence, or even information on where the funeral was to be held.
Of course, we all know that births, marriages, and deaths are crucial to your family history research - but they're not the only records you can find in these collections.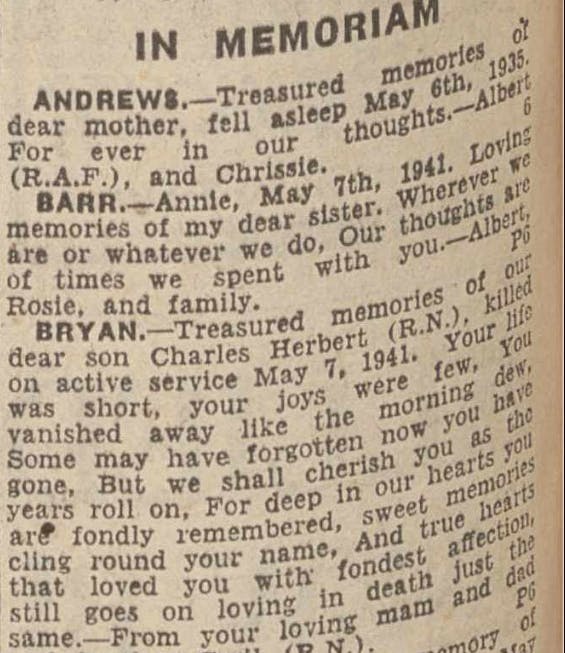 The 'In Memoriam' section of these pages contains more than just a notice of death, but a poignant message in remembrance of a loved one. The longest one above, for Charles Herbert killed presumably in the Second World War, reads:
"
"Your life was short, your joys were few,
You vanished away like the morning dew.
Some may have forgotten now you have gone,
But we shall cherish you as the years roll on."
"
It is worth noting that with all of these notices, you can glean a small amount of information about your ancestor's financial life. Each message was paid for by the word, so longer notices are sure to have come from a family with slightly more disposable income.
You can also find cheerful birthday greetings littered throughout these pages.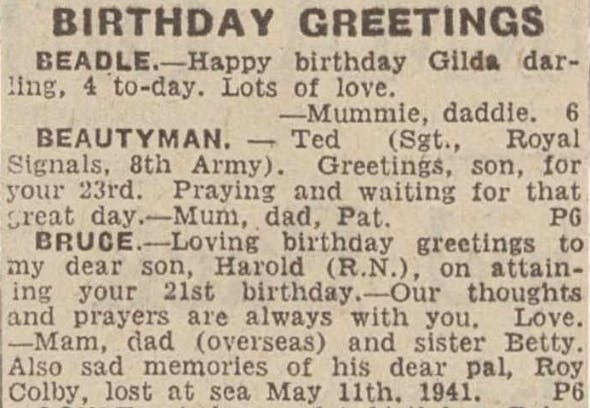 However, even amongst these messages of joy and jubilation, there are some that tug on the heartstrings, particularly around the years of World War 1 and 2. Above, a birthday greeting is tagged with the line:
"
"Also sad memories of his dear pal, Roy Colby, lost at sea May 11th, 1941."
"
Another sends greetings to a Charlie, who went missing while serving with the Royal Air Force in 1943.

Indeed, if you are specifically searching for military ancestors, then make sure to seek out the 'On Active Service' column, featured strongly during wartime.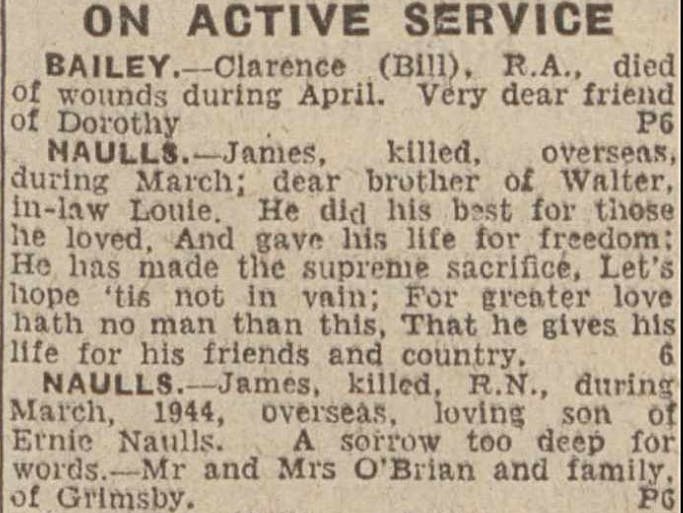 There are poignant messages and goodbyes to those that served. The notice above reads:
"
"He did his best for those he loved, and gave his life for freedom; he has made the supreme sacrifice, let's hope 'tis not in vain. For greater love hath no man than this, than gives his life for his friends and country."
"
Harrowing to read at points, but incredibly meaningful for those with relatives who died in the wars.
As these notices sometimes don't list a full name or death year, we recommend also trying the 'Optional Keywords' search feature to find your ancestor.
We hope you're not too tired of newspapers just yet, because we know we're not. We have added over 100,000 new pages to our extensive newspaper archive this week. This includes one new title, the Sutton Coldfield Observer, and updates to 26 titles across England, Scotland and Wales. The full list is below.
New titles:
Updated titles:
Have you found out anything particularly special about your ancestor through newspaper notices? Make sure to let us know on social media using @findmypast.
More on this topic:
Share this article
About the author