Search Surrey stories and so much more
6-7 minute read
By Daisy Goddard
15 September 2023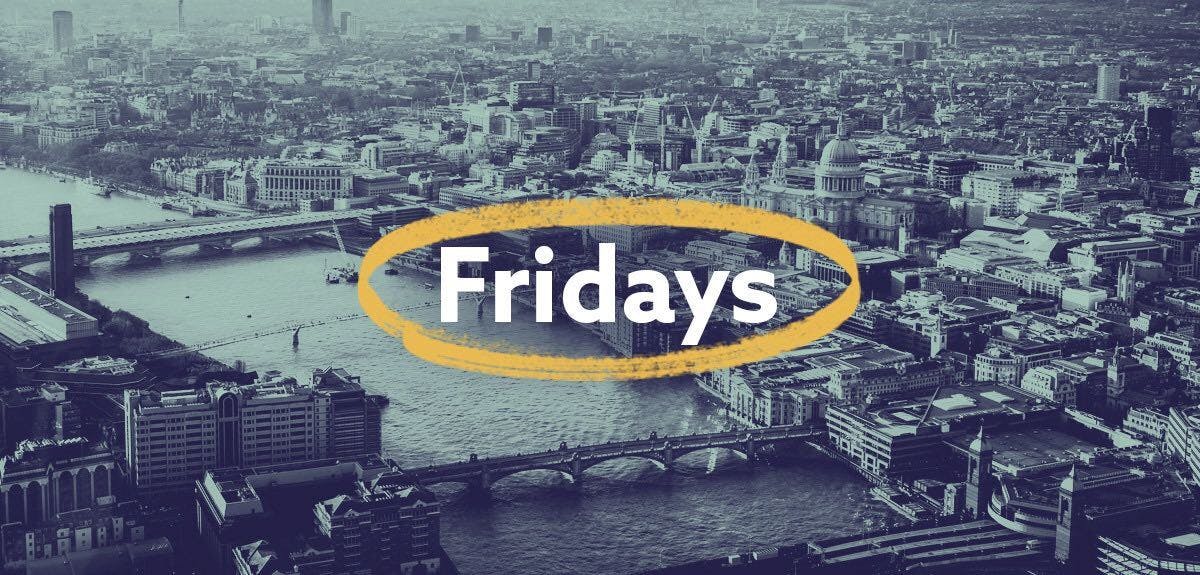 If you've got roots in the Greater London area, you may just find the name of an ancestor or two amongst this week's new additions.
If you've got ancestors from the Greater London area, this week's release is for you, as we've added over 40,000 Non-Conformist parish records from Southwark. With both images and transcriptions available, these four fascinating new sets span two centuries of history.
We've also added four brand-new titles to our newspaper collection, with a total of 302,872 new pages available for you to explore. Read on for a full rundown of all that's been added.
The first of this week's exciting new sets is Surrey, Southwark Baptisms, which contains 11,354 records spanning from 1801 to 1923. With both images and transcriptions available, there are so many rich details to discover.
These records are from registers created by Southwark's Non-Conformist denominations, from Baptist, Congregational (Independent), and Methodist chapels across the London borough. These denominations typically created baptism registers similar to England's Anglican parishes, meaning that these records are similar to our Church of England parish baptisms.

From these records, you'll typically learn a name, a birthdate and place, a baptism date and place, parents' names, and a home address. Some records also contain the father's occupation and the name of the minister who performed the ceremony.
A little digging revealed a few notable names within this new set. We found the record of the English poet and playwright Robert Browning.
One of the most popular figures in Victorian literature, Browning is best known for his play The Pied Piper of Hamelin. By the end of his life, Robert Browning had acquired the status of 'philosopher-poet', with his arguments helping to shape the socio-political discourse of the 19th century.

As we learn from his record, Browning was born in Walworth on 7 May 1812 and baptised in Walworth on 14 June of the same year. His parents Robert and Sarah Anna chose to baptise Robert Jr. in Southwark's York Street Chapel, which was an independent denomination.
With over 120 years of history covered within these records, who else's name will find?
This week's second new set is a collection of Non-Conformist marriages, also from the Surrey parish of Southwark. There are 896 records to explore, covering 1867 to 1939.
They derive from congregations across Southwark - including chapels near the Thames in Bermondsey and Borough, and others further south, in Peckham and Camberwell.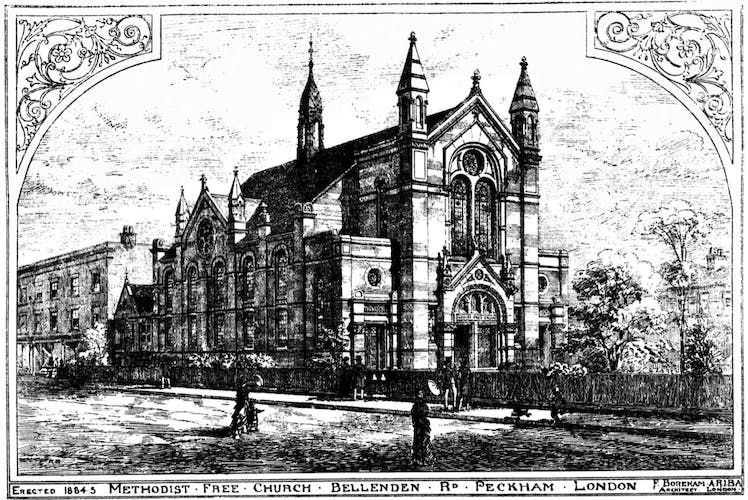 With each search result, you'll find a transcription and an image. Because this set contains a diverse mix of records, the information you'll find will vary widely, depending on the denomination, date, and location of the record.
In general, you can expect to learn the bride and groom's names, the marriage date and place, and the father's name, as well as extra details like age, marital status, occupation, and residence. As always, we'd recommend consulting the original record image to ensure that you don't miss anything.
Next up, we've also added Non-Conformist burial records from Southwark. Within this brand-new set, there are 1,915 records to explore, covering the years 1781 to 1860. If you've managed to trace the London branches of your family tree back as far as the 18th century, this collection is not to be missed.
These burial records are from Independents (Congregationalists), which are part of the United Reformed Church. They come specifically from the York Street Chapel, Walworth, and the Colliers Rents Independent Chapel, Southwark.
From each image and transcription, you can expect to learn a name, a death date and place, a burial date and place, an age, and an address.
Rich detail can also be found within some of these records. Take the example of Catherina Bowden. Catherina died aged 28 in 1842 and was buried at York Street Chapel, Walworth.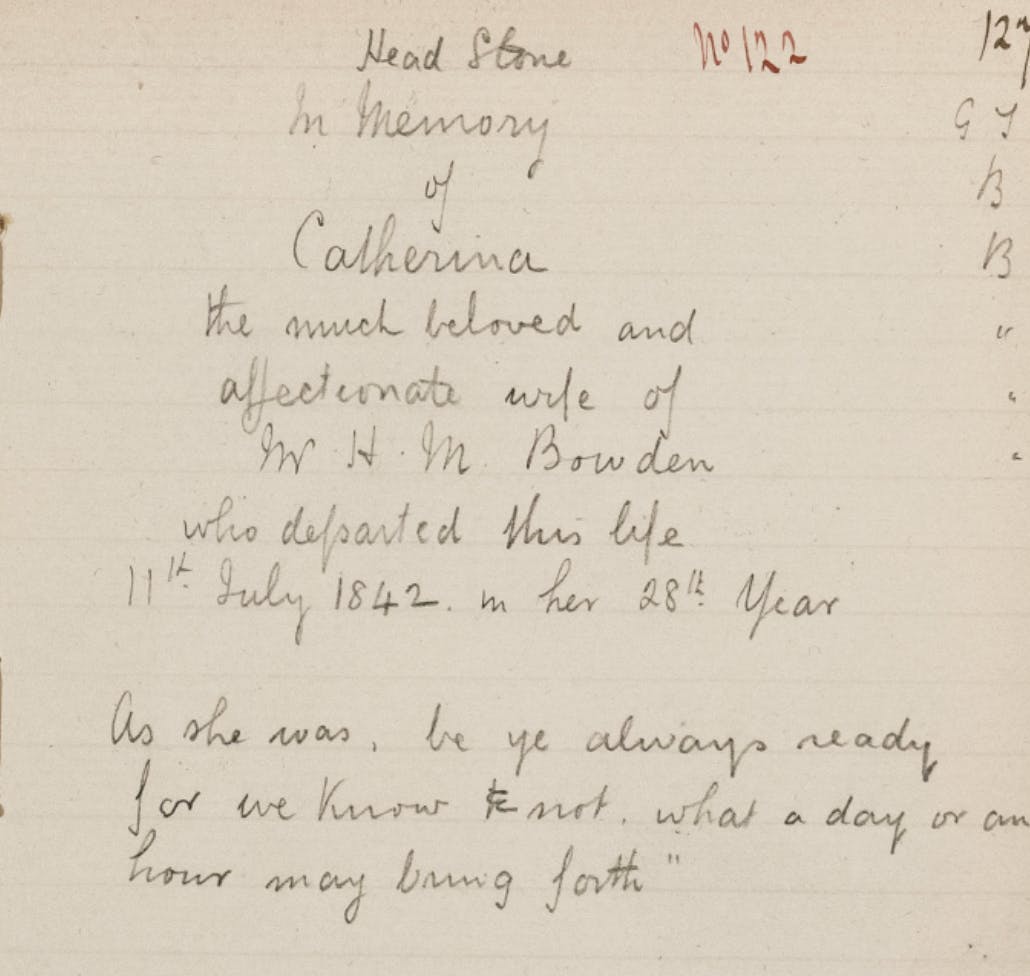 While the transcription tells us key facts like a birth year, a death year, and the denomination, the image allows us to connect with Catherina's sad story on a far more personal level.
It contains a moving quote that was chosen for her headstone - 'As she was, be ye always ready, for we know not what a day or an hour may bring forth'.
In addition to baptisms, marriages, and burials, we've also added 24,844 Non-Conformist congregational records for Southwark, spanning the years 1804 to 1984.
Including everything from Sunday School admission registers and pledge books to dues (tax) registers, this varied set records the life of Southwark's Non-Conformist community. You'll find both images and transcriptions for each record, although the information included depends on the type of record.
You'll often find a name, date, age and place within these records.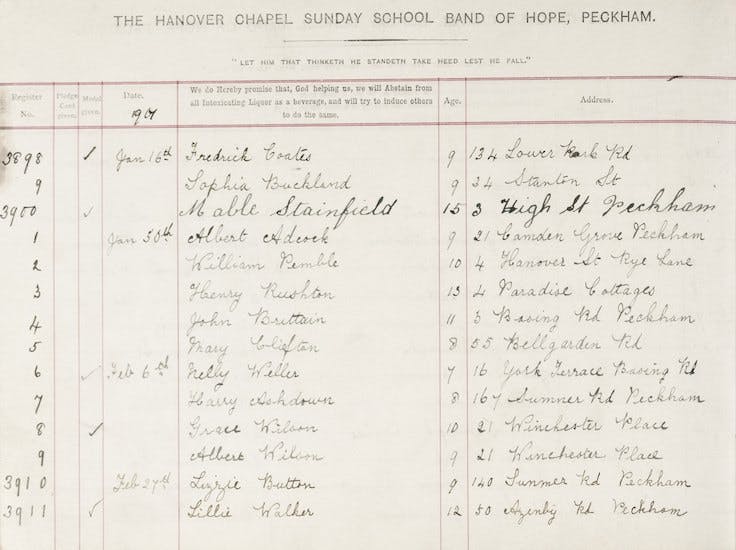 While baptisms, marriages and burials recount key points in the lives of our ancestors, these congregational registers record events on a more day-to-day level.
If your relatives were involved in Southwark's Non-Conformist community, they may help you to get a colourful idea of what their lives looked like. Perhaps your ancestor attended Sunday School in Peckham, or made a generous donation to their local church. With this brand-new set, it's possible to uncover these kinds of fascinating stories.
We're going back to school with this week's newspaper release, which sees the addition of the all-new Schoolmaster and Edinburgh Weekly Magazine to our collection. We've added three further titles from London, Liverpool, and Kent, too.
But that's not all - we've also updated an extensive list of 26 of our existing titles. With a grand total of 302,872 brand new pages, there are so many exciting stories to be discovered.
Contrary to what its name suggests, the Schoolmaster and Edinburgh Weekly Magazine isn't a special school-themed title but rather a weekly general newspaper. It was founded by husband and wife John and Christian Isobel Johnstone in 1832.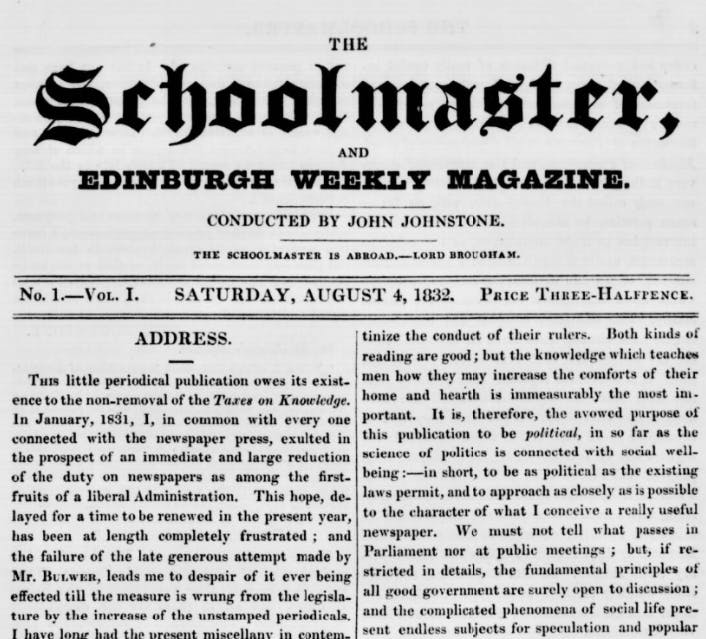 John and Christian were prompted to create the paper after being disappointed by the limitations of the 1832 Reform Act, which effectively gave voting rights to the middle class while leaving workers disenfranchised.
The pair wanted to educate the masses, taking them 'back to school' to prepare them to participate in politics once voting rights were further extended.
As explained in the Schoolmaster's inaugural edition, its mission was to be: '…the cheap and universal diffusion of really useful information of every kind, – of such snatches and foretastes of all kinds of knowledge, as may stimulate to more extended inquiries, and supply elements of thought in all departments of mind'.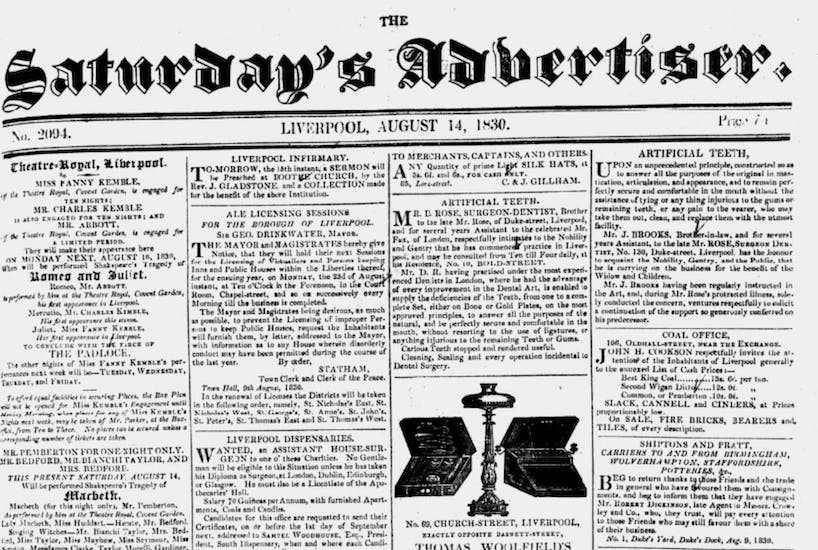 For these titles, we've added pages from intermittent years between 1823 and 1902. Whether you've got roots in Surrey or Sevenoaks, it's easier than ever to illuminate the lives of your Victorian ancestors.
Here's a full rundown of all that's been added this week.
Epsom Journal, 1871-1896, 1898-1899, 1901-1902
Kent Times, Tonbridge and Sevenoaks Examiner, 1858-1859, 1861-1862
Liverpool Saturday's Advertiser, 1823, 1826-1828, 1830-1832
Schoolmaster and Edinburgh Weekly Magazine, 1832-1833
Armley and Wortley News, 1898
Banbury Advertiser, 1912
Banbury Beacon, 1901
Bayswater Chronicle, 1892, 1894-1895, 1897, 1901-1908
Bury Free Press, 1979
Croydon Advertiser and East Surrey Reporter, 1986-1989, 1997
Devizes and Wilts Advertiser, 1872
Donegal Vindicator, 1914
Dumfries and Galloway Standard, 1986
Gloucester Citizen, 1992-1993
Liverpool Daily Post, 1921, 1923, 1927-1929, 1953, 1955, 1979, 1999
Liverpool Weekly Mercury, 1908, 1913
Middleton Guardian, 1995
North British Advertiser & Ladies' Journal, 1995
Northfleet and Swanscombe Standard, 1897
Ormskirk Advertiser, 1858, 1861-1862, 1892, 1895, 1898, 1900, 1909, 1924, 1935-1936
Rochdale Observer, 1897, 1902, 1904-1905, 1920, 1932, 1951, 1961, 1966, 1985, 1988, 1996, 1998-1999
Saturday Telegraph (Grimsby), 1905
Sherborne Mercury, 1784-1788, 1795
South London Observer, 1889-1894
Southern Weekly News, 1910
Southport Visiter, 1904-1906
Southwark and Bermondsey Recorder, 1921-1933
Welshman, 1894
Widnes Weekly News and District Reporter, 1878, 1883-1886, 1890-1891, 1893-1895, 1897-1904, 1906-1908, 1910-1911, 1982
Wiltshire County Mirror, 1875, 1910
Have you made a surprising family history discovery? Whatever you've uncovered about your past, we'd love to hear about it. You can now get in touch and tell us directly, using this handy form.
More on this topic:
Share this article
About the author