How to bring your family together online
5-6 minute read
By Guest Author
14 November 2022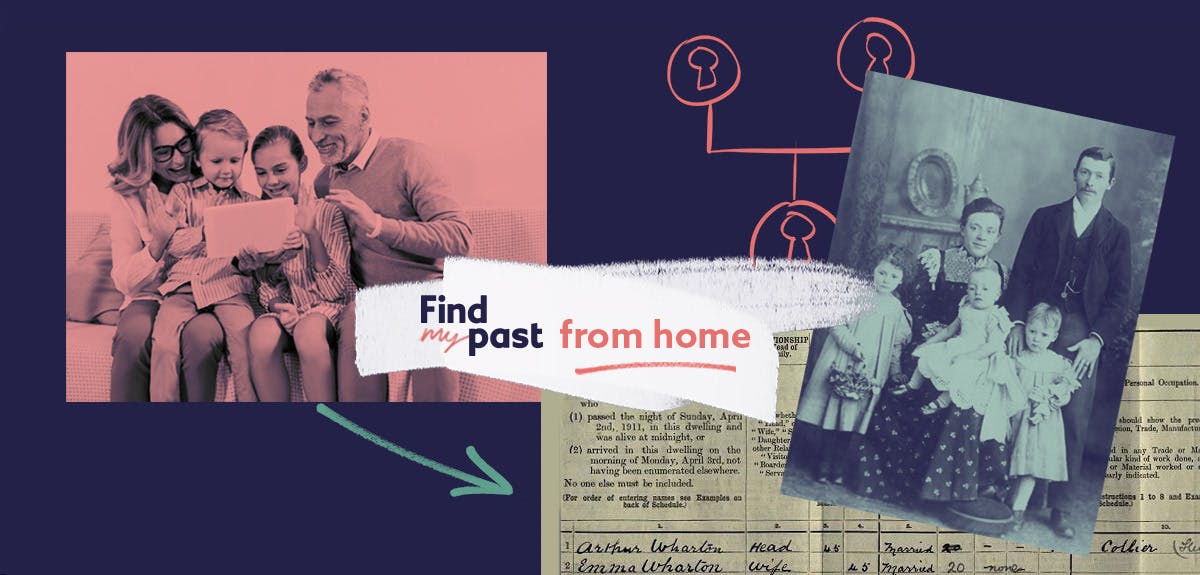 Genealogist Lisa Lisson shares clever tips for hosting a virtual family gathering.
Although most of us are no longer stuck inside like we were in the early days of the pandemic, we can still connect with family and dig deeper into our past from the comfort of our homes.
Seventy. That is the number of annual family gatherings the descendants of Abe and Stella White of Surry County, North Carolina have held.
Explore family records
Enter a few details to see your relative's records at your fingertips.
Our family's tradition is to share a potluck meal. Not only does our family bond over a shared meal, but we also experience the culinary roots of our southern U.S. ancestors. Deviled eggs, sweet tea, and layered cakes, anyone?
2019 was the year of 'no desserts'. This was not intentional, but everyone assumed someone else was bringing desserts. Were we able to eat together in person in 2020, I expect we would have had an abundance of desserts.
Although the whole family couldn't gather in person due to COVID-19, this large extended family of aunts, uncles and cousins was not about to miss the annual gathering. We went virtual.
We used technology to maintain our family tradition. I think Abe and Stella would approve.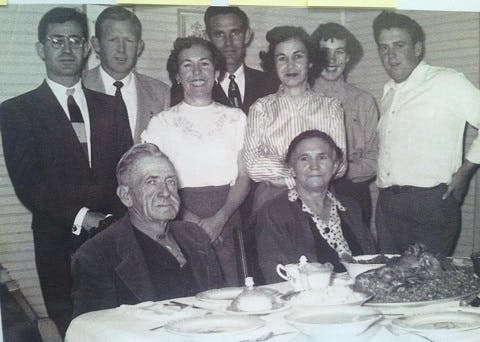 How about you? How did you connect with your family during the pandemic? Did you hold a virtual family party or gathering, or are you planning to host one in the future?
Even though we may no longer be in lockdown, a virtual family gathering is a great way to overcome long distances, and carve out some much-needed family time within everyone's busy lives.
If you're wondering what an online family gathering could look like, here are some handy hosting tips to make it go smoothly.
How to host a virtual family gathering
Hosting a virtual gathering with your family does not need to be complicated. Keeping things simple, with a focus on connecting with your family members, will be memorable and enjoyable for everyone. As a bonus, a virtual gathering allows family members not usually able to attend because of the distance to join the event.
Even better, putting together a virtual family gathering can be quick and easy.
Choose the virtual platform for your event
Besides the date of your event, the other main decision is which platform to use for the virtual gathering.  Several platform options (both free and paid) are available for hosting the actual event. 
When you are evaluating which platform to use for your virtual family gathering, you will want to consider the number of people the platform accommodates and the cost. Consider using one of the following:
All of the above options take little time to set up and get started.
Have some fun at your virtual gathering with a theme
Next up in your planning is deciding on a theme. Consider livening things up by asking everyone to wear fancy dress.  Perhaps everyone joins the party with a favourite drink or snack. Maybe everyone showcases a favourite family story or heirloom.
Some of the virtual meeting platforms like Zoom have themed virtual backgrounds individuals can use to match the theme.
Now, you've got the date, the theme and the platform, it's time to invite your relatives. Invitations can be a simple email with all the details including the link to access the family gathering online. In this chaotic time of the pandemic, simple is sometimes best.
If you want to keep things consistent, create a digital themed invitation to email to family members.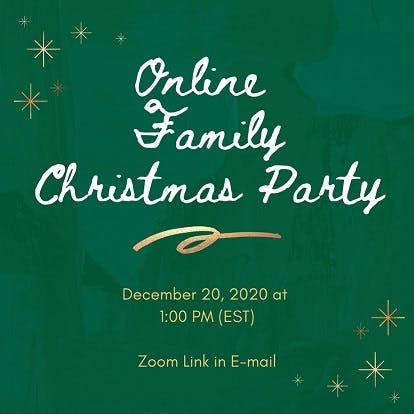 Canva is a free tool with fun templates you can edit with your own details to create your invitation. Then, email the invitation to your family. It's that easy.
Virtual family party activities
So…what do you actually do at a virtual family gathering? 
Obviously, our family will not be feasting on those yummy family recipes together this year (I'll miss those deviled eggs). Instead, we will be sharing favourite family recipes which will be turned into a family recipe book afterwards.
Being able to preserve family recipes to make in our own kitchens and to pass down to the younger generations is a vital part of preserving our family history. Besides, our family loves to talk about food!
Our family  - like yours, I'm sure - spends a lot of time just talking and catching up with each other's lives.  On a video chat, this gets a bit tricky if everyone starts talking at once. To avoid that, have one person act as a host to guide or moderate the conversation.
Some meeting platforms have breakout rooms where small groups can go to chat. Teenagers and young adults may find this more fun and a chance to catch up with cousins closer to their own age.
Even if a bit of conversation chaos happens, it's no problem...you are all family, right?
Another idea is to coordinate a surprise appearance from a long lost family member. Imagine how surprised your relatives would be if they were to reconnect with someone they hadn't heard from for years or, better yet, someone they didn't even know they were related to.
As genealogy researchers, the virtual family reunion, just like any other gathering, is a great place to share stories and chat about the past. Try one of these suggestions or come up with one of your own.
Create a slideshow of old family photos to share
Share one or two photos and ask for the stories behind them. Photos are excellent conversation starters
Talk your relatives through your family tree via screen share
Create a family trivia game and see how well you know each other
Smile! Don't forget the family photo
What family gathering would be complete without a family photo or two? Take a screenshot of your family gathering.
While family celebrations were altered by the tumultuous events of the past few years, celebrating together, however that looks, is important. Future descendants will look back at the family photos and listen to the family stories of how their ancestors connected and celebrated.
The 71st White family dinner was the most unusual gathering we've held. Still, it was filled with joy and togetherness and fun.
I challenge you to get creative and come up with your own ways to celebrate virtually with your family.
Family history is more than just a hobby. It provides a valuable way for us to connect with our past and strengthen our familial ties in the present. Give your loved ones the gift of their past this Christmas, with a Findmypast gift subscription.
With billions of records at their fingertips, who knows what they might discover.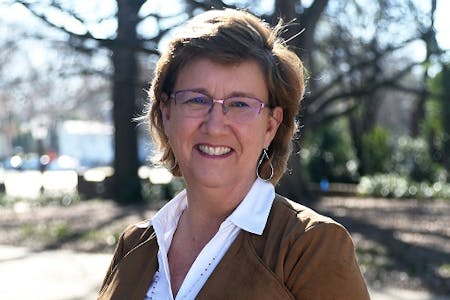 As a genealogy researcher and creator of the Are You My Cousin? blog, Lisa Lisson takes the overwhelm out of genealogy research and keeps researchers moving forward finding their ancestors. Whether researching ancestors alongside clients or writing how-to articles and books, Lisa uses her 12 years of research experience to help others build a solid research plan, find the needed genealogy records, and get the most out of those resources. When not working with clients or writing genealogy articles, Lisa can be found pursuing her passion for running, travelling with her husband, or simply enjoying time with her two adult children.
More on this topic:
Share this article
About the author