A New Year message from our CEO
3-4 minute read
By The Findmypast team
28 December 2020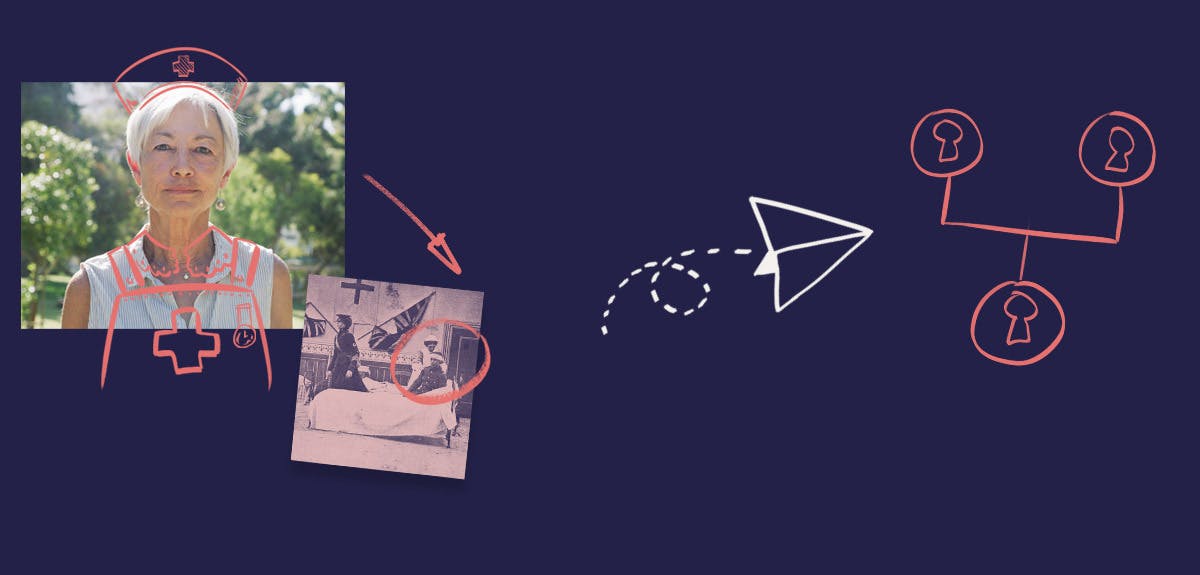 To all our members and communities...
2020 is a year none of us will forget. People will look back on this time and ask us what it was like to live through a pandemic and what challenges we faced. And so, for me, our mission at Findmypast to connect people to their family stories and pass those stories on to future generations has even more meaning this year.
While the challenges have been great, there have also been many moments to celebrate. Where people have gone the extra mile to help and support each other. Where we have developed new perspectives and learned that we can do things differently. I want to share a few things we have been proud of this year.
Have you seen our television adverts yet?
We went on air in the UK earlier this year with a brand new advertising campaign across a plethora of Sky channels, showing ordinary people whose lives have been inspired and transformed by their family discoveries.
Improved family tree and search experiences
Our family tree has seen many improvements, including a refreshed user interface and a range of easy-to-use features based on customer feedback. Our new Stories feature is now available in some markets. This real-time feed of articles, powered by our newspaper archives, is based on milestones in your family tree and provides rich insight into the contexts in which your ancestors lived.
We've made it simpler to search by geographic location, adding location type-ahead for all parts of the world, and the ability to search within a radius from a location. A richer 'all record sets' search has replaced A-Z search so that it's easier to access our our huge archive of records.
By the end of the year, we will have introduced Private Messaging in the UK, North America and Ireland, offering customers the opportunity to connect with other members and even meet new relatives.
The Findmypast Community is thriving
Our online community grew by 43% this year. We have hosted hundreds of educational live streams where our expert team of family historians and special guests support your family research.
We originally introduced our Findmypast From Home live streams to help our community stay connected during lockdowns, but due to their popularity, we are continuing the series into 2021.
Hundreds of millions of new and exclusive family records
Since 2019 we've added over 150 million Scottish records and now boast the world's largest collection of Scottish Memorial Inscriptions thanks to a collaboration with 10 family history societies. This makes Findmypast one of the best places online to research your Scottish heritage.
40 million newspaper pages digitised
The British Newspaper Archive, our partnership with the British Library to digitise UK and worldwide newspapers, now stands at 40 million pages. A recent addition is The Edinburgh Gazette, the oldest newspaper in our collection, which takes our holdings back to the 17th century.
Our people have demonstrated fantastic resilience and creativity as we have learned and found new ways of working during this extraordinary year. We continue to hire, and over 20% of our people have joined Findmypast since the start of the crisis. We made sure our people were well supported to work from home and cope with the challenges of the crisis. We found new ways to connect while working remotely, and even held our annual offsite company meeting virtually for the first time.
In December we published our first diversity & inclusion report. The report shares metrics on many aspects of our diversity as a company. Collecting the data helped us identify the areas where we can focus, to ensure Findmypast continues to be a working environment that is welcoming and where everyone can thrive.
Next year there is much to look forward to as we build on what we have learned this year and continue to adapt to a new environment. We are working with the Alan Turing Institute on a new project that investigates the changing meaning of language over time. This will help us apply machine learning to our newspaper archives.
In partnership with the University of London's School of Advanced Study, we have successfully applied for funding under the LAHP Collaborative Doctoral Partnership Scheme. This scheme offers industry experience to arts & humanities researchers and will enable us to apply advanced data mining techniques to explore hidden narratives in historical collections.
We are so happy that you are part of our community. Here is a short seasonal message from our employees to you to say thank you, and Happy New Year.
Take care,
Tamsin Todd
Findmypast CEO
More on this topic:
Share this article
About the author