Commence the voyage through US history with this week's release
5-6 minute read
By Jessie O'Hara
29 April 2022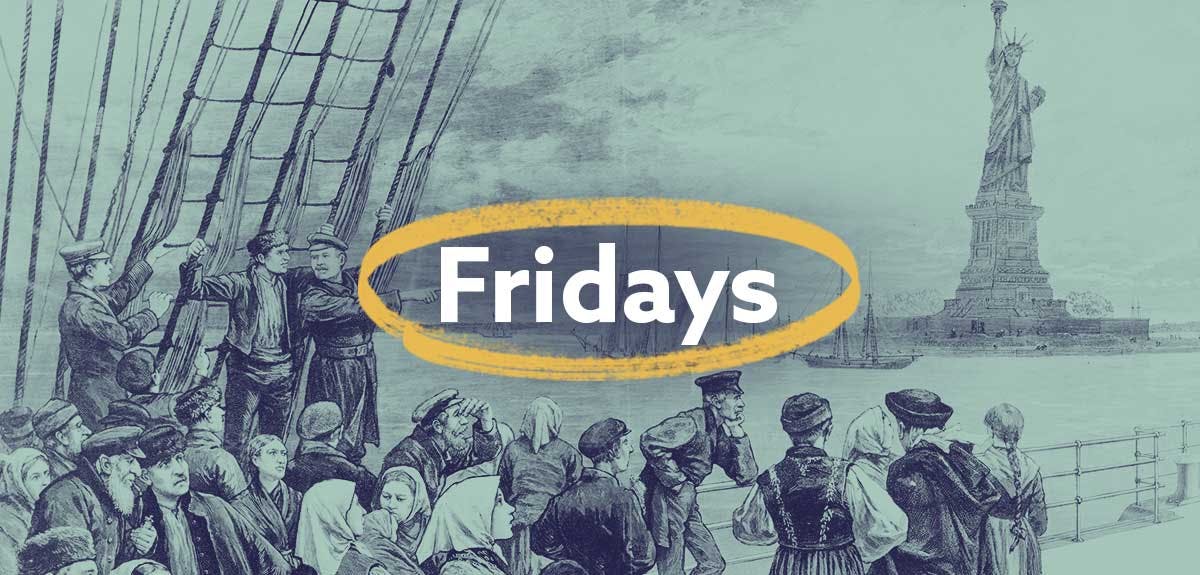 Traverse through millions of new US and UK records.
Whether you're looking into more recent history, whether you've discovered your US heritage, or whether you're ready to dive into some polarising social commentary - make sure to jump head-first into everything we have for you this week.
Take a breath, because we've added nearly 800,000 new records to this collection (yes, you read that right).
These records are mostly from the 2021 electoral registers, along with the regular suppression list. It's an excellent resource for researching current history, discovering more about the social landscape, or gathering data on your local area. These records will often give you a name, an estimated age, an address and years occupied. For many of us, these will be some of the first records we can find ourselves in.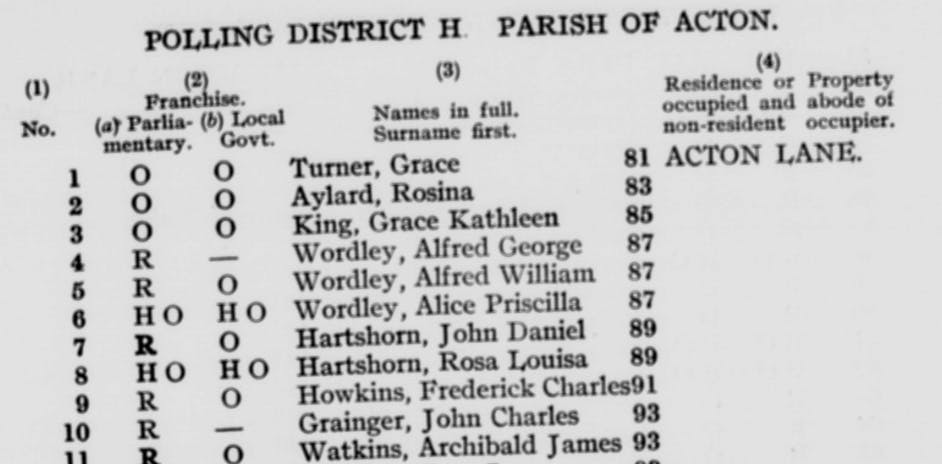 We worked to digitise these records in partnership with the British Library, and they're an excellent resource for researching the history of your house. They become crucial when comparing sources between the 1939 Register, the 1921 Census, and beyond.
If you have US ancestors, then this release is for you - and it is entirely free to browse.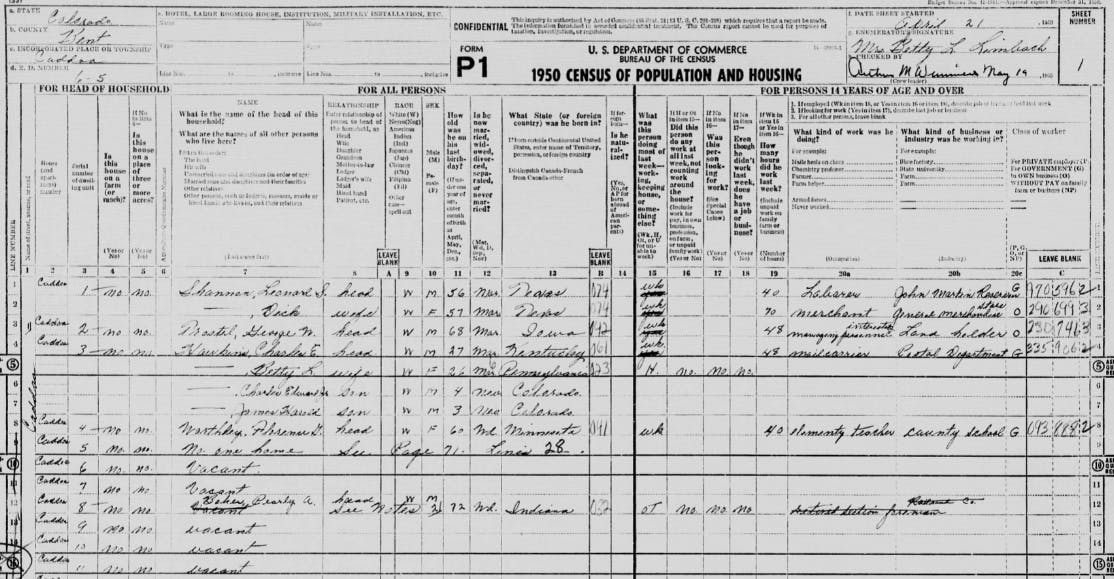 The 17th census to be taken in US history, it counted 150,216,110 people across the continent, with 10,095,370 recorded as foreign-born. Unlike censuses in England and Wales, US privacy laws allow censuses to be released to the public after 72 years, rather than 100.
On a typical census return, you'll find the following information:
Name
Relationship to the head of household
Age in years and months
Marital status
Place of birth
Schooling or occupation
Who they were living with
Residence location, with full address
However, six people per sheet were asked further questions. If you find a name labelled 'sample', be sure to check out the additional information.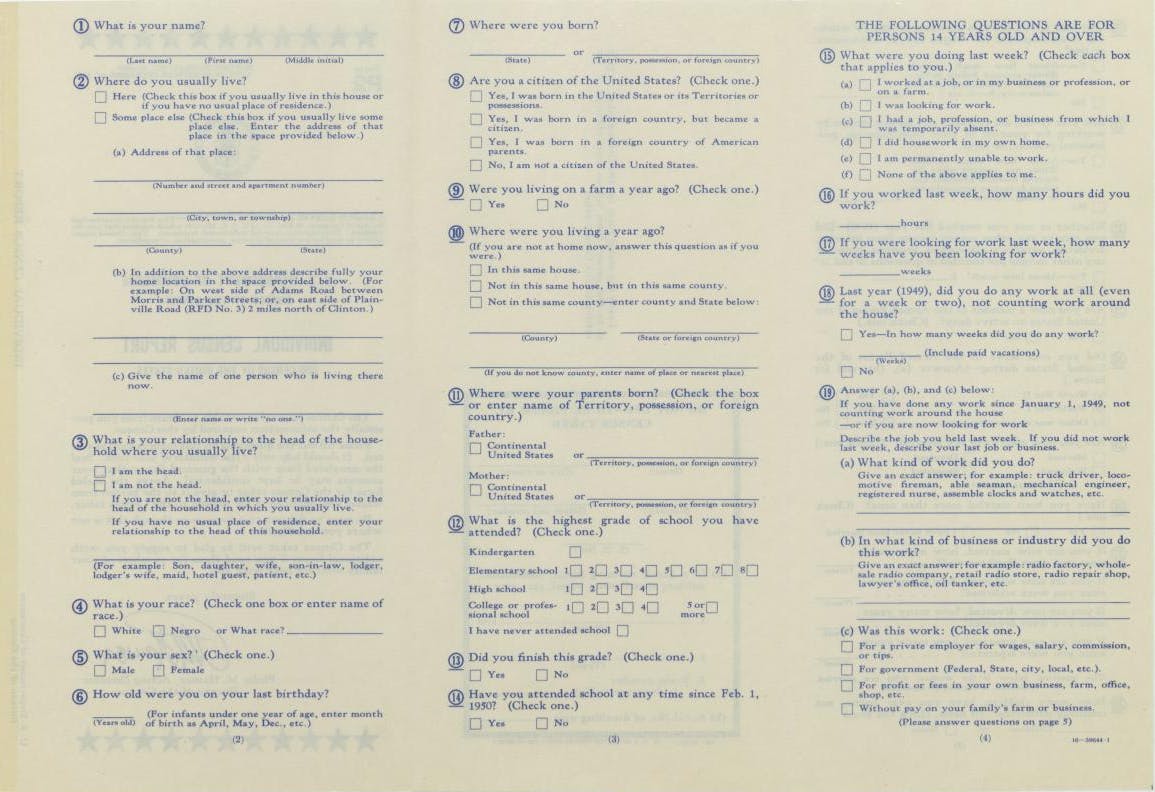 Questions for people marked with 'sample' included where they were living a year ago, how much taxable income they made and from which sources, and what class of worker they were. You can find blank versions of each page of the census here.
To browse this collection, it's important to narrow down the area you're searching as much as is possible.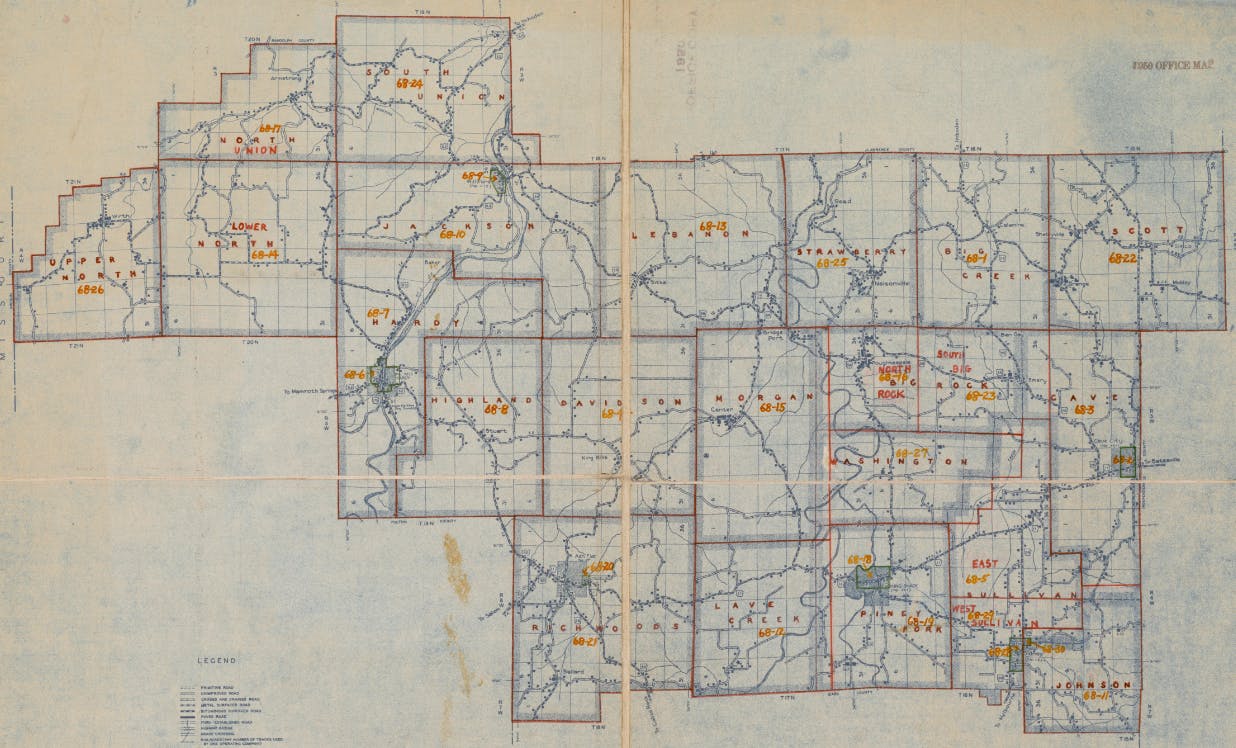 Once you've defined the state and then county of interest, filter the Image Type to Maps, and find the corresponding enumerator map. This will give you the enumerator district codes of each area. Make sure to jot this down.
Following this, you can search by the enumeration district code, which will bring up one result. Open this up, and browse through the images - you'll soon come across the individual or family you're searching for.
Most of the US population was recorded on a typical P1 form. However, there were 9 other types of return, including:
P82: Alaska census form 
P87: Hawaii census form 
P80: American Samoa census form 
P85: Guam census form 
P91: Panama Canal Zone census form 
P93: Puerto Rico census form 
P97: US Virgin Islands census form 
P2: Individual Census Report: used for military personnel living in barrack-style facilities on US soil, travelers found in hotels, YMCA's and campgrounds, and possibly other situations. This information was typically copied onto the P1 form.  
P4: Crews of Vessels Report: used for crew members of US-flag commercial and military vessels in US and territorial ports. This information was typically copied onto the P1 form.  
The US Census Bureau estimated that approximately 4.1% of the population was not represented in the enumeration, so there is a chance that your ancestors won't be where you expect them.
However, if you have US ancestors in your family tree, a history of migration between the US and other territories, or even relatives who served in the military, this resource is absolutely pivotal in discovering more information and enriching your history.
Out of our five new titles this week, however, perhaps the most interesting to browse is the Vigilance Record.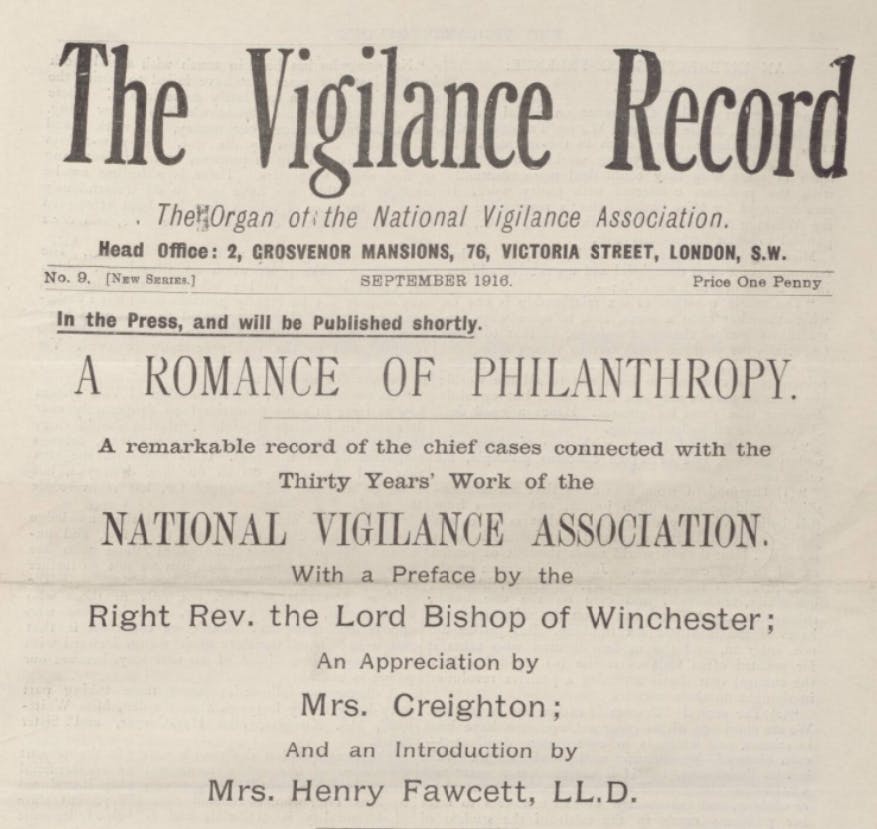 Founded by the National Vigilance Association, the paper reported on its efforts to crush 'criminal vice' and 'indecency', with a particular focus on women and minors. It was vehemently against prostitution, often staging interventions for women that they deemed to be at risk for falling into 'demoralising' ways of life.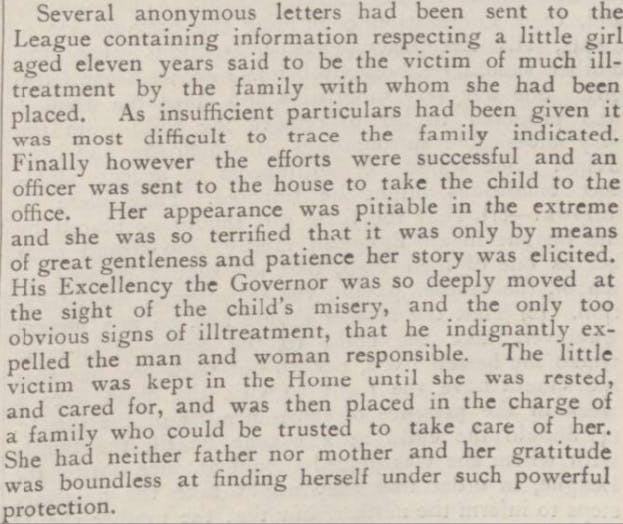 Sometimes, the situations the group intervened in were relatively clear cut - the article above, for example, describes how it removed a young girl from a family that were mistreating and neglecting her. Even in these times, its moralism and self-righteousness is still clear:
"
"She had neither father nor mother, and her gratitude was boundless at finding herself under such powerful protection."
"
However, the Association earned itself a reputation as a busybody, and this shines through much of its writing. In one instance, a man was arrested and taken to court for owning explicit - or, in the words of the Association, 'obscene' - postcards.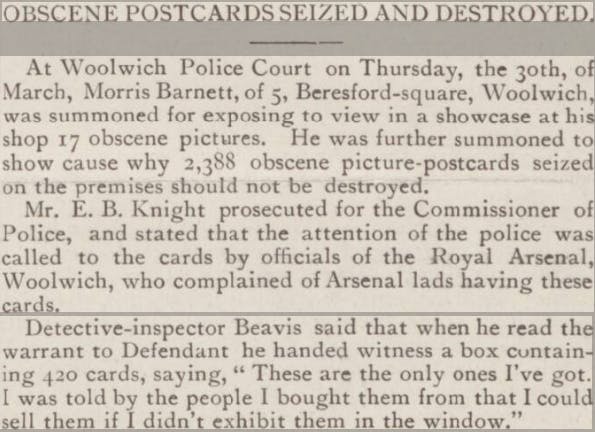 Despite the defendant claiming that 'the same cards were being shown in every postcard shop in the district, and he did not consider that they were at all indecent', the article concludes with the man being fined £10 plus court costs. It summarises:
"
"Mr Hay Halkett said it was very serious for anyone to make a living out of things which exercised such a demoralising effect on the minds of young boys and girls."
"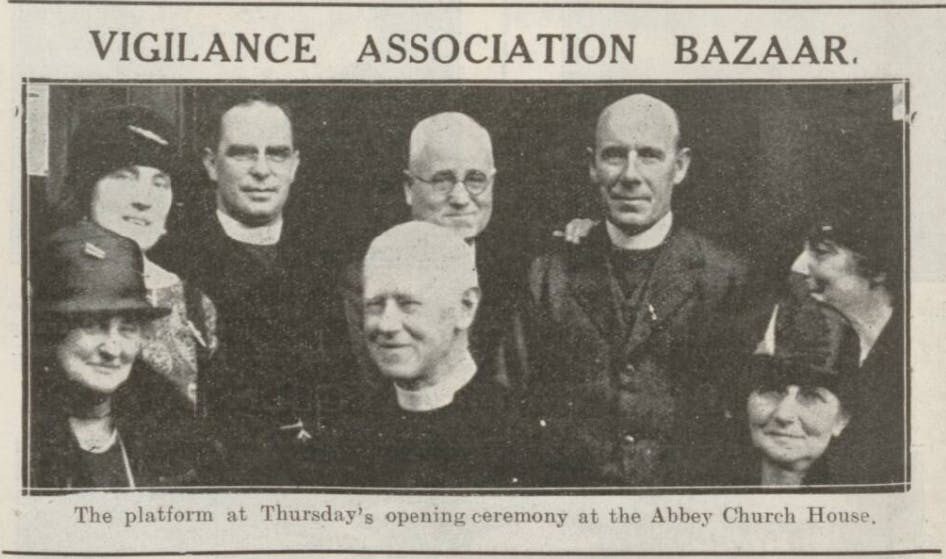 In another instance, a 17-year-old girl - in true teenage fashion - had decided she wanted to enjoy life with her artist friend, taking up a flat with her and staying out late rather than working. It is clear how the Vigilance Association feels about this:
"
"It was to this woman's bad influence that [the girl's] sudden deterioration could be traced."
"
They staged an intervention, after the mother had begged them to 'save her daughter from taking such a fatal step.' However, as no 'offence' had been committed, they could not refer the matter to the police. After interviewing the girl, they found her to be 'amenable to persuasion', and ascertained that no wrongdoing had gone on.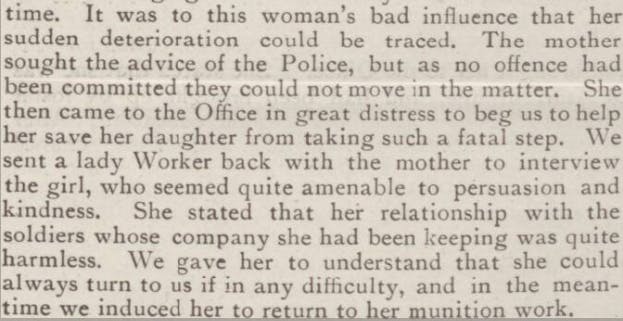 It becomes quite transparent, in these instances, as to why the reputation of the Vigilance Association was that of meddling moralists.
If the Vigilance Record's slightly preaching prose hasn't quite piqued your interest, then here's a full list of new and updated titles below.
New titles:
Updated titles:
Have you found your ancestors in 1950 US Census? Perhaps you've even found them headlining the news? Make sure to let us know at discoveries@findmypast.com.
More on this topic:
Share this article
About the author