A New Year message from our CEO
3-4 minute read
By The Findmypast team
27 December 2021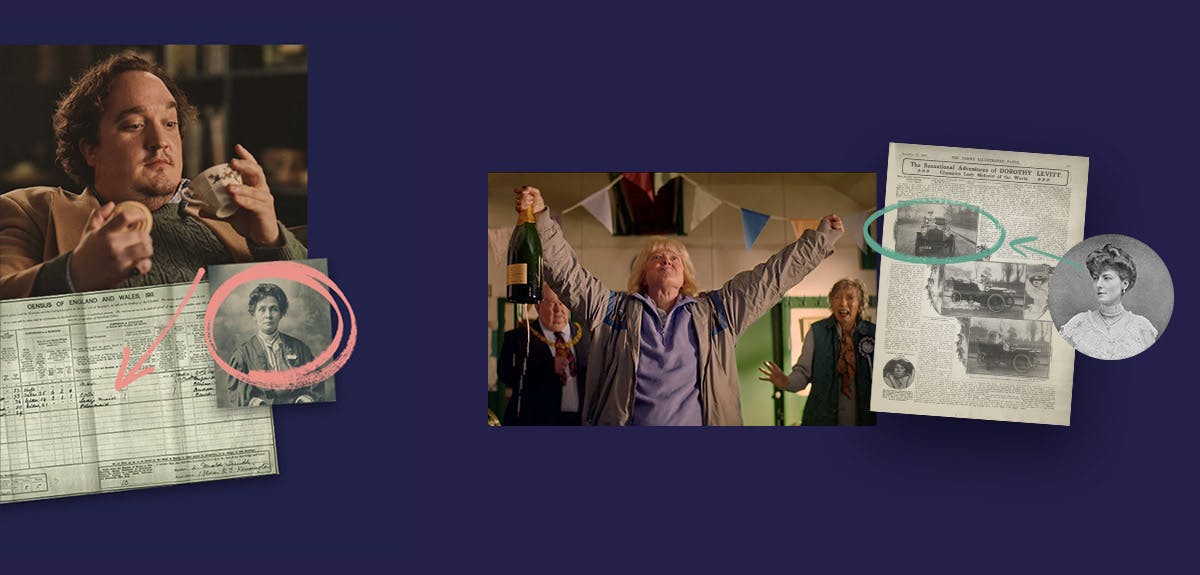 To all our members and communities…
Although the end of 2021 may not be quite as we imagined, hopefully we all had a few months of normality where we could meet with family and friends. As the year ends, we may now find ourselves reflecting on those times and remembering shared experiences and family stories. At Findmypast our mission is to connect people to their family stories, and I am proud of the meaningful progress we made this year to support the success of our community in your family history research. Here are just some of our achievements. 
Completed digitisation of the 1921 Census
Exclusive to Findmypast, the greatly anticipated 1921 Census of England & Wales will be available online from 6 January 2022. This mammoth project, undertaken in partnership with The National Archives, has taken effort from hundreds of individuals over the last three years to conserve, scan, transcribe and publish 38 million records. By using Findmypast's sophisticated search and matching technology we will make it easy for you to find and view images of the 1921 Census and connect individual records to your family tree. 
We're thrilled to have historian and presenter David Olusoga help us spread the word about the 1921 Census and its historical significance. The 1921 Census was taken between two world wars, following a global flu pandemic, and during a period of economic turmoil and social change and consequently resonates with much of what we are experiencing in the modern day. We look forward to finding out how life in the 1920s shaped our ancestors' experiences, and how their lives went on to influence our own lives.
House history, our free app and more enhancements
Our new-look address search has been a big hit for those interested in researching house history. Address search allows you to easily track a property's history through time, as the property appears in UK census records and the 1939 Register. 
2021 has been a great year for the free Findmypast app, as we've added lots of features such as story prompts and automatic face detection on photos. By having the Findmypast app in your pocket, you're always able to work on the go, share your tree with others, or use spare minutes for a spot of research.
Your feedback guided updates to our records image viewer and census transcripts this year.  When viewing our records, you can now see previews of related pages, jump seamlessly from record to transcript, and change brightness and contrast. Plus, gazetteer and map extracts are now available on all UK census transcripts, bringing more colour and context to your discoveries.
New historical records every week
Findmypast is still the only family history website to release new records each week, which means our customers always have something new to uncover.  In 2021 we added 106 million new records and over 5.6 million newspapers pages to the site.
Findmypast is home to the leading collection of Scottish family history records online, with the release of 10.7 million new Scottish birth, marriage and death records in 2021. Scottish actors Brian Cox of Succession, and Colin McFarlane of Outlander and Batman joined our launch to share their family stories. Another major release was 32 million searchable Electoral Registers from England and Wales, covering the period between the 1911 and 1921 Censuses.
We digitised over 800,000 crime records in association with The National Archives, making Findmypast's Crime, Prisons and Punishment collection  the largest searchable archive of British crime records available anywhere online. And the 300,000 vintage photographs in the Francis Frith Collection offer a visual record of life in 19th century Britain. 
The British Newspaper Archive, published in partnership with the British Library, has great momentum, and we intend to build on it, reaching 56 million searchable newspaper pages by 2023. This year we introduced new optical character recognition technology to improve search and discoverability of newspaper articles.
Building an inclusive and nurturing company, where unique perspectives are valued, helps us do our best work for you. We continue to uphold our pledge to make available more historical records that shine a spotlight on diverse and sometimes hidden histories, with a particular focus on Black History.
In 2021 as well as vital records from Jamaica, The Bahamas, St. Kitts & Nevis and Turks & Caicos, we released London, Black Poor 1786, Sierra Leone Resettlement Scheme, 1787, Inspection Roll of Negroes, 1774-1789,  Lord Dunmore's Ethiopian Regiment, 1776 and Caribbean Rolls of Honour.
In our newspaper collection, we published The Keys, an influential quarterly journal published by The League of Coloured Peoples from 1933-1939.
One million historical newspaper pages spanning from 1720 to 1880 are now free to search and view in the British Newspaper Archive. Many of the titles have been specifically chosen to help shed new light on diverse and previously underrepresented communities and their histories.
As a company this year we took time to educate ourselves on a diverse range of topics. During Pride Month we learned how to trace LGBTQ+ ancestors and raised money for Opening Doors London (supporting LGBTQ+ elders) and LGBT Youth Scotland. To mark Menopause Awareness Month, the Findmypast team learned how menopause can affect us, and how we can support those experiencing it.
As the Covid pandemic fuels mental health problems, the company has started a switch-off hour every month, which we each spend doing something we enjoy, to remind us of the importance of looking after our mental health. 
You told us that our Findmypast From Home livestreams helped you feel more connected and supported during the pandemic, and so we continued these popular live sessions during 2021.
We are actively hiring and growing, so if you want to be part of our inclusive culture, please check out our jobs.
Where will your past take you in 2022? There is so much coming next year – starting with the 1921 Census.
We've created a short, festive message (with a 1921 Census twist) to wish you and yours all the best now and into the New Year.
Tamsin Todd,  
Findmypast CEO
More on this topic:
Share this article
About the author