Your family tree questions answered
7-8 minute read
By The Findmypast team
1 December 2023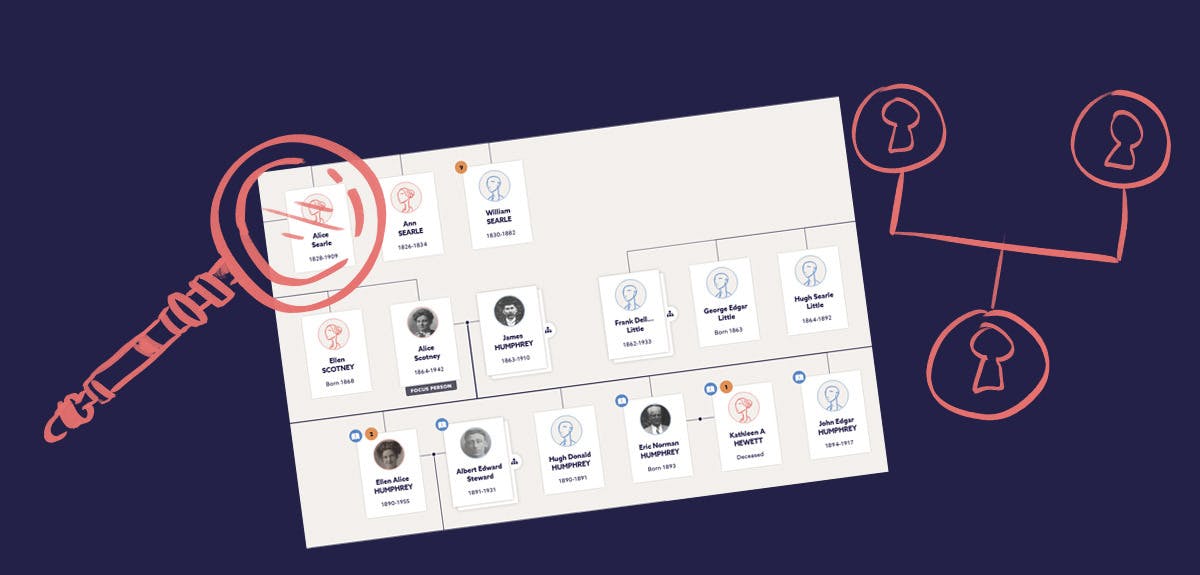 While researching your ancestry, you might have questions about our family tree maker. Explore the answers here to help with your genealogy research journey. 
Curious about how our family tree maker works? To help you get the most from building your family tree with Findmypast, we've compiled our community's most-asked questions. If you're a beginner at family history, be sure to check out our other handy guides. 
Troubleshoot your family tree woes here so you can continue exploring your genealogy research in no time at all, finding relatives, exploring family history records, and discovering stories of your great-grandparents.
Can I build my family tree for free on Findmypast?
Our family tree maker is free to use. All you need to do is create a free account, click Family Tree -> Create a tree, and away you go. As you add in your ancestors, you'll see little orange icons appear on your tree: these are hints. To see these suggestions, you can begin a Findmypast subscription or a free trial. 
Can I have more than one family tree in my account?
Yes, you can: click Family Tree in our menu bar to create a new tree, or click View all trees to manage all trees within your account. 
Is there a limit to how many ancestors I can have on my family tree?
No, we want you to grow your family tree backwards and outwards, so it can be as big as you want. We do however have a limit on the size of tree uploads: see Can I upload my existing family tree? 
How do I print my family tree?
By printing via your internet browser, you can print your current family tree view. To print your entire tree, you will need to export it and use a specialist tree printing service.
How can I download/export my family tree?
Head to Family Tree -> View all trees first, then find the tree you wish to export. Hover over to the right and find the export icon, in between the settings and trash icons. The tree will export, and then you can download the GEDCOM to your computer. Remember, you'll need a software that can read GEDCOM files to open it outside of Findmypast. 
Can I upload my existing family tree?
Of course: either use the Import a tree option in the Family Tree menu, or the button on the View all trees page. There, you'll be asked to locate the file on your computer. Due to the nature of GEDCOM files, any attached media (photos, records, etc) won't be uploaded. If you need to upload a family tree larger than 140MB or more than 120,000 people, please contact our friendly Customer Support Team for assistance.  
How can I share my family tree with someone else?
There are two ways to share your Findmypast family tree. You can send a unique link to friends and family where they'll be able to view your family tree or you can provide temporary access that expires after seven days. Find out more.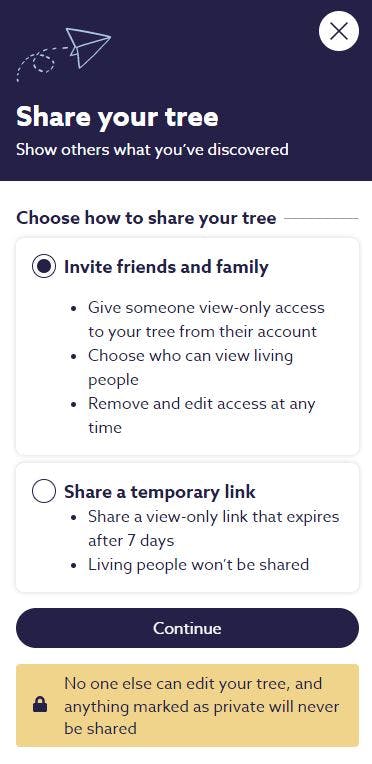 Whichever option you choose, select the 'Share' button on your family tree, copy the generated link to your favourite sharing app (email, text message, WhatsApp etc.) and send it from there.
How do I prevent hints from overwriting information?
After accepting a hint, the next step is to select which information is merged onto your family tree. Any facts you merge are saved within the Facts & Events section of your relative's profile. What can be overwritten is their summary which appears at the top of their profile: it will list the most recently merged occupation, year of birth, place of birth and year of death. 
However, you can prevent this from happening by being selective with the information you merge from a hint, rather than accepting everything. Secondly, you can go back into their profile and set certain facts as preferred.  
How do I find a rejected hint?
Even if you reject a hint, you can still find it later. Hints can be marked as accepted, maybe or rejected. Head to your family tree and click My Hints. It will be set to New hints only by default – you can click this dropdown to find rejected hints.
To do this for a particular ancestor, head to their full profile, click Hints, and change the dropdown to rejected.  
Can I turn off hints or stories?
Based on the information you enter on your family tree, our clever system will generate hints to help you continue your genealogy journey. The hints could be from life event records, censuses, military records, newspapers, or other member trees (known as tree-to-tree hints). It's not possible to turn them off, but please let us know if you have any suggestions for improvements. 
Why can't I see everyone on my family tree?
To ensure your family tree displays in an organised way, you'll be able to see up to 5 generations at once. You can use the arrows, search and additional family buttons to change the view if you wish. 
How do I change the view of my family tree?
By default, your family tree is set to Family view. To see a list of everyone, see I've lost someone on my family tree. To change to Pedigree view or Family Group view, click onto a person in the tree, and click View profile. Then at the top, find the dropdown that says Family View – you can change the view there. 
If you want to easily change your tree to display with another ancestor as your focus person, click onto them, and then in the left-hand drawer click Family View. The tree will then display with them as the focus person.
How can I figure out the relationships of people within my tree? 
From great-aunts to second cousins once removed, we know that pinpointing the connections between people on your tree can get confusing. Luckily, our handy kinship calculator can work out the relationship between any two of your relatives.  
Start by visiting the profile of the ancestor you're interested in. From their full profile, select the option to 'Edit relationships' via the three dots in the top right. Once you are in the 'Relations' tab, you'll see the kinship calculator displayed on the right-hand side.  
Here, you can input two relative's names, and receive a simple explanation of their relationship to one another. 
I've lost someone on my family tree, how do I find them?
Don't worry, it's likely you just need to change the view. To navigate easily to a particular person, click Find someone on this tree and type in their name. Click on their name to navigate to them. 
To see a list of everyone on your tree, click View all people on this tree. The People view allows you to search by name and filter by year or place. This is a great way for hunting down duplicate ancestors. 
Can I merge my family tree with another tree?
It's not possible to merge trees together. However, you can upload multiple trees to Findmypast.
How do I merge duplicates on my family tree?
It's not possible to merge duplicate ancestors, however, you can remove one. You can delete them from the tree from the left-hand drawer. Doing this may disconnect anyone connected to them from the main tree. Read on to learn how to reconnect them.
How do I disconnect someone and attach to another branch, without ruining the tree?
If you discover you've got the wrong parents listed for someone, and you've already added children and other descendants, the easiest way to fix this is to disconnect them. 
A) Find the parents on your tree, click on one of them and click View full profile in the left-hand drawer. Then navigate to the Relations tab of their profile. Find the person you wish to disconnect from the family, hover over them and click Remove from this family – this button looks a little like an exploding cracker. 

B) You then have the option to remove the person from the family, or from the tree entirely. Choose the first option. Then, go back to the tree and search for the person you just disconnected. Now they will be on their own, not connected to the main tree. 
C) The last step is to link them to the correct branch, whether this be a parent, spouse, etc. This means that any spouses or descendants linked to this person will also be moved. Use Find someone on this tree to locate the parent or spouse, then click on them and head back to the Relations tab in their Profile. 
Choose Add relation, choose the relation type, and then rather than filling out details for someone new, click Select someone from your tree. Search for the person you disconnected, and that'll attach them to the correct place. 
How do I add a profile picture for an ancestor?
Head to your ancestor's full profile and hover over their icon. Click the pencil button. Choose either Upload new (to add a new photo) or Use existing (to add a photo already on their profile). You may need to resize or rotate your photo before uploading it using your device's photo editor.  
How do I add an additional fact or event?
Many of our ancestors married more than once. To add an additional life event, such as a divorce or adoption, head to their full profile and click Facts & events. Click Add fact, then choose the fact type. You can then add further details, and these will be saved to your ancestor's timeline. 
How do I find all the photos on my family tree?
Open your tree and find the Settings icon. On that page, change the dropdown from Tree Settings to Media. You can search for a particular photo by name there. 
More on this topic:
Share this article
About the author