12 powerful women at the centre of the Jacobite Rebellions in Scotland
10+ minute read
By The Findmypast team
20 January 2020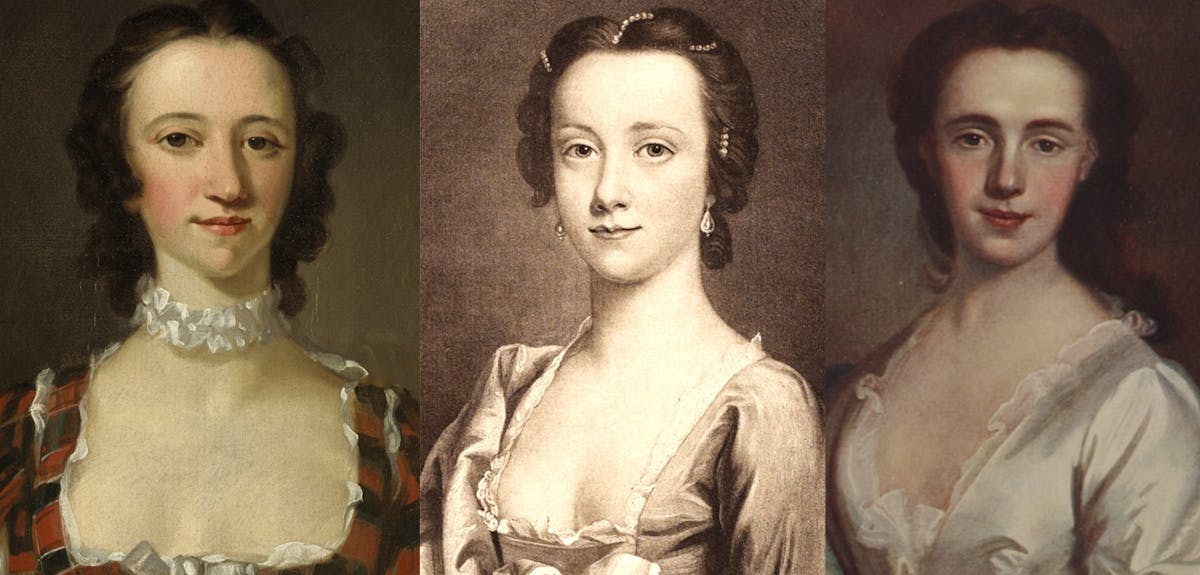 Author Helen Susan Swift delves into the amazing life stories of well-known Scottish Jacobite women.
If anybody began a conversation about the history of the Jacobites in Scotland, the name Flora MacDonald would almost certainly be mentioned. And no wonder, for she is perhaps the best known of all the women who supported the Jacobite cause, mainly because she helped Prince Charles Edward Stuart and was visited by a famous English writer.
Yet the Jacobite period occupied only ten days of a life that contained many other interests, and MacDonald's husband fought for the British Crown in a far larger war.
Flora MacDonald was born in South Uist in 1722. Her father was a Tacksman, a man of some authority but he died when Flora was only two. Eleven years later, Lady Clanranald, wife of the chief, adopted Flora and gave her a more privileged life than that enjoyed by most of her contemporaries. As Clanranald supported the Jacobites, it is possible that Flora was swayed to that cause. Whatever her political beliefs, Flora was living in South Uist in 1746 when a tall, foreign-sounding renegade arrived on the island. With his army broken at Culloden, Prince Charles was now a fugitive with a high price on his head. He had survived the carnage of the battlefield and hoped to escape to France and wait for better times. Unfortunately, the Hanoverians were actively searching for him, with hundreds of soldiers scouring the isles and the Royal Navy active on the Hebridean seas. The government, not noted for its generosity, had even offered a reward of £30,000 for the capture of the Bonny Prince – although he may not have been so bonny after a few weeks living rough in the heather.
Possibly it was loyalty to a doomed cause that compelled her to help the beleaguered Prince, perhaps she just saw a man in distress, but she either way Flora rose to the challenge. Bringing him into her house, she disguised Charles in woman's clothing, informed him that he was now Betty Burke her maidservant and pressed the authorities for a passport in that name. History tells of a voyage by small boat between Benbecula and Portree in Skye, where Flora and Charles spent one night in Kingsburgh House, home of a MacDonald of Kingsburgh.
Folklore provides more details, with one of Flora's genuine maids commenting;
"
"I have never seen such a tall, impudent jaud in all my life. See what long strides she takes!"
"
Folklore also says that Flora had to keep Betty in check with the rough edge of her tongue, which hints at a less than amicable relationship between the two. Perhaps Flora's actions were necessary to convince the watchful soldiers, but while Charles eventually escaped to a drunken middle age, the authorities arrested his rescuer.
Flora spent a year as a captive of the government. As she languished in a troopship in Leith Roads surrounded by the stinks and sounds of shipboard life and chilled by the bite of the Forth wind, perhaps she wondered about the fate of the Young Pretender. Her fellow prisoners certainly praised her actions, but perhaps that was little comfort as her ship battered south to London. Jacobite prisoners were not treated well, but Flora returned to Scotland and marriage to Allan of MacDonald, a son of the Kingsburgh MacDonalds.

The MacDonalds of Kingsburgh survived the immediate post-Culloden harassing of the Highlands, when red-coated soldiers burned, raped and looted their way across the land, and every aspect of the Gaelic culture, from the kilt to the bagpipes, was banned. In 1773, Flora entertained the cynical, sardonic English writer Dr Samuel Johnston, who professed a liking for her. With his delight in the ironic, Johnston slept in the same bed that had once been occupied by the fleeing prince, while Boswell, his sycophantic Scottish biographer, inspected Flora. His impressions may have surprised those who expected a heroine of Amazonian proportions:
"
"she was a little woman of a mild and genteel appearance, mighty soft and well bred. To see Mr Samuel Johnson salute Flora MacDonald was a wonderful romantic scene to me."
"
The following year the mild, genteel and soft Flora, together with her husband boarded a ship in the Clyde to emigrate to North Carolina in the American colonies. It was a family affair, for Flora's stepfather and her daughter Anne with her MacLeod husband sailed on the same ship. They had joined the thousands of Highlanders who were draining out of a Scotland that no longer seemed like home. Their timing was bad, for two years later the American War of Independence broke out, and once again the Highlanders supported the losing side.
Before they were permitted to emigrate, the Highlanders had been forced to swear allegiance to the Crown. An oath was not a thing to take lightly, so they held by their allegiance even when many of their American neighbours decided to break with Great Britain. After seeing civil war in her youth, Flora must have been sick with grief to repeat the experience, but this time her husband became an officer in the British Army. Allan was obeying the call of the clan, for his cousin, Alexander MacDonald; presently residing in New York, had raised a company of Highlanders to fight for the Crown and enticed Allan to do the same. Flora would have fought back the tears as her husband and two of her sons paraded in their scarlet uniforms before they left for the wars.
Once again the Highlanders marched off to fight for a Crown that treated them with contempt, and once again they faced an impossible task. The Highlanders were defeated at the Battle of Moore's Creek. Allan of Kingsburgh and one of his sons were among the prisoners. There was little mercy in civil war and the Rebels seized everything that Flora possessed. In 1779, with one son drowned at sea, another dead of the wounds he received at Moore's Creek and her husband wounded and captured, Flora returned to Kingsburgh House. Eventually, her husband returned home and they remained at Kingsburgh for the remainder of their lives, the soldier who chose the wrong side and the woman who had given everything for two opposing Kings and who is remembered in history only for one selfless act.
However, Flora MacDonald was only one of many women who worked for the Jacobite cause. Some women operated behind the scenes, others were thrust into an unaccustomed limelight, but there were some to whom picturesque adventure seemed a natural part of life. Such a woman was Jenny Cameron.
The eldest daughter of Hugh Cameron of Glendesseray, a cadet of Cameron of Lochiel, Jenny Cameron was a controversial figure. A Whig minister named Archibald Arbuthnot, who was no friend of Camerons, claimed that she was sent to Edinburgh when she was 11 and lived with an elderly aunt. The aunt tried to educate her and teach her how to be a lady. At first Jenny responded well, but became friendly with a footman and household maid, who showed her the underbelly of the capital. Caught carousing in a brothel, Jenny was sent to jail. Her aunt bailed her out, but confined her to the house, where she was found in bed with the footman. The servant was sacked, Jenny had a miscarriage and her despairing family sent her to a French nunnery.
Still only sixteen, Jenny seems to have alternated between the nunnery and a Cameron relative in Paris. She continued her amorous escapades with as many men as she could. But it was an Irish soldier, Lieutenant Colonel O'Neill who persuaded her to come on campaign to Flanders with him. Dressed as a man and adopting the name of Johnson, Jenny stayed with O'Neill until he died during the Treaty of Utrecht. By 1717 she was again pregnant, but the father, an Italian Count, left her destitute and alone. Again the family stepped in, sending her back to live with her brother in Scotland, which might not have been a good idea. When her sister-in-law found Jenny sharing her brother's bed, she fainted. By 1745 Jenny's story is on slightly firmer ground. She was at Glenfinnan when the clans mustered, bringing 200 men and a herd of cattle to help the Stuart cause. Bishop Forbes described her as;
"
"a widow nearer 50 than 40…a genteel well-look'd handsome woman with a pair of pretty eyes and hair as black as ink."
"
She was also described as being on a;
"
"bay gelding decked with green furniture trimmed with gold, her hair tied behind in loose buckles, with a velvet cap and a scarlet feather, carrying a naked sword in her hand."
"
There seems no doubt that she was a favourite at the court of Charles Stuart and accompanied the Jacobite army to Prestonpans and Falkirk. She wore a tartan doublet, trews and carried a sword. The Hanoverians captured her at Stirling in February 1746 and tossed her into Edinburgh Castle. She was later released, but never trusted. As late as 1753 government agents watched her, believing she was actively plotting for the Jacobites. She died at Mount Cameron, Lanarkshire in 1773.
In contrast to Jenny Cameron, many women seem to have risen to prominence on a single occasion, and then returned to their normal occupation without a qualm. Grizzel Mhor, or Big Grizzel, was such a woman. Grizzel was married to James Grant of Rothiemurchus, a supporter of the Jacobites. With her husband absent, Grizzel was in charge of Loch an Eilean Castle in the immediate aftermath of the Battle of Cromdale in 1690. After his victory, General Buchan besieged Loch an Eilean Castle, but Grizzel's defence proved too strong. After that single episode, Grizzel again slid into historical obscurity.
Of all the Jacobite Risings, that of 1715 had probably the best chance of success. The Jacobites raised a formidable army in Scotland, had considerable English support and counted on discontent with the new Hanoverian monarch to rouse the Scots. King James however, had none of the charisma of his son, while his generals, with the exception of Mackintosh of Borlum, were mediocre at best. King James came, saw and scampered back to France after the bobbing Earl of Mar had drawn a bruising encounter at Sheriffmuir with Red John of the Battles, the Earl of Argyll. When the Jacobite clans filtered back to their homes, the red-coated government troops marched north. Those people who had supported the Rising generally kept low, but the redoubtable Countess of Perth burned her own Concraig Castle to ensure that the Hanoverians could not use it as a base. Her act of self-sacrifice stood out in a generally insipid year.

Lady Mackintosh a.k.a. Anne Farquharson
Lady Mackintosh, better known by her maiden name of Anne Farquharson of Invercauld was another who shone on a single occasion. In February 1746 Prince Charles Stuart was at resting at Anne Farquharson's home of Moy Hall, but the Hanoverians were pressing close. When the Hanoverian garrison in Inverness learned of the whereabouts of the Jacobites, Lord Loudon organised a force to surprise and capture the prince. However, one of the many Jacobite sympathisers in Inverness sent the fifteen-year-old Lachlan Macintosh to Moy to warn Anne Farquharson of the intended raid.
Young Lachlan arrived at five in the morning, shouting that Loudon's men were 'within five quarters of a mile' of the house. Anne, remembered to history as Colonel Anne of the Rout of Moy, had no army with which to repel the approaching redcoats, but she had her native wits and a few loyal men. Running through Moy House in her 'smock petticoat', she called on her retainers and sent Donald Fraser, the local blacksmith and four other men, to hide at the side of the road along which Lord Loudon would lead the Hanoverians. Led by a piper named Donald Ban MacCrimmon, Clan MacLeod marched in the vanguard of Lord Loudon's 1500 men. When they drew close to Moy, Donald Fraser opened fire, killing the piper.
As the Hanoverians recoiled, Fraser's companions shouted for help to imaginary Jacobite clans.
"
"Advance, Keppoch!' 'Clanranald! Charge!"
"
Faced with what they supposed was an ambush by the main Jacobite army, the Hanoverians broke and withdrew in some disorder. Colonel Anne had defeated an army of some 1500 with only five men and thus saved the Prince.
But there was another Scotswoman involved in this near-forgotten drama. Nobody knows who sent the warning message to Colonel Anne, but the chief suspect is Lady Drummuir. This Lady was another strong character, who was known for her thrift and charity. On her way to church on Sunday she carried two or three shillings in small coppers, which she distributed to the poor of the town. In time people learned of this habit, so there was always a gathering of the needy sitting on creepie stools outside the church. Perhaps this controlled generosity enabled her to own one of the most desirable houses in Inverness, so that both Bonny Prince Charlie and the Duke of Cumberland used it as their headquarters. Lady Drummuir gave her pithy comment on both;
"
"I had twa king's bairns living with me in my time and may I never see another."
"
While some women were adventurers, and others had adventure thrust upon them, there were women who followed their hearts and men into war. These women sometimes proved to be amazingly resourceful. One of the best was the wife of David, Lord Ogilvy, whose adventures would not disgrace James Bond.
When her husband rode off to fight for Prince Charles, she refused to meekly wave him goodbye, but joined him on campaign. She held his spare horse at the battles of Falkirk and Culloden and was imprisoned in Edinburgh Castle for her troubles, while her man slipped out of Scotland in a Dundee ship. While lesser mortals would have despaired at being abandoned in the deep, dark and dangerous dungeons of Edinburgh, Lady Ogilvy set about improving her situation. Disguising herself as a laundress, she walked past the guards and made her way to Hull. There was another flurry of excitement when a short-sighted Hanoverian mistook her for Prince Charles and tried to arrest her, but Lady Ogilvy managed to persuade him that she was, in fact, female, and escaped to the continent.
Reunited with her husband, Lady Ogilvy fell pregnant, but did not want her child to be born abroad, so slipped through the Hanoverian blockade into Scotland and gave birth to a son in Angus. In the meantime, her husband was making a name for himself as a general in the French army, where he was known as Le Bel Ecossais. In time, both man and wife were pardoned and returned to Scotland, where they rebuilt Airlie Castle.
Helping an imprisoned husband seemed to be a speciality of the Jacobite women. When the 5th Earl of Nithsdale was captured after the '15, the Hanoverian authorities sentenced him to be beheaded. Not yet ready to be a widow, Lady Nithsdale reputed to be of a delicate constitution, saddled her horse and rode south to Newcastle in the chilling cold of February. From there she took the coach to York, where she learned that snow had delayed the London stage. Despite the weather, Lady Nithsdale hired a series of horses and rode to London and, flinging aside the flunkeys, demanded an audience with King George.
Three years later, Lady Nithsdale wrote a letter to her sister in which she gave details of her endeavours.
"
"I threw myself at his feet...and told him in French that I was the unfortunate Countess of Nithsdale."
"
Like many well-bred women, Lady Nithsdale spoke better French than German Geordie spoke English. When King George made to leave, Lady Nithsdale;
"
"caught hold of the skirt of his coat…he dragged me on my knees from the middle of the room to the very door of the drawing room."
"
Two of the court attendants dragged Lady Nithsdale away while her petition fell, unheeded, to the ground.
"
"I almost fainted away from grief and disappointment."
"
With no prospect of seeking grace at a graceless face, Lady Nithsdale prepared plan two. Together with her maid, a woman by the name of Evans, her landlady Mrs Mills and a Mrs Morgan, Lady Nithsdale marched to visit her husband in his cell in the Tower of London. It was the day before his execution, and the headsman would be sharpening his axe as the three women attempted to see the unhappy Earl. As only two visitors were allowed at one time, Lady Nithsdale took Mrs Morgan with her, who wore an extra set of clothing under her own. The extra clothing exactly matched that worn by Mrs Mills.
Once they entered the cell, Lady Nithsdale ordered Mrs Morgan to run and fetch the maid, who, apparently, was to hurry to the king with a last-minute plea. As Mrs Morgan left, the Earl slipped on the extra clothes that she had brought. Then the pregnant Mrs Mills appeared, drying her tears with a handkerchief that conveniently concealed her face. The plan worked well, for Lady Nithsdale had noted that the guards paid far more attention to their own wives, who were in an antechamber, than to the prisoners. She wrote;
"
"I went out leading him by the hand...'whilst he held his handkerchief to his eyes."
"
Then, speaking of her maid;
"
"I said, 'For the love of God, run quickly'...the guards opened the door and I went downstairs with him."
"
Telling her husband to walk in front, in case the guards noticed his masculine stride, Lady Nithsdale returned to the cell, picked up Mrs Mills and said farewell to her now departed husband. After a few days living near the Tower, Lady Nithsdale hitched her man a lift in the coach of the Venetian Ambassador, where he posed as a footman. The couple was reunited in Rome, where they lived for the remainder of their lives.
Another Jacobite wife was Mrs Murray of Broughton, who rode alongside her husband when Charlie's army padded into Edinburgh. While Murray of Broughton was prominent through his position as Secretary to the Prince, his wife was noted for her beauty, or perhaps because she rode with a naked sword displayed across her thighs. Jacobite poets recalled her in tantalising verse:
"
"Ride a cock horse
To Edinbru cross
To see a fine lady
On a white horse."
"
Many Jacobite women helped men in need and were then relegated to a footnote of history.
Lady Reay, wife of the Fourth Lord and chief of the Mackays was at Durness around 1748, when government forces continued to hunt for stray Jacobites the length and breadth of the Highlands. Discipline in the army was always tough, often brutal, and when an army deserter appeared at the chief's house at Balnakil, gasping in fear, Lady Reay responded with practical help. Glancing out of the window, she saw a section of soldiers, their red coats like blood against the green hills, approaching her house. They knew that the deserter was in the vicinity, but could not be sure if he had entered the house or not. In the 18th century, the living quarters of most Scottish houses were on the first floor, rather than at ground level, and the deserter had pounded up the stairs to the sanctuary of lights and humanity. Meeting him at the landing, Lady Reay pushed the terrified man into a small, claustrophobic cupboard, ordering him to keep quiet while she distracted the soldiers.
Thinking quickly, she invited the pursuing soldiers in, escorted them past the cupboard with its cowering occupant and into the reception room right next door. Unused to such hospitality, and possibly in awe at the grandeur of the polished panelling when they were used to thatched cottages and the tap-room of a squalid inn, the soldiers were happy to accept liquid refreshment from Lady Reay. They were even happier when Lady Reay invited as many women as she could find and held an impromptu dance. Such hospitality would lower the soldier's guard while Lady Reay organised the escape of the deserter.
At that period, women's fashion dictated that they wore skirts so wide that it was almost impossible for two women to pass each other in a narrow street. So wide that a small man could crouch down and hide under the skirts of a woman, who could then walk slowly and elegantly past the distracted redcoats. Of course, Lady Reay did not permit the deserter to hide underneath her skirts. Instead, she instructed one of her maids to act as a taxi, and the deserter was conveyed outside.
For many Scotswomen, the Jacobite Rising was not about high adventure and a chance to outwit the redcoats. Instead, they endured an occupation by soldiers whose behaviour could be brutal. Redcoats wagered on horse races where women were forced to act as bareback jockeys in front of cheering, jeering men. With few restrictions on their power, the soldiers could loot any house that may have once harboured a Jacobite or make a wife a widow on a very flimsy excuse. Often the only defence the women had was a quiet, obstinate courage. Such a woman was Anne McKay.
The rising of 1745 ended at the tragic field of Culloden, where the outnumbered and half-starved Jacobite army was annihilated by artillery and massacred by musketry and bayonets. Victorious Hanoverians pursued the remnants with a savagery that owed its basis to fear rather than any sense of justice. Many of the Jacobite prisoners were thrown into Inverness Tolbooth, a tower house that thrusts skyward near the castle Wynd, at the corner of Kirk Street and Bridge Street. As was not unusual in Scotland, an outside staircase led directly into a large stone room, into which were crammed the prisoners, some sick, some wounded, all condemned as dangerous. Whether they were Jacobites or loyalists, the people of Inverness knew that they could not help the unfortunate prisoners. This fear, or perhaps a genuine desire to be seen as loyal, kept the respectable and the good from offering succour, but some of the servant maids proved that their humanity was greater than that of their so-called betters. The local minister, the Reverend Hay, mentioned that these maids showed 'more than common courage' for they 'were sure of maltreatment.'
Inverness Tolbooth was too small to hold all the prisoners, so the government used every available space. Two men, Robert Nairn, deputy paymaster of the Duke of Perth's Regiment, and Ranald Macdonald of Bellfinlay, a Captain in Clanranald's Regiment were thrust into a damp cellar in one of the wynds of central Inverness. A dragoon had nearly hacked off Nairn's arm, while the youthful Bellfinlay had been scythed down by grapeshot. Both his legs were smashed.
Anne McKay of Skye was the tenant of the cellar. She continued to live there, while a redcoat sentry stood constantly at the door, musket in hand and bayonet at his belt. Anne acted as messenger and nurse to her uninvited guests, bringing them food and medicine and treating their suppurating wounds. The Jacobite ladies worked out a plot to help the wounded men escape, but it was Anne McKay who was to be the principal actor, and who was to take all the risks. After months of Anne's dedication, Nairn was fit enough to travel. Anne brought him clothes and, when he was ready to leave, used her femininity to decoy the sentry away from the door and into a back close. Bellfinlay did not leave the cellar. His legs refused to heal and he died in captivity. He was not yet 21 years old.
When the escape was discovered, Colonel Leighton of Blakeley's Regiment ordered the errant sentry 500 lashes of the cat-o-nine tails. Leighton then interrogated Anne. When he asked who had given food for the prisoners, she replied that;
"
"he no' be a McLeod or McDonald or any Mac at all."
"
Leighton first tried kindness with Anne; he offered her a bribe of five guineas, which was a colossal sum for the time, but Anne was a loyal woman and turned the offer down. Next, Leighton tried threats. Unless Anne told him who had supplied the food, he would incarcerate her in the Bridge Hole, a hellhole of a cell set just beneath the roadway of the bridge, shaped like a coffin and with barely enough space for an adult woman to stand upright. Anybody put in there would be unable to move, unable to sit or lie, and would have the constant rumble and grind of traffic and hooves a few inches above her head.
In tears, Anne begged for mercy, but Leighton refused and had Anne carried into the Hole. She remained there for days while her legs swelled with the constant pressure and her head thumped with the agony of ceaseless noise. Leighton did not release her, but instead sent an Irish woman, a soldier's wife, with bread and whisky. There was no pity in the gesture, but an attempt to make Anne drunk so she would betray the Jacobite helpers. As she proffered the whisky, the Irishwoman offered to drink the health of Prince Charlie. It was now that Anne revealed her true strength of character. Refusing the whisky, she said that she drank only milk and whey. She also refused to drink the health of the Prince, for;
"
"I like the Duke for I be a MacLeod and MacLeods do not like Charles."
"
It seems that Anne was not a Jacobite, but had helped the prisoners purely out of humanity.
Leighton had produced his last card. Unable to bribe, force or drink Anne into talking, he resorted to the brutality that stained so many government soldiers in this period. Removing Anne from the Bridge Hole into the Tolbooth, he prepared to have her drummed and whipped through the town. Fortunately for Anne, Provost Fraser intervened and Anne was released. Her example of selfless courage and loyalty toward people whose cause she did not even share is surely unsurpassed. Her experience is perhaps typical of many women of Scotland during the post-Jacobite occupation.
There were some occasions when the Jacobite women more than held their own. On the occasion of Prince Charles' birthday on 20 December, Lord Albermarle, the Commander-in-Chief in Scotland ordered that the redcoats should search through Edinburgh;
"
"for ladies and other women dressed in tartan gowns and with ribands."
"
Such accessories were seen to be subversive as they hinted at support for the Jacobites. When the soldiers found any women wearing such items, they were to bring them to Lord Albermarle for interrogation.
Either the soldiers were lax in their duty, or the women were too clever, for the entire search found only one woman. Miss Jean Rollo did not seem loath to confront Lord Albermarle; indeed she argued her case so well that his Lordship released her very quickly. It seems that however effective the government army in the field, some Scotswomen still possessed superior verbal skills. The plethora of retrospective Jacobite songs that women wrote tends to reinforce this belief, for rather than the villains that they appeared in 1746; Jacobites are often seen as heroic victims. A woman's voice can never be disregarded as an effective weapon of propaganda or war.
Helen Susan Swift was born in Inverness in Scotland. She is author of Women of Scotland, from which much of this article is derived.
More on this topic:
Share this article
About the author