From orphanages to the Olivier Awards: dive into Ian McKellen's family history
5-6 minute read
By Jessie O'Hara
2 December 2022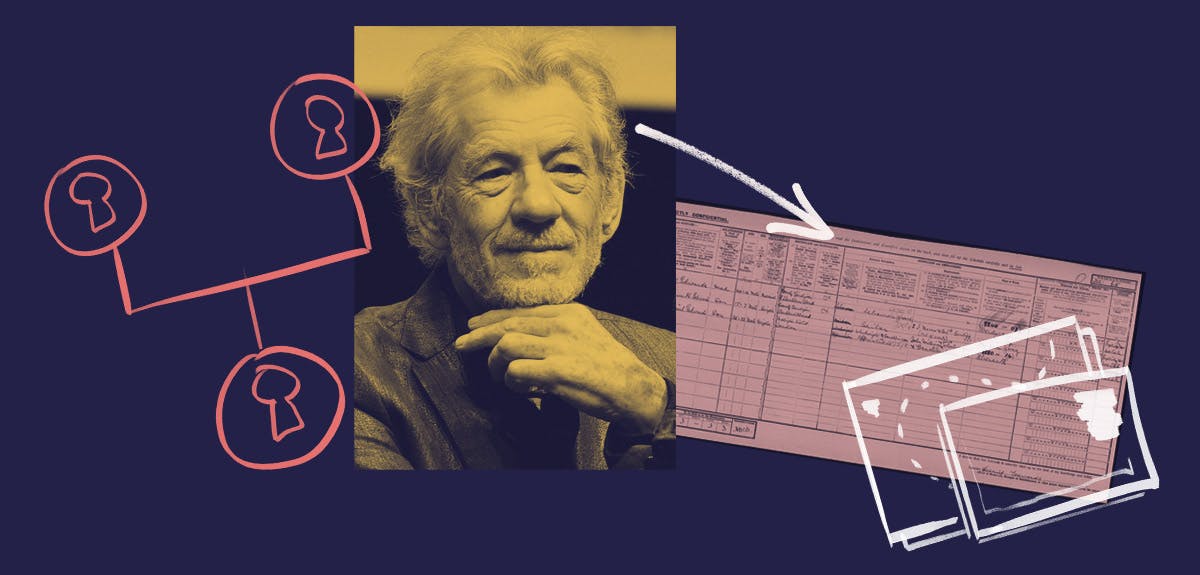 A British cultural icon with a seven-decade career, here's everything we learned about star of the screen and stage, Ian McKellen.
From King Lear to Lord of the Rings, from Shakespeare to Stardust, Sir Ian McKellen's famed acting career has been expansive to say the least. There is barely a genre or a format that has been left untouched by his acting skills in the past 70 years, and barely a person that has not been witness to it.
But where did such an icon come from? We delved into our records to discover more about Ian McKellen's family history.
Ian McKellen: the early days
Ian McKellen was born on 25 May 1939, just four months before the 1939 Register was taken across England and Wales. With him in the household are his parents, Denis and Margery, and his older sister Jean.

The first years of his life were entrenched in war, and this had a lasting impact on him for the rest of his life, once stating that:
"
'only after peace resumed ... did I realise that war wasn't normal'.
"
His family had moved to Wigan just before the outbreak of the Second World War, and stayed there throughout his childhood, only moving to Bolton in 1951. Ian McKellen attended Bolton School and his acting career started young at Bolton Little Theatre. Established in 1931, early reports of the theatre state its interest in serious drama over producing 'plays which merely amuse'.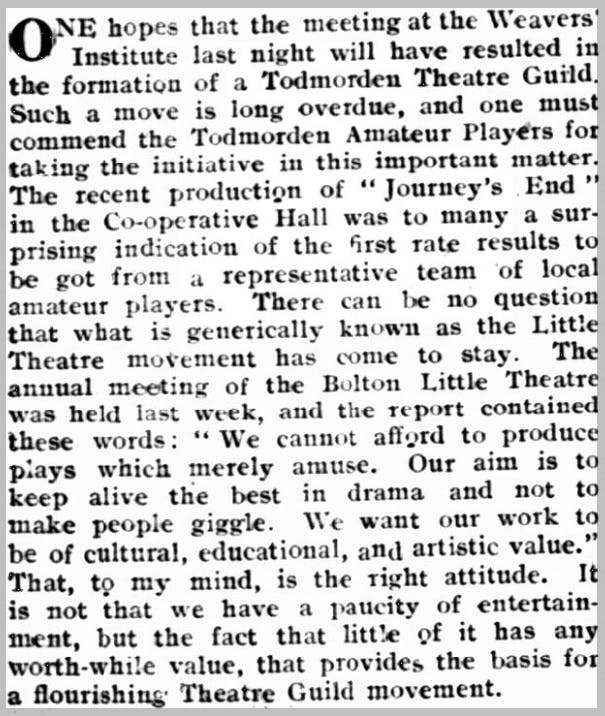 In 1958, he won a scholarship to St Catherine's College, Cambridge, where he read English Literature. His participation in the theatre here has since become legendary, performing in plays such as Henry IV, Cymbeline, and Doctor Faustus. His professional career begin in 1961, just three years later.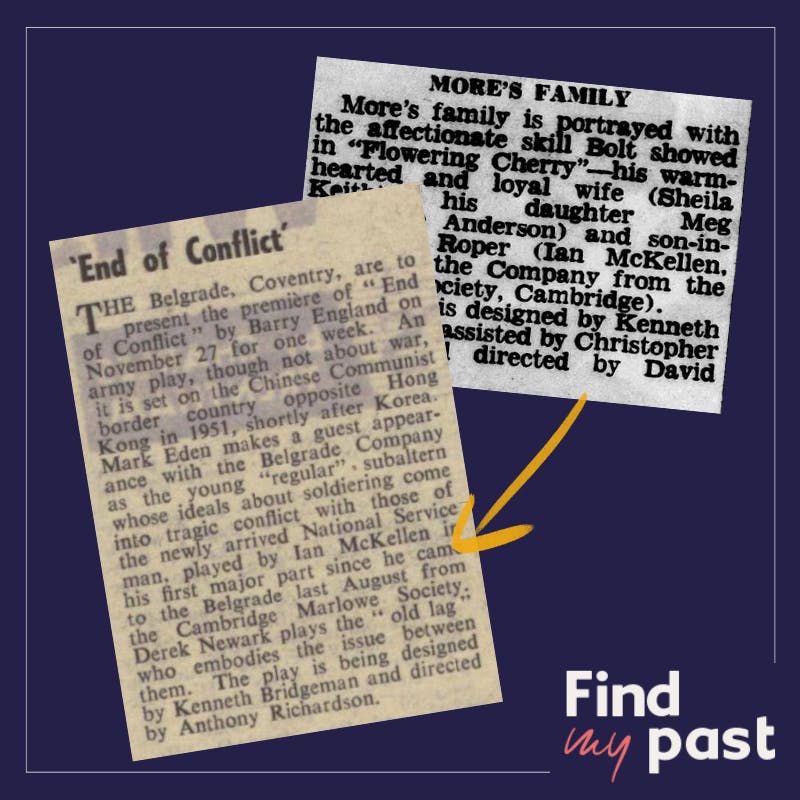 After four years of performing in repertory theatre, he made his first West End appearance in A Scent of Flowers, and that same year he was accepted as a member of Laurence Olivier's National Theatre Company at the Old Vic.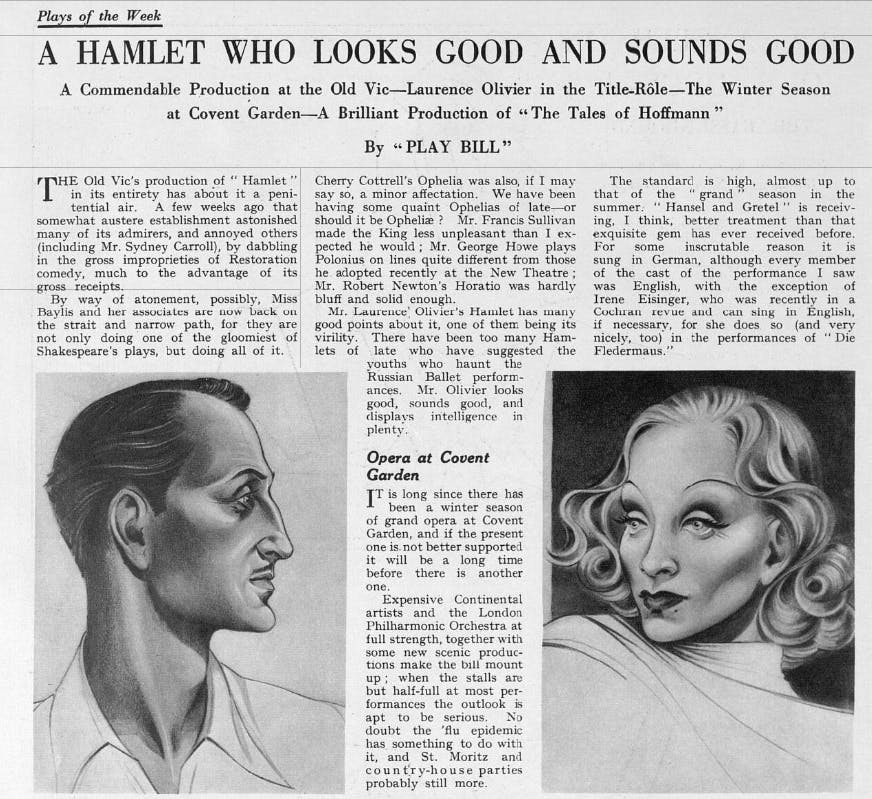 From there, Ian McKellen's career on-stage and later on-screen blossomed into one of the most recognisable acting journeys to date. Let's take a deeper look into his family history to see where such a talent came from.
Denis Murray McKellen, Ian McKellen's father, was born in 1905 in Stockport, Cheshire. In 1931, he married Ian McKellen's mother, Margery Sutcliffe.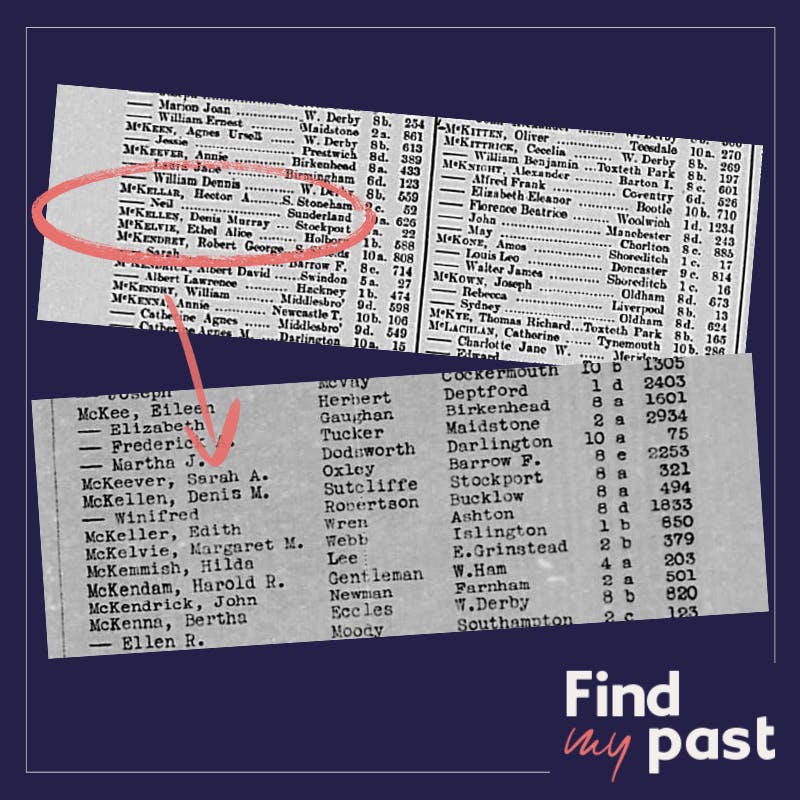 We find him in the 1911 Census as a 5-year-old with his mother Alice and father William, as well as a visitor and a servant.

Interestingly, none of the family can be found in the 1921 Census of England and Wales. As we'll later discover, they have roots in Ireland, so it is possible they were visiting relatives. With the 1921 Census being delayed from April to June, and with tourism on the rise, many families had begun their summer holidays at the time that the census was taken.
Using the 1911 Census and 1939 Register together, we can see that Denis followed in his father's footsteps. William Henry McKellen worked as an engineer estimator within the gas engineering industry; Denis is listed as a chartered coal engineer in 1939.
Looking at William Henry McKellen - Ian McKellen's grandfather - we find that he was born in 1870 in Chorlton. He was just 11 months old when the 1871 Census was taken.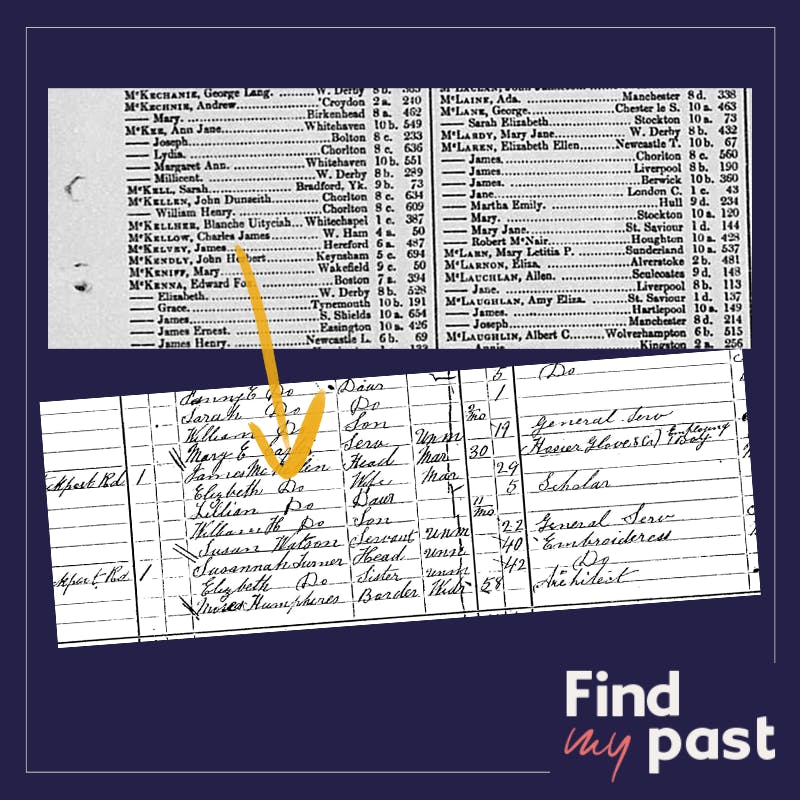 However, we don't find him living with his family in 1881, at just 10 years old. Instead, we find him at the Manchester Warehousemen & Clerks' Orphan School.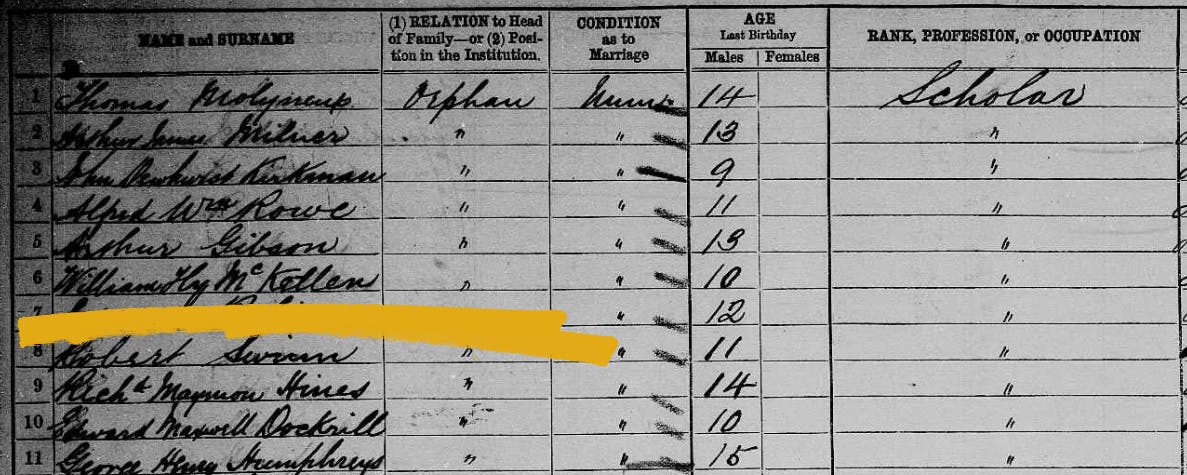 Sure enough, we found James McKellen - William's father and Ian's great grandfather - had died in 1877, just 37 years old.
The orphanage WIlliam attended opened in 1855, and moved site to Cheadle Hulme in 1869. Between 1880 and 1881 - the same year we find William there - more buildings were built for the school, as a celebration of its 25th anniversary.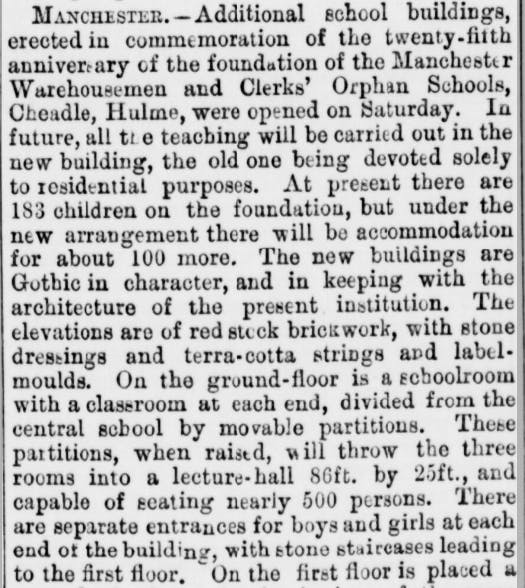 The school was co-educational, but of course kept separation between the boys and girls:
"
'On the first floor is placed a central schoolroom for the juniors, of the same size as the one[s] below, and at each end are the chemical laboratory with apparatus-room adjoining, for boys on the one side, and a large sewing-room for girls on the other.'
"
Gender separation aside, it seems that William Henry received a more than satisfactory education, despite his father's early death. Indeed, the school prided itself on its high standard of education. They made local news time and time again for their high exam passage rate, particularly with the Cambridge Local.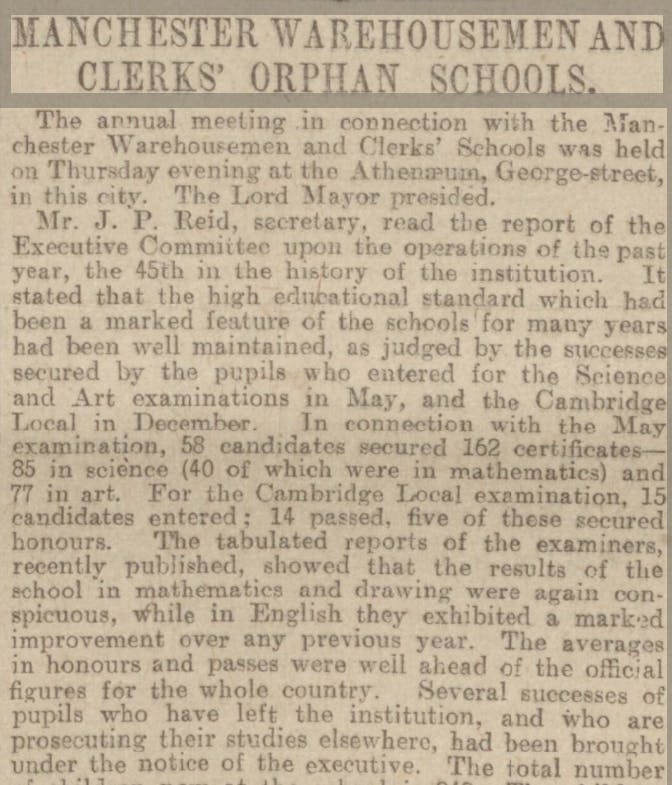 It's no wonder that both William Henry and his son Denis made their careers in a field like engineering, with such a strong educational background.
Reading more about the school, we discovered it cost 100 guineas to send your child there. This was about £105, and in today's money, translates at around £1590.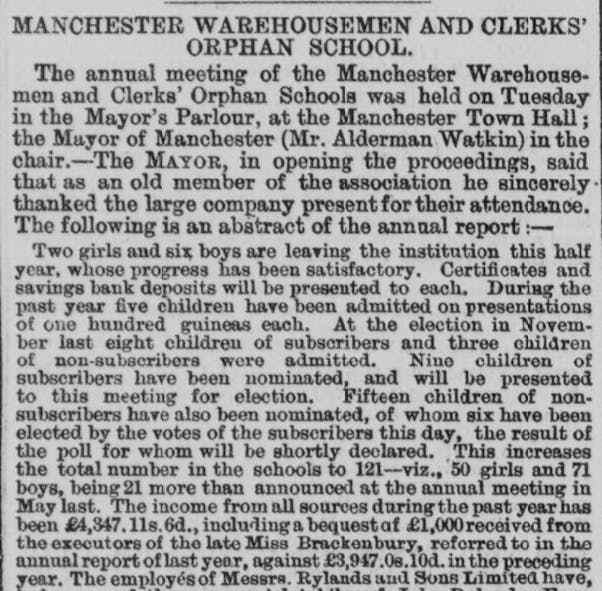 This was a fair amount of money, particularly for poorer families - though potentially not greater than the cost of raising a child for those years in your own home.
Despite then the tragic circumstances of William's father's early death, it seems William wouldn't have had such a hard time at the school - in 1877, the Manchester Courier reported that:
"
'They are admirably managed. They do excellent work; and in their success and in their influence upon the orphans trained by their agency they repay society fourfold the interest taken in them.'
"
Flash forward to 1891, and we find in the 1891 Census that William is back living with his family.

Both William and his sister Lilian are working, no doubt helping their now-widowed mother with the running costs of the house. William, 20, has begun his career as a mechanical draughtsman - his siblings, Ian McKellen's great aunts, are working as a clerk and studying.
But what of Elizabeth and her late husband, Ian McKellen's great grandparents?
Further back into Ian McKellen's family history
James McKellen, Ian McKellen's great grandfather, was born in Antrim, Ireland, in 1840. However, his family didn't stay in Ireland long after his birth - his brother, just four years younger than him, was born in Lancashire, England. We can find them together here in the 1861 Census.

At this point, James is working as a clerk in a warehouse. Head of the household Margaret - Ian McKellen's great great grandmother - had been widowed, and is housing not only six children but two grandchildren. It's almost undoubtable that there would have been some financial difficulties within this family.
Five of the family are working in 1861. James' eldest brother works as a carpet salesman, the second eldest as a watchmaker employing one man, and his sister as a schoolmistress. This is an interesting parallel to Ian McKellen himself - though he has never been a teacher full-time, he is a patron of his old school in Bolton, and often gives educational talks there.
James McKellen later moved out of his family home and married Elizabeth Williamson when he was 24 years of age.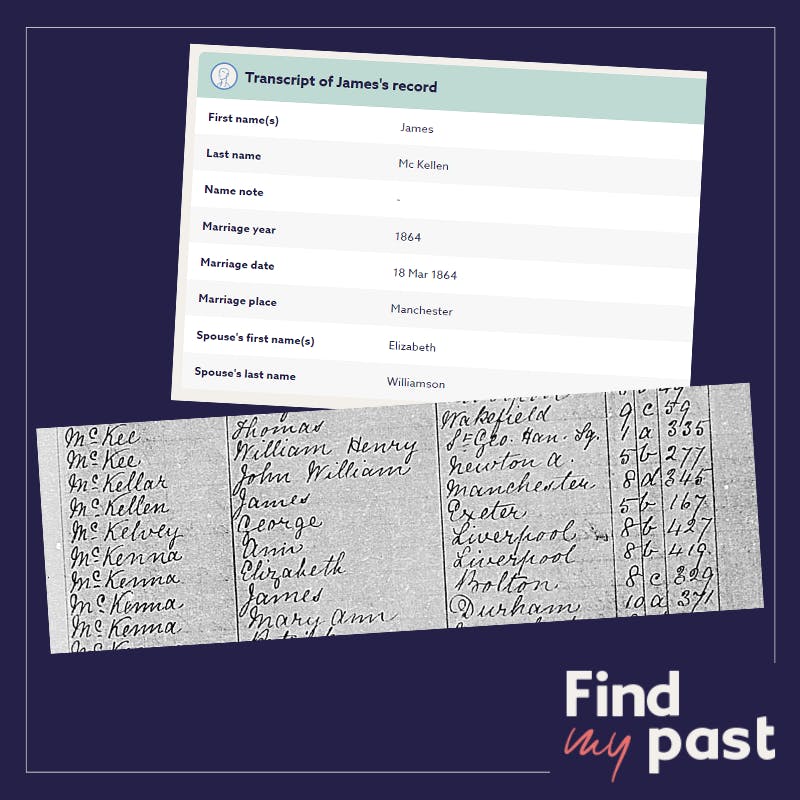 We can find his mother Margaret again in 1871. Though James has since moved out, she is still housing two of her children - Ian McKellen's great great aunt and uncle - as well as three grandchildren and a boarder.

Margaret Junior has continued the family tradition of following in the elder's footsteps and now works as a schoolmistress, just as her sister did in 1861. The boarder Joseph on the other hand is working as a draper's assistant, though he is only 15 years old. Is there a chance he was orphaned, and Margaret Senior took him on?
A search of earlier census records leaves this unclear - though we find a Thomas Montgomery a decade earlier, with a family of the same name, and also from Ireland. It is possible this is our Thomas.

The parents in this record cannot be found in 1871, so it is similarly possible they moved back to their home country, especially as the economic and social climate started to settle after the Great Irish Famine. Thomas may have stayed behind after building a life for himself in England, and Margaret may have played a role in that.
What is undoubtable, however, is the financial stress that spanned generations in Ian McKellen's family history. Though William's and Denis' story ends on a happier note of their respective engineering careers, looking back it is clear that there was strain with such large families.
Of course, this didn't stop Ian McKellen, who - four generations later - took to the stage in a momentous career and instituted himself as an icon from humble means.
More on this topic:
Share this article
About the author