An expert's guide to researching Irish surnames
4-5 minute read
By Guest Author
9 June 2022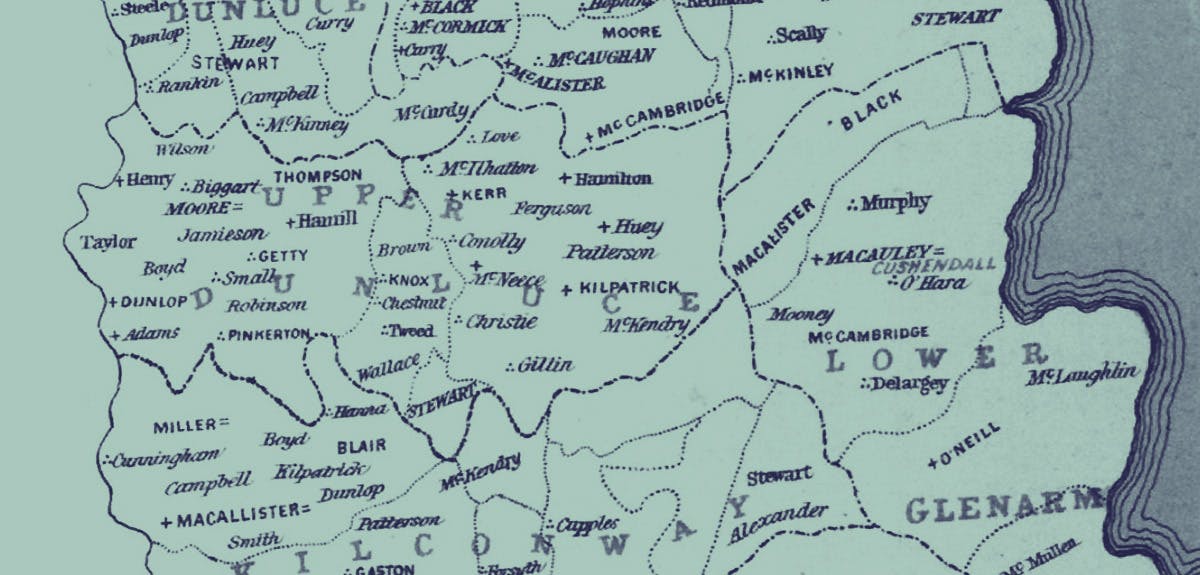 Fiona Fitzsimons of the Irish Family History Centre shares her insider tips for uncovering the origin of your Irish family name.
The earliest historical Irish records, Ogam Stones and vellum manuscripts show that Ireland was a lineage society ruled by Clans.
Clans were loose confederations of people that claimed common descent from a noble ancestor, the ancient kings or early settlers in Ireland. Membership of the Clan was by descent on the male line within four generations. Over time, this gave rise to many distinct families within the Clan group. The greater part of the Irish population never belonged to any recognised Clan.
From 900 A.D. some of the ruling families in Ireland began to use patronyms as surnames. Up to that time, men and women always had their own Christian names but they were identified either by the name of their father:
Mac means son of...
Ni means daughter of...
Ó means grandchild of...
Once families began to adopt patronyms, then surnames became hereditary over generations. The O'Connor surname, for example, has been used for over 1100 years.
O'Neill was first used as a surname by the grandson of Niall Glundubh in 919. However, this family was one of many noble families in the wider Ua Neill clan-group that claimed descent from Niall of the Nine Hostages (450 A.D.).
Irish family names and religion
Some Irish surnames originated in religious patronage. Children named after patron saints were often named as devotees (maol) or servants (giolla) of the saint, and this was integrated into their family name.
O'Malone is the grandson or descendant of the devotee of St. John (Maol Eoin), while MacGilbrides are descended from the sons of the servant of Saint Bridget.
Occupations in Irish surnames
Some surnames that use the prefix 'Mac' don't refer to the father's name, but to his occupation. MacGowan is 'son of the blacksmith', MacEntaggart 'son of the priest', Ward from the Irish Mac an Bhaird translates as 'son of the poet.'
Viking surnames in Ireland
Ireland was connected by the sea to the people of Europe. The Vikings traded with and invaded the island and introduced other surnames now common. The names Doyle (of the Dubh Gall – the dark foreigners) and MacAuliffe (son of Olaf) are Viking in origin.
Changes to Irish surnames over time
The Norman invasion introduced names which in time became 'more Irish than the Irish' including Barry, Burke, Cruise, Power, Fitzgerald, and indeed, all the other 'Fitz' names.
English and European settlers in Ireland from the 1200s introduced surnames like Walsh/Welsh, Taaffe, and Fleming, which tells us the country of origin of these families. Curiously, in Ireland, there seems to be no tradition of names taken from a feature in the landscape, as seen in other European cultures. For example, Roche from Rock is also a place-name in France.
I honestly assumed this record didn't exist because I've been looking for it for years but I just found my 4th great grandparents' marriage record from 1834 on @findmypast! They were Irish catholics from Northern Ireland living in Sheffield, England in the 1830s. *happy dance* pic.twitter.com/AjIVGfRVyK

— Matt Daly (@GenealogyMatt) February 1, 2021
In Tudor times, the use of 'Mac' and 'O' as a prefix to surnames in Ireland was outlawed not by Act of Parliament, but by martial law, to force the native Irish and the English of Ireland to adapt to 'English civility.'
Some Irish names were anglicised beyond recognition. Branches of the MacMurrough family already separated into distinct branches of Kavanagh and Kinsella, now evolved their names to Murphy, Davis, Hendrick, Redmond, and Waddock.
In the 16th and 17th centuries, plantations saw the introduction into Ireland of names like Boyle, Blennerhasset, and Morris in the provinces of Munster and Connacht. The surnames of the Scottish Highlands were introduced into Ulster, including Adams, Campbell, Hamilton, Harris, McLean, Donald and Stewart.
The Cromwellian Conquest of Ireland 1649-52, saw two million acres of Irish land, one-tenth the entire land-mass, offered in payment to the soldiers of the New Model Army. Many of these sold their land for ready money in the following generation, but it's estimated that at least 10,000 English soldiers settled in Ireland, and married local women, adding names such as Bewley, Goodbody, Richards, and Sayers to the tapestry of Irish names.
In the late 1600s and early 1700s, religious wars across Europe saw a steady stream of immigration into Ireland by religious refugees, including Behn or Benn (President Obama's ancestors), Colbert (direct ancestors of Stephen Colbert), Switzer, and Teskey.
Since 1660 there has also been a small but not insignificant Jewish community in Dublin, who introduced surnames like Jacobs, Pereira, and Wolf. From the 1880s, Pogroms in East Europe increased numbers of Jewish migrants and refugees in Ireland, so that by the early 1900s, the Jewish community in Ireland was estimated at 5,000 strong.
5 tips for researching Irish names
The sheer variety of names found on such a relatively small island is part of Irish cultural heritage and something that should be treasured. But what can you do if you know the name you're searching for, but can't find any relevant records online?
The golden rule is to always search across all variant spellings of your family name. Unless your ancestors left signed documents or letters, any historical document with your family name was probably written down by a clerk or other public official.
Set aside the fact that your family have always written Ford with an 'e' at the end or Fitzsimons using a double 'm'. More often than not, your ancestors' names were recorded phonetically or using the most common spelling of the name.
2. Delve into diminutives
Search for diminutives of forenames to find your ancestors. Historically Irish people used diminutive versions of their names for everyday use (eg: Kate, Katie), and formal versions of their names for official events (Catherine, Katherine, Kathleen).
3. Learn the languages of the time
Irish or Latin use can hide the version of your ancestor's name that you're most familiar with.
Seán, Séan, Shaun, Shane, Eoin, and Eugene are all variants of John. Dermot and Digby equate to Jeremiah. Riocard is an older form of Rísteard, both Irish versions of the English name Richard, sometimes anglicised as Rickard. Anna, Hannah, and Johanna are all versions of the same name and can appear in different ways across parish registers, civil records and census returns.
Expect a constant change in how a surname is spelt. Your family name could have changed across generations and continents. Just imagine what an immigration clerk in New Orleans or Ellis Island heard when a native Irish speaker with broken English and a heavy accent presented themselves.
One of the most common changes seen in U.S. records, is the name Matthews spelt as Mathis.
Be smart in how you approach your family research. Use wildcard characters for alternate letters and limit your search by setting a timeframe of events. New resources are made available all the time so it's worth checking back for new clues regularly.
Fiona Fitzsimons is a graduate of Trinity College Dublin, a historical expert and entrepreneur. Since 1996 she's developed the Irish Family History Centre's historical research department, setting high standards for all their work.

From 2005 to present, Fiona and her team have provided research and historical consultancy for TV and film production including Who Do You Think You Are?, Faces of America, Finding our Roots and Ancestors in the Famine.
Fiona writes a column, Kindred Lines, in History Ireland, is a feature writer for online magazine, Irish Lives Remembered and contributes regularly to specialist journals and popular magazines and newspapers.